Blue Post Upgrades to Quantum Xcellis Storage for Fast 4K/HDR Post

Blue Post long-form post-production facility in Sydney recently upgraded their six-year old storage system. Blue Post's managing director Peter Millington said, "It was time to upgrade to a new system that meets the current demand for 4K and HDR workflows." In July 2019, Blue Post became one of Australia's first facilities to receive HDR Dolby Vision Certification.
Blue Post issued a request for tender, but had specific requirements for the replacement system. It had to be able to process 4K uncompressed workflows for editorial, VFX and finishing, and support client codecs including 16 Bit .dpx and .exr for 4K, and ProRes 4444XQ, JPEG 2000 .mxf, ProRes 422HQ for UHD and HD.
They also needed a system that they could scale up easily and predictably, from a 200TB minimum capacity up to petabytes, and meanwhile see a linear increase in performance. The company wanted simple administration and management for volume creation, fault identification and notifications as well.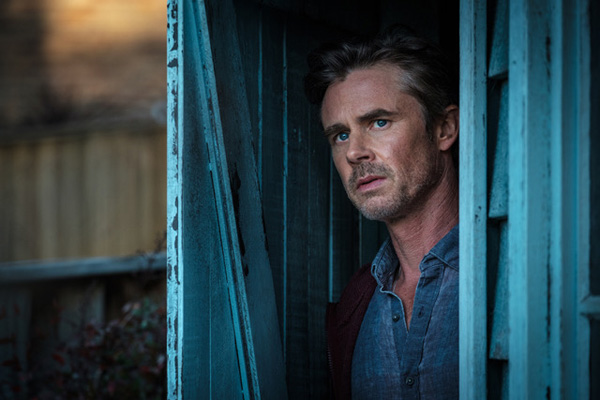 From 'Reckoning', a HDR drama series completed at Blue Post.
Tuned for Video Workflows
Local systems integrator Digistor responded to the tender and put forward two systems. The system that Blue Post chose and Digistor installed was a multi-tiered Quantum QXS SAN system, built with Xcellis workflow configuration storage and powered by the StorNext File System. Xcellis is primary storage tuned for video workflows, handling high-speed shared access to video and optimising video production tasks. It includes Xcellis Workflow Director software for system management and client connectivity, and RAID storage for data.
Xcellis virtualises disk for storage by managing the capacity of all systems under one namespace and manages data intelligently to sustain the bandwidth and latency required for large sequential file ingest, playback and post-processing in real-time. Although SAN storage has an inherent speed advantage over NAS-based systems, Xcellis can significantly increase the difference.
Rob Hilligoss, a technical sales director at Quantum for APAC, said, "NAS systems typically come with considerable overhead in their IP stack. Furthermore, most enterprise NAS systems are designed to deal with smaller files and measure their performance based on I/O operations per second (IOPS). But media workflows usually deal with larger files and depend on a high bandwidth sequential read/write operation - Xcellis' core optimisation is to deliver high bandwidth performance. Also, in an IP/NAS environment like Blue Posts', Quantum has its own DLC protocol for computer connectivity which strips away the NFS/SMB file-sharing overhead for Windows and Linux, and allows our edit bays to access content on the SAN at nearline speeds."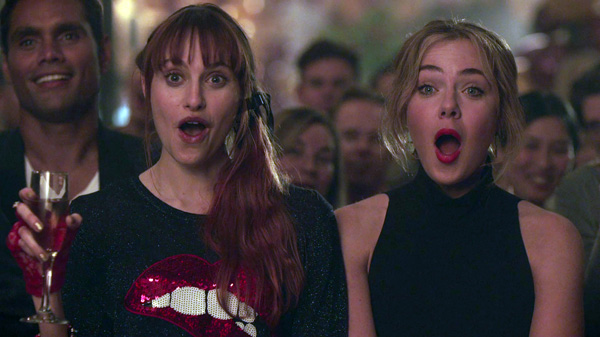 'The Wrong Girl'
Blue Post's StorNext file system can be accessed natively by Windows, Mac, Linux and UNIX client systems with security, access controls and file locking. Quantum systems also scale, both in capacity and bandwidth, using expansion chassis without requiring extra volumes, reformatting or re-architecting. Regarding the linear increase in performance that Blue Post wanted to see following expansion, Rob noted that bandwidth is essentially a calculation based on the number of disk drives in a given SAN chassis.
"Because Xcellis scales up capacity with expansion chassis, which expand existing volumes by adding disks, bandwidth will naturally increase to the maximum bandwidth capabilities of the controller. This would give them the linear increase they are looking for," he said.
Universal Access SAN
Now all of Blue Post's non-linear editing, file Ingest, file delivery, finishing and colour grading workflows use the new Quantum system. Peter said, "The Quantum SAN environment supports both file-based NAS and block-based SAN access from the same storage system, which makes it easier to consolidate our storage and avoid silos. The Xcellis appliance manages all connectivity from the end user's system, and the metadata of the content's data blocks. This means Blue Post is able to access content via IP, ISCSI, FC, InfiniBand, ISER and others.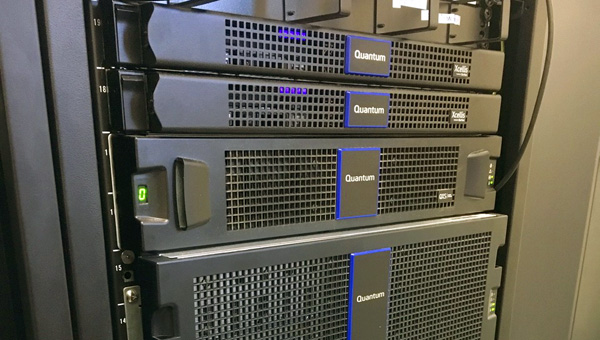 "It also gives users the choice of using either IP or fibre channel protocols, depending on the workflow's performance requirements. That is a major benefit for us because users accessing content via NAS or SAN can work with the same content. In other words, we can give access to content based on the performance needs of the end user.
Thinking of how Blue Post will use the system in the near future, the Quantum SAN also uses HSM (hierarchical storage management) that can tier data to cloud storage and tape. Tiering has not been implemented at Blue Post yet, however, the process is automatic and based on user defined policies. Content can be tiered within the primary file system allowing users to run certain processes on the highest speed tiers and then relocate those processes to slower, nearline disk as needed. Content can also be migrated to tertiary archive tiers including Quantum Cloud Services, Object Stores and Scalar Tape Libraries. www.quantum.com