Peder Morgenthaler at Frame Linear talks about how today's file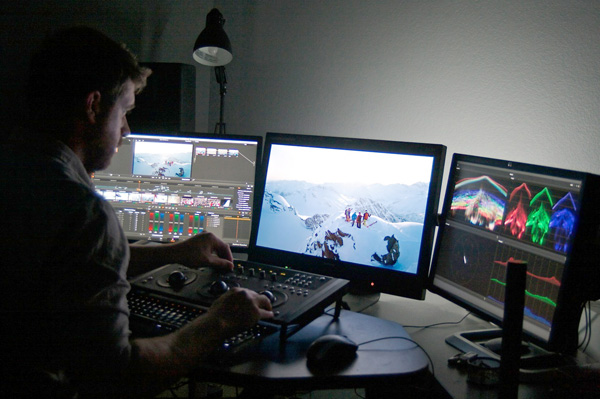 sizes, high-res workflows and demanding finishing tools make high-
performance shared storage a key factor in modern post.
---
Frame Linear & Dot Hill Bring Hi-Performance Shared Storage Up to Speed
Peder Morgenthaleris founder and owner ofFrame Linear, a 10-year-old post production studio that carries out editorial, colour correction, finishing and motion graphics services for television, independent film and documentary projects, commercials, music videos and action-sports programming. Many of Frame Linear's clients are based in Colorado or have connections to the region.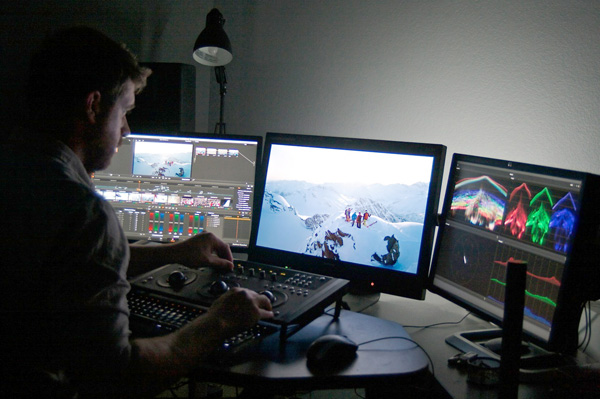 Some of their clients includeaction sportsfilmmakersWarren Miller Films, who produce a yearly feature-length extreme ski and snowboard documentary, andListen Productions, which recently completed the documentary 'Rolling Papers', a film following the first year of marijuana legalization in Colorado through the eyes of journalists with The Denver Post. This film premiered atSouth By Southwestand is scheduled for national theatrical release in February 2016.
High Speed, High Performance, Large Scale
Peder explained that one of the factors in Frame Linear's continued ability to accept demanding, large-scale projects is its Dot Hill shared storage system. For example, the Warren Miller film involved processing and colour correction of over 110 hours of 4K dailies this year before going to editorial. Frame Linear's72TB Dot Hill storage array, built with 8Gb Fibre Channel connectivity, has the capacity and performance needed to meet the tight deadlines and data security requirements of the project.
"At times Frame Linear will have three artists on separate systems, all working on the same project," he said. "Through Dot Hill storage, they can work on the material concurrently without copying data between workstations. This is why an external storage system is essential for post production workflows. The infrastructure creates a shared pool of high performance storage, transparently accessible on each workstation, that supports collaboration without the need for project syncing."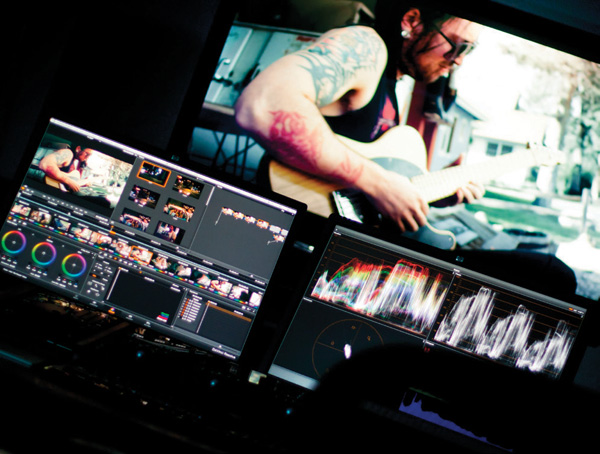 Post Potential
Peder has just purchased and is preparing to install and additional 72TB of storage at Frame Linear, bringing the system total to144TB. He plans to use this additional capacity to create a shared storage infrastructure that will be available to the Greater Denver filmmaking community on a per-project basis. The intention is to supply a managed shared storage environment to filmmakers who otherwise wouldn't have access to such a system or have the resources to maintain it.

Previous to Dot Hill shared storage, Frame Linear employedApple Xserve RAIDstorage on a XSAN system. Peder is trained as a systems integrator and still carries out integration work in the Denver area. He said, "When Apple discontinued the Xserve RAID, I started to explore possible RAID replacements. Through work I was doing with G W Hannaway & Associates, another systems integrator in the Denver area, I was introduced to Dot Hill. At that time, Dot Hill was mainly producing hardware for data centres, but both Hannaway and I felt it had potential for use in post production studios."
Starting in 2009, he became a consultant for Dot Hill, specializing in media and entertainment. Dot Hill was acquired by Seagate on 6 October and the product line will continue as part of the storage systems business within Seagate.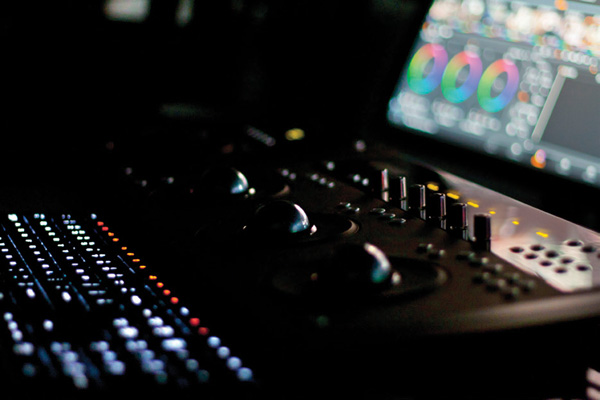 In Peder's view, the need for high-performance shared storage as a primary component of post production processes is growing. Among the factors involved areincreasing file sizesanddata ratesof footage from modern 4K and higher resolution cameras, the trend away from traditional'offline/online' workflowstoward maintaining the original camera image throughout post, and the proliferation of demandingfinishing toolssuch as DaVinci Resolve. Consequently, high capacity performance storage is becoming the foundation of the modern post-production environment.
RAID for Today
Peder pointed out that, when working with software likeDaVinci Relsolvein a multi-user environment, the storage becomes a critical determiner of overall system performance. Multiple high-bandwith reads and writes taking place simultaneously on different workstations can cause RAID controllers to struggle to maintain performance. Dot Hill's proprietaryRAID controllersare configured in adual active-active redundantsetup with write speeds equal to their reads, which is unusual for a RAID system. In a multiple IO environment, the controllers work to balance the load across all drives in the system, aiming for optimum performance on each workstation.

The system at Frame Linear uses aDot Hill RAID dual-controllersystem with 8 ports of 8Gb Fibre Channel. The aggregate performance of their current 72TB setup delivers a maximum throughput of2,500-3,000 MB/second. Peder expects maximum throughput for the forthcoming 144TB installation to reach4,000-4,500 MB/sec.


System builds begin with ahead unitcontaining the dual controllers, plus a full complement of drives. Performance and capacity expansion is achieved by adding up to 7 expansion chassis, which daisy chain up to the head unit controllers. If more capacity and performance are required, a further head unit must be purchased. Dot Hill's current generation of controllers can achieve6,500 MB/secmaximum throughput.
Be Prepared
Peder said, "Frame Linear focuses on colour grading and finishing, based on DaVinci Resolve. But because our clients' studios may work in any NLE for editorial, we also have to be prepared to handle edited work output fromAdobe Premier, Avid Media Composer, Final Cut Pro 7and occasionallyFCPX. Right now, our company is interested in adoptingBlackmagic Design's Fusionas well for heavier compositing work."

Peder now sees a demand for projects to be completely post produced and finished in 4K, including delivery of a4K master. Producers are aware of a need to future-proof projects and are more frequently requesting a 4K deliverable as well as their HD version. "They want the option of handling of 4K footage in real-time at every step of post production, for offline and online tasks, instead of working with proxies and conforming back to 4K at the end," he said. "Working this way saves the time and effort of transcoding – and satisfies clients – but requires a great deal of performance from every component in the system."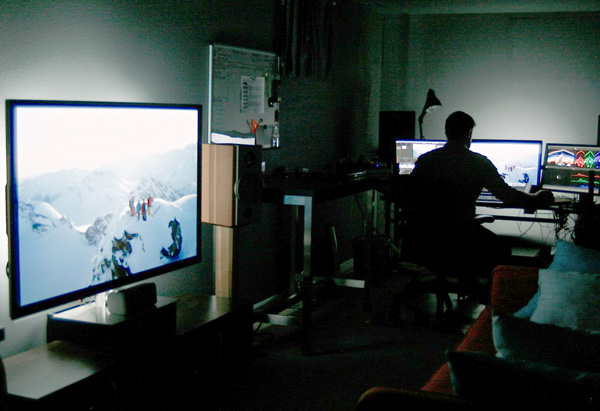 True Shared Capacity
Peder feels that while moving on from direct-attached storage to shared storage is a fairly expensive change for a studio to make, it brings certainlong-term benefits. It opens your workflow to allow editors to work simultaneously on the same project on their separate systems, just as if they were working on a native drive on their computer. Without shared storage, projects can easily fall out of sync. For instance, an assistant editor can log and ingest on one workstation, while an editor starts working on the newly ingested files on another, with metadata, sequences and footagecompletely in sync.

The shared infrastructure Peder is planning to build forDenver filmmakers, based on the recent purchase of 144TB of storage, will give customers the opportunity to rent storage space along with the benefits of a managed system and sharing capabilities. The rental space will be protected as virtual project spaces with IDs and permissions, overcoming the fact that for a smaller or occasional operators, shared systems are generally too expensive and only pay for themselves when a certain volume of data throughput is achieved.

In this scenario, Peder will change from an Xsan file system to the recently developedTiger Technologyshared file system products,Tiger Store and projectStore Pro, which handle workspace, project, user, media and metadata management, forming a fairly complete media workflow platform. Ultimately, he hopes that having this system as part of Frame Linear will encourage the filmmakers to use the studio for finishing services, although that will not be compulsory or a required part of any of Frame Linear's storage services. www.dothill.com