EditShare and Tourism Queensland Capture the Reef for scUber Campaign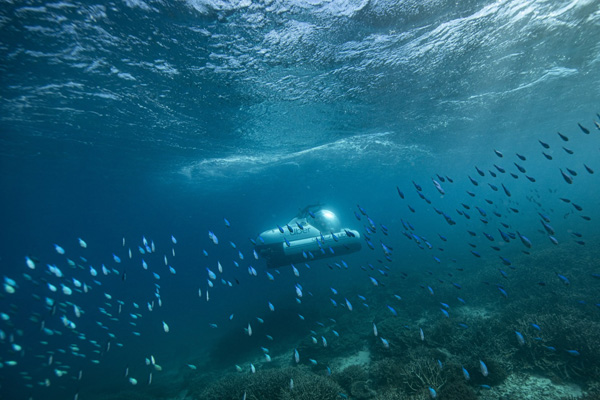 The Great Barrier Reef is one of Australia's largest, most valuable natural assets. It is part of Australia's identity, environmentally critical and a World Heritage Site. From point of view of Tourism and Events Queensland (TEQ), it also ranks highly as a desirable holiday destination. But in 2016 and 2017, severe weather patterns and bleaching events caused by stress from changes in conditions including temperature, light and nutrients, resulted in negative media coverage and tourism began to decline.
To revive interest and engagement with the reef, TEQ developed a campaign held from 27 May to 17 June 2019 that would give tourists a personal experience through a rideshare system launched through a partnership with Uber, not on board cars but in a small submarine. Spreading the message about the new service, named scUber, required a large-scale online and broadcast media effort.
Great Barrier Reef – Remote and in Real Time
The overarching storyline for the scUber campaign was to show the Great Barrier Reef in its natural state – that is, the same view visitors will see from scUber. TEQ deliberately chose not to use existing content, but to capture new content on Heron Island showing the reef as it was, in real time during the weeks of the campaign. The concept was compelling from the audience's point of view but gave the production only a short amount of time to package the content in multiple formats and distribute it globally to outlets for the launch.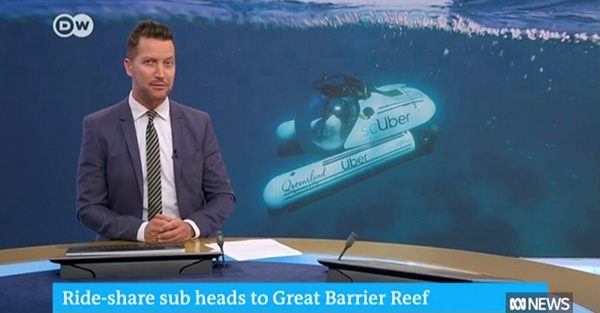 The scUber launch campaign was televised on Australia's ABC News 24 program, and also had a spot on SBS' Al Jazeera News.
The launch of the worldwide campaign was to be conducted on Heron Island, a remote island on the Great Barrier Reef itself, and involved a series of challenges that included limited communication and equipment, access, weather, tides, currents and so on. The director of the project's production company, Big Planet Media, Lindsay McNeill said, "Heron Island is a national park and bird sanctuary and an incredibly challenging place to carry out a technically complex production like scUber. We had only limited infrastructure and no mobile phone reception, and had to bring our infrastructure equipment in with us.
"With a goal of immediate global awareness and publicity, it was crucial for both the creative teams and journalists to have access to the content in real time to prepare and distribute marketing packages and news stories in their required format, whether they were accessing that content on the island, or from a creative office or newsroom located halfway around the world."
Limited Communications
One of the biggest concerns was working away from direct access to communications and wifi. Working out of the University of Queensland Heron Island Research Station, Big Planet Media set up a wifi network which could then be boosted across the island. A satellite uplink was also established for live cross transmissions to television stations. To support all of these operations, they needed to ensure a consistent power source and transported all equipment - from fibre cabling and wifi repeaters to cameras and computers - manually by barge and buggy, without roads.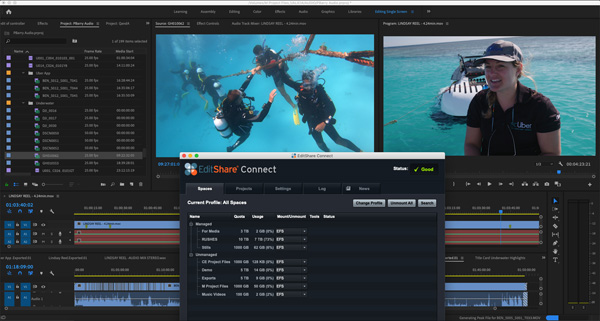 Editing the huge volumes of content on Premiere Pro through EditShare Connect.
One of the most challenging communications tasks was broadcasting live from inside the submarine. An RF transmitter/receiver link was set up between the sub's mothership and the island, and the cameras on board the sub were connected to the production via multiplexed fibre cable and mini link – audio signals travelled down to the submarine for ifb and both audio and video signals travelled up. These connections allowed a reporter from the TODAY Show Australia, for example, to conduct live Q&A sessions from inside the sub while connected to Network Nine's studio.
Lindsay said, "Our job was to build an infrastructure that could capture live feeds in both HD and 4K from inside the scUber and make that content immediately available to two distinct groups, creative teams and journalists."
Live Production Workflow
With Paul Hayes and Bayon Shahidi from EditShare acting as consultants, Lindsay designed a live production workflow using EditShare EFS shared storage and Flow Media Management to support production on location. Through the EditShare workflow tools, the production and editorial teams from Big Planet Media and TEQ's creative agency Publicis Worldwide captured and distributed live 4K and HD content from the initial scUber voyage in various news, commercial and press packages.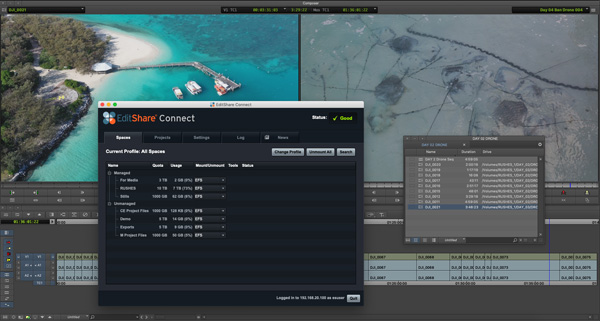 EditShare Connect was also used to set up Avid bin-locking for data organisation on the EFS system.
"EditShare was used to facilitate live content flow for both 4K and HD formats from scUber to the various news outlets, producers and other stakeholders. The system includes embedded production tools the editorial and creative teams from Big Planet Media and other outlets used to collaborate, share media and create the required marketing packages and press kits very quickly," Lindsay said.
Big Planet Media had an extremely tight timeline to shoot video of the scUber sub in water for all broadcast, social media and other online launch requirements. Lee from Publicis said, "We had about 24 hours to shoot and ingest the footage into the system for editing the material to be dispatched that night for the TVC. We had over 50 communication editorial requests to complete. Without real time capabilities, we could not have delivered the material into market in time for the launch.
"Furthermore, we had no time in the schedule to allow for the conventional low resolution ingest and offline editing, followed by conform of high res footage for grading, online and mastering. We had to forgo the traditional workflow systems and work with the footage at original quality. This was integral to our fast turnaround approach to the campaign."
10 Terabytes in Ten Days
When EditShare's consultant Bayon Shahidi arrived, his main role was to support the Big Planet Media editorial team, working from the island's one resort, as they prepared to ingest from the launch and associated events, and make it available to external teams. "Although the material was mainly for promo packages, a huge amount of data was recorded and stored, about 10TB in the 10 days of the campaign," Bayon said.
"As well as the launch event video and onboard submarine footage, material included behind-the-scenes shots of the submarine preparation, a panel discussion and interviews. Eight to ten cameras were sometimes operating at once, ranging from GoPros, an Osmo and DJI drones to Sony FS-7 cameras, capturing to cards or Atomos recorders. Publicis also had a cinematographer shooting underwater footage with a RED 6K camera.
"The EditShare EFS 300 system we used had a 32TB capacity. From the cameras' cards, the footage was ingested onto the EditShare as UHD or HD quality video. The Big Planet editors were essentially working on the rushes from the shoots, cutting highlights from the material to narrow down the huge volume into a pool of shared storage."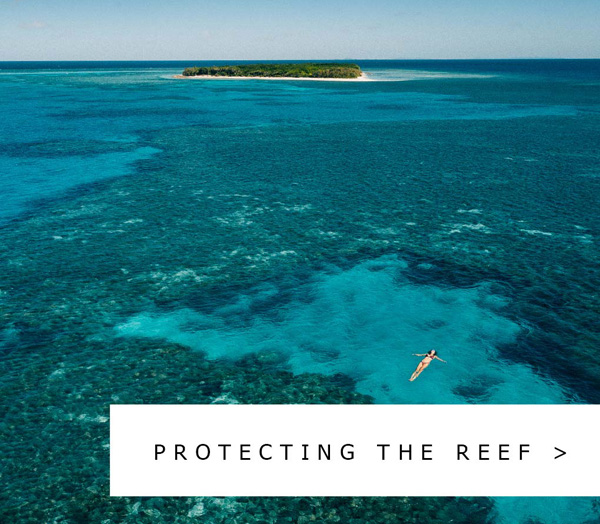 You can explore the reef on the scUber Queensland website.
Straightforward Media Flow
Inside the EditShare repository, marketing and press assets were organised by category – drone footage, island vision, reef vision, underwater reef vision, scUber underwater vision, and scUber behind-the-scenes – to make accessing specific footage more straightforward and encourage editors to create more diverse stories. Two data wranglers working with Big Planet's lead editor set up spaces within those categories to accommodate footage from each camera, for each day. A computer terminal was also set up for TEQ's social media preparation and distribution.
Editors from outside agencies, working through numerous types of NLE, accessed this pool of clips according to different levels of permission they received as clients. Part of Bayon's job was to work alongside the Big Planet Media editors to replicate their Avid system's bin locking set-up in the EditShare. The system was flexible enough, however, to allow them to do the majority of their work in Adobe Premiere Pro. EditShare Connect was used to mount spaces on the network storage and set up profiles. Connect would then continue running as a background process. Any transcoding that the external editors required would be done as they imported the material into their NLEs as well.
Bayon said, "The EditShare system was straightforward to set up, and adapted very well to the requirements of this project – the need to ingest and transcode footage from multiple sources, work directly with high-res media, and accommodate a large number of diverse, simultaneous users with different levels of permission." www.editshare.com