GB Labs Introduces Traceable Storage Analytics and One-Step MHL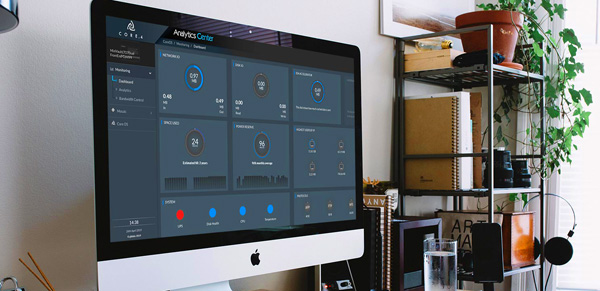 GB Labs' Analytics Centre, a dashboard for monitoring its intelligent storage systems, has been updated with the ability to trace access to and usage of data. This means that GB Labs' SPACE, ECHO and VAULT intelligent storage devices, will now make access traceable.
Analytics Centre continuously analyses how data handled by the storage system is being used. The dashboard displays an accurate visualisation of network and storage usage, including how close speeds are to real time, and data consumption. With full traceability added, file access history is logged, giving a complete picture of data usage.
SPACE supports content creation teams who work together on files and projects. Mac, Linux and Windows clients have simultaneous access to projects while administrators specify users' access rights, storage quotas and permitted bandwidth.
ECHO is a scalable nearline archive, local or remote, with the speed and capacity to hold a growing archive and allow instant access to files over standard Ethernet networks. It also serves as disaster recovery by replicating all Tier 1 media assets. VAULT multi-drive LTO-7 / LTO-8 tape archive writes and reads data from any or all drives simultaneously, at speed, and is network-attached so that users can read and write from any workstation.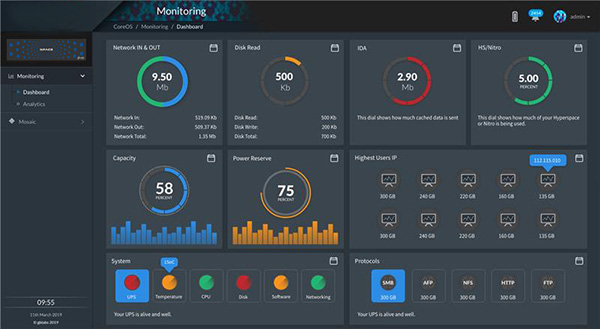 GB Labs CEO-CTO Dominic Harland said, "Visibility is necessary for users to keep workflows optimised at all times. It is more efficient than simply shopping for more storage and hoping that it will improve a workflow.
"Analytics Centre automates system analysis with algorithms that identify potential problems, and precisely where to find and fix them. Following this update, it also includes an interface, updated with full data logging and detailed tracking capabilities."
Support for the Media Hash List standard has also been added, which checks that the complete source media is transferred without any alterations, and that copies are exact replicas of the original. This is especially important to OTT media streaming services that submit files on LTFS (Linear Tape File System) to various service providers.
These service providers need to prove their ability to ingest data, checksum it and produce an MHL report, to establish that files are being properly delivered. Once checked and approved, the media player or streaming device can then permit the service provider to use the media.
Typically, when using such software, this process requires several steps but GB Labs software completes all tasks in a single step. It automatically ingests files to a specific location, creates an MHL, does a checksum and prepares the files to be returned for approval, all at once.
If required, bandwidth usage can be rearranged and managed on-the-fly using Dynamic Bandwidth Control, which supports an active, intelligent use of available bandwidth. Because storage that is reserved and then not used may affect the performance of others who could use that extra capacity, Dynamic Bandwidth Control identifies and selects high, medium and low priority users and constantly evaluates and balances performance. This gives each user a better chance of working at the required performance, and keeps the whole system running at all times. www.gblabs.com