CODEX Media Vault Speeds Video Post Processing for Small Teams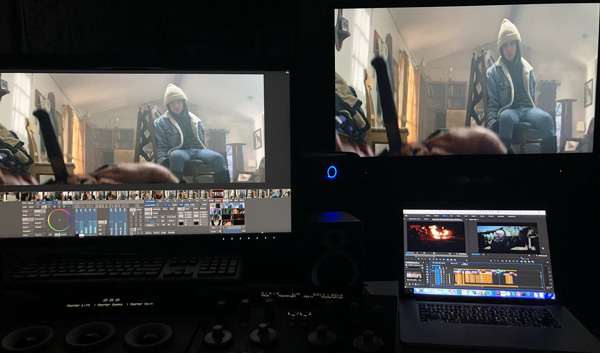 CODEX Media Vault is specialised shared storage for creative facilities and productions that need to connect internal working departments and teams, per project, to access their content.
Media Vault comes in deskside or rackmount configurations for secured enterprise installations. The interface has four 10GbE ports to make connecting up to four workstations directly, or adding Media Vault to an existing local area network, straightforward. Further ports of up to 50GbE are available as options for different configurations and network infrastructure. The deskside system is very quiet and has been designed for location directly with the creative team or placed in a camera truck and doesn't need dedicated cooling and sound isolation to be functional.
Streamed files can read up to 1,000 MB (1GB) per second over the 10GbE network, supplying multi-user 4K workflows for up to four users with ProRes 4:4:4:4 support. As a small workgroup device for video editing, visual effects and so on, Media Vault can sustain high performance for multiple users.
So far, Media Vault has met with success at creative studios, advertising agencies and smaller post houses that need to be mobile and flexible. As remote production becomes more common, a portable unit that can be used with the editorial, colour correction and other freelancers in support of their client's productions is an asset.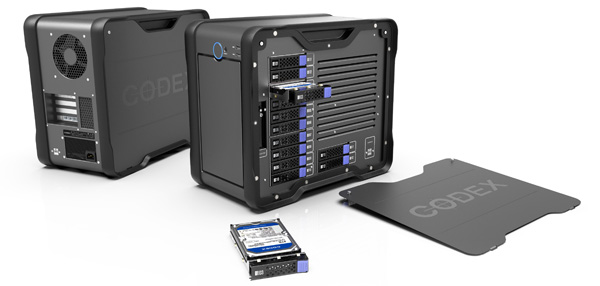 Media Vault's capacity scales from 72TB to 168TB in the deskside configuration and 2-RU rack side version, but further rackmount enterprise models shipping later in 2020 will have storage densities up to 336TB and higher for larger scale production back-up. When using digital cameras that generate TBs of data per day, large scaled, high performance storage is required. has the award-winning expertise solutions.
CODEX developed Media Vault to extend their experience in high speed recording to desktops and networks of different sizes. Teams that collaborate with files in the same storage location increase efficiency and, over time, can save time and resources.
Media Vault on Location
Jason Starne, producer on a recent 8K RED Camera production in Texas titled 'Whitetail' used Media Vault throughout the project, starting from the original camera file ingest on location. In the end, it was used as the playback source for VFX and final colour in the colourist's home.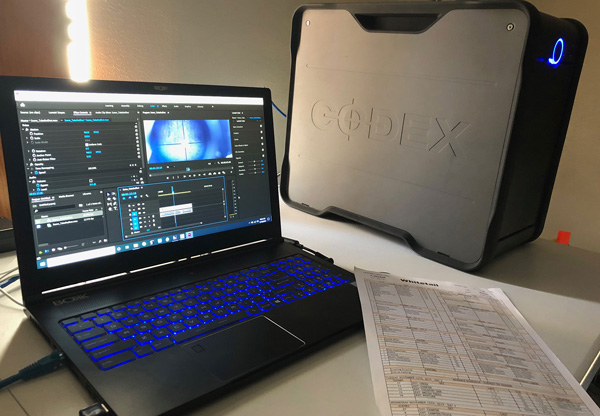 Because CODEX is best known for its work with ARRI, Jason was uncertain if using CODEX Media Vault would still have advantages even if they weren't using the high-density encoding developed for ARRI. "HDE would have been nice since we were shooting with two RED Weapon cameras capturing at 6K anamorphic with a 2x squeeze from a 6.5 sensor crop (2:35:1 Widescreen)," he said. "Also we were using only 5:1 compression. However, due to the director Derek Presley's conscientious shot planning and storyboards, we only ended up with 10.4 TB total OCN (original camera negative) for the 12-day shoot.
"The production workflow was simple. Our A Camera used RED's second generation camera system DSMC2, which meant we could generate QT ProRes proxies in-camera, while our B Cam was only DSMC1, so we needed Adobe Media Encoder to transcode the R3D files to 1920x788 QT ProRes proxy files to match the A Cam."
On-Set Workflow
Each day at the lunch break, they ingested 500-600 GB from the Red mags to the CODEX Media Vault, which only took about 30 minutes due to the direct 10Gb Ethernet connection from the DIT's laptop. "After the transfer of the B Cam data, we would immediately start generating the proxies while our 1st AC would use the second set of mags for the rest of the shoot," said Jason. "At the end of each day we would swap mags and ingest another 500-600 GB of new R3D files and then be completely camera ready again for the next morning, while editorial would have everything they needed from the previous day.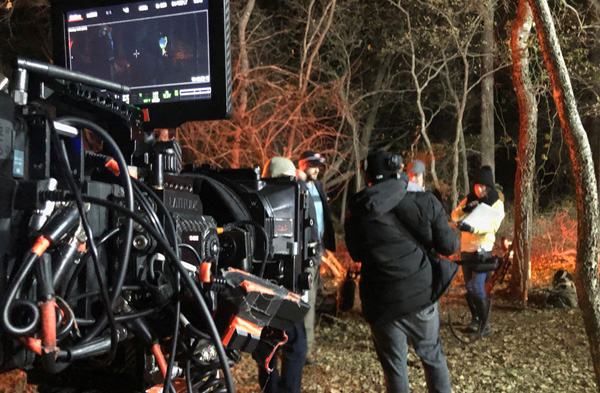 "Since the CODEX Media Vault comes as standard with four 10Gb Ethernet ports, as well as our DIT loading the Red mags, we were even able to have the behind-the-scenes (BTS) team ingest images and video through an Apple Mac Pro laptop, attached via a Sonnet Echo express to another 10 GbE network connection. This laptop was running Adobe CC, and the BTS team managed the occasional Photoshop and Premiere cuts for social media."
All of this could proceed while the senior editor worked on the main scenes without delays or glitches, using a purpose-built editor's workstation station on loan from CineSys-Oceana, operating Windows 10 Pro with the Intel i9 14-core 3.2GHz/4.4GHzTurbo chip, 128GB of RAM, and an NVIDIA RTX2080 GPU with onboard RJ45 10 GbE copper connections.
Jason noted, "Since we were also storing the R3D files on the Media Vault and we had the workstation horsepower, we would often play with the ISO and Kelvin settings in Premiere for some look experimentation. The whole set-up allowed us to quickly review takes and scenes for QC, continuity and lighting setups very soon during the shoot." x2x.media