A report commissioned by Quantum shows ways in which media-aware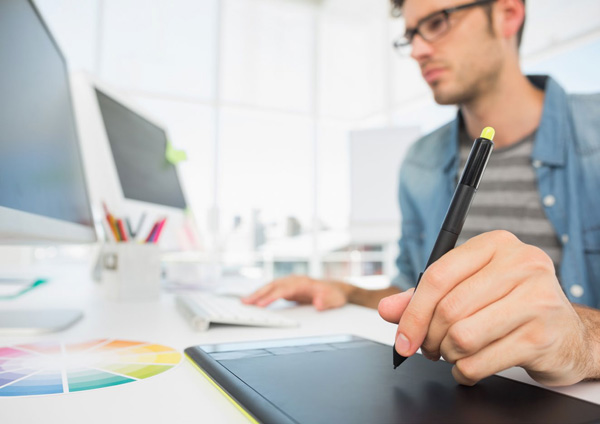 storage and content management can better meet demands broadcast
and post operations place on storage.
---
Intelligent, Media-Aware Storage Drives Process Efficiency & Monetization
Earlier in 2015,Quantumcommissioned industry analystCoughlin Associatesto prepare areportto identify aspects of workflow storage that give it advantages over general-purpose IT storage for broadcast and post-production operations. The report describes demands that operations in these industries place on storage, and specific ways in whichintelligent, media-aware storageand content management can help control and protect an organisation's return on investment.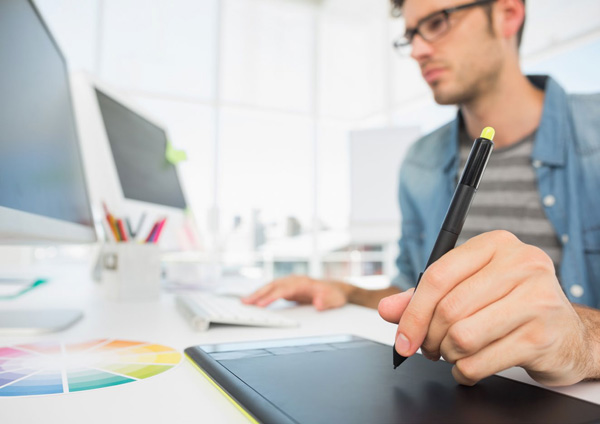 Workflow storagerefers to storage optimized for media operations and applications with integrated intelligence capable of application- and media-aware content management. According to the Coughlin report, workflow-optimized storage needs to work differently from general-purpose storage because the demands of moving and streaming large high-resolution media files are different to the demands of storing and accessing databases, documents and other business content.
Storage Impact
In an interview with Digital Media World, Data Protection Solutions ArchitectBruce Coulthardand ANZ Country ManagerAdrian Sharkeyat Quantum say that deciding whether to rely on general-purpose IT storage or on specialized workflow storage is becoming more relevant. Currently, producers are moving to higher video resolutions and capture frame rates, which create very large files. Also, the need to create more content, more quickly makes repurposing existing assets a more attractive option. Large file handling, securing and moving large volumes of data, and asset management are all tasks that media-oriented workflow storage is designed for.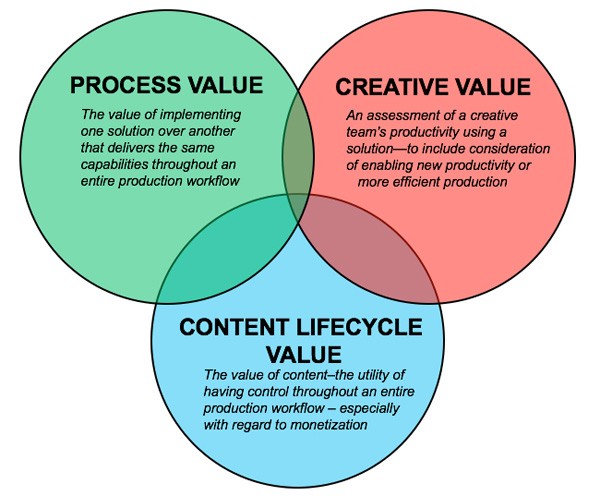 In its report, Coughlin Associates identified three aspects of the work involved in media production in which the choice of storage can have a direct impact. One is everydayprocesses and applications, in terms of efficiency and cost. Another is the ability to generatemore contentor higher-quality content, and a third is being able tocontrol and managecontent assets efficiently throughout their lifecycle, including re-monetization.
Content Migration & Tiering
One of the main ways workflow storage drives greater process value is byautomating the migrationof less frequently accessed content to lower-cost storage layers, while consistently managing the content regardless of where it resides. In contrast, general-purpose storage often incorporates only a single tier of storage at the highest price, or has two tiers of storage that are also likely to need third-party content management software, or third-party storage, added to them to maintain the same functionality across the system.


According to the report, re-purposing assets for monetization involves creating anavigable, retrievable libraryof content, which in turn makes content more valuable and more attractive to prospective customers and content licensors. Workflow-optimized storage of content helps the owner make sure that assets can be found and that the right assets are where they need to be at the right time, to avoid missing revenue opportunities.

Quantum StorNext 5platform is a scale-out workflow storage system for media with a policy-driven engine. It combines performance, in terms of high bandwidth for ingest and collaboration, and capacity, but can also be used to customize functions such as automation, flexibility and control, and classification of data across storage tiers in ways that help deal with volumes of large media files.
From Online to the Cloud
StorNext 5 systems work as a single, managed storage environment optimized for high performance and low overall cost. The streaming file system integrated into StorNext 5 automatically classifies data and moves content acrossonline storage, extended online storage, tape archiveand, if used, thecloudin order to balance accessibility and cost. Automation is based on requirements that suit the way the customer uses its content, determined through a system design and implementation phase.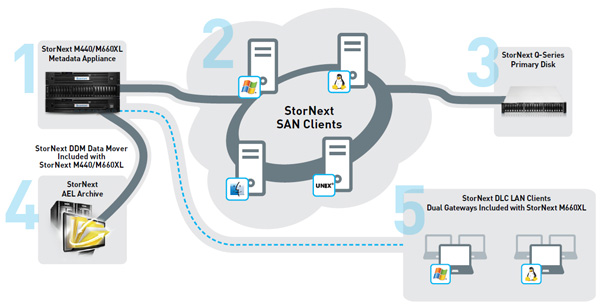 Quantum'sScalar LTFSappliance uses the LTFS open standard and has tape's stability, lower cost and physical portability. Libraries are accessed as a NAS file share, and files can be dragged and dropped between a tape archive and primary working storage. Archive files are directly available to existing applications and file system utilities. Access to archive data and searching for files does not require proprietary backup software. A customer only buys the performance they need and can then scale the system up as data grows.
Metadata Intelligence
StorNext 5's workflow optimization, file migration and re-monetization functionality depend on metadata employed within its Metadata Controller Server/Client architecture. All configurations of StorNext – for studios, production, workgroups and so on - include a metadata appliance consisting of a failover pair of servers called metadata controllers that manage connected scale-out shared storage in highly redundant pairs and a storage array to hold the metadata information. Connected clients can be on OS X, Windows and various Linux operating systems.
The metadata controllers connect to the scale-out shared storage and direct file movement over high bandwidth, low latency FibreChannel connections via a FibreChannel switched network. The metadata controllers are also connected via a dedicated Ethernet network that passes metadata information, so that this communication will not interfere with bandwidth for file movement.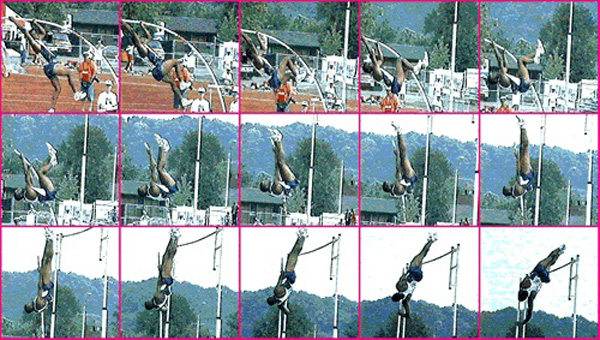 The metadata supporting this kind of activity is separate from metadata a company might capture and use within their ownmedia asset managementsystem. A MAM system reflects the content and what files may serve a certain purpose. The StorNext system's metadata, on the other hand, shows you exactly where those files are within your tiering structure and makes them all equally visible, including those that have been migrated to LFTS tape archive, speeding up retrieval.
Optimised Data Structure
Another workflow advantage that the Coughlin report discusses is theoptimised structuringof data inside media aware storage. The Quantum StorNext structure is optimised for very large files that rely onsequentially arranged, contiguous data– such as video. This arrangement is critical for video's data profile. For example, accurate sequencing is essential for perfect playback without dropped frames. Designed for many small, separate files like word documents, spread sheets, email and so on, the approach of traditional storage cannot be reliably applied to large video files with predictable results – that is, a structure is needed that determines results across all down stream applications. www.quantum.com