Aspera Files is a new SaaS platform that sets up a branded web-based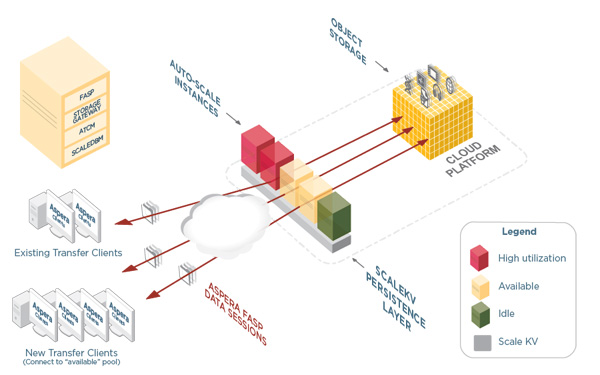 presence for quick, secure exchange and delivery of any size file-based
media across cloud and on-premise storage.
---
Aspera Files SaaS Supports Large Content Sharing in The Cloud
Aspera Files is a new SaaS platform that organizations use to set up a branded web-based presence for quick, secure exchange and delivery of any size file-based media or data. It can combine multiple storage platforms between end users in separate organizations and the content can be stored and accessed in multiple cloud and on-premise storage systems. Sharing between users and the nominated organizations is conducted as drag-and-drop operations, regardless of the content's location.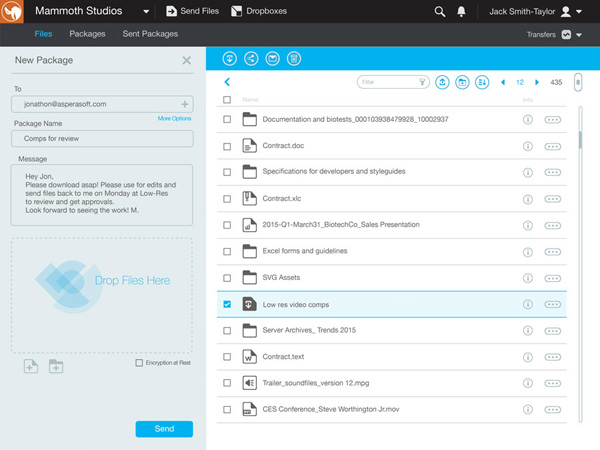 This new platform is built onAspera FASP transportto overcome barriers of distance, data size and network conditions, and a preview was demonstrated at NAB 2015. Aspera says it was developed to address several competing demands placed on media organisations – that is, convenient ingest, exchange and distribution file-based digital media content and big data, which needs to be delivered at speed, securely and with the capacity to scale up using cloud platforms.
More high-resolution content is in production under shorter turnaround times in competitive markets that also depend on secure inter-company collaboration. No single application platform has existed that can solve all of the major barriers of the file exchange problem in this environment.
However, Aspera has created Files to meet several of the main requirements. For example, large and small companies can establish abranded Organisation web presenceand create Workspaces for project-based content sharing within a community of users. Organizations and Workspaces allow custom logos and lightweight custom re-skins. For familiarity, an API allows the use of an organization's own content sharing, transfer and scale-out properties within their local media management systems.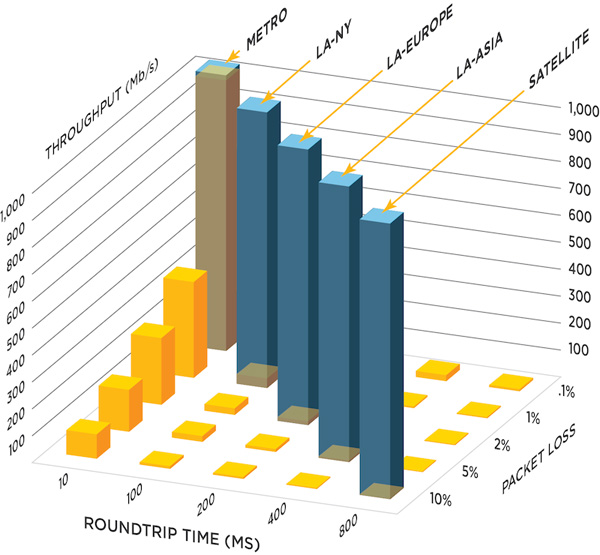 Users can share files with anyauthorized individual or groupby selecting the item, the target user or group, and the appropriate access level. Shared content appears automatically in the Workspaces of the target users with the appropriate permissions. Users can also select finished content from any authorized storage location and send it to the Inbox of other users or groups. Recipients are notified when a new digital package has been received, and they may browse and download specific files or folders in the package, or download the entire package itself.
Built on top ofAspera FASPand Direct-to-Cloudstorage system, direct ingest, transfer, exchange and storage of large 4K media formats occurs at high speed over long-haul global WANs both to on-premises and cloud or CDN object storage. The platform supports storage and transfer of content in the major commercial and open source cloud platforms - IBM SoftLayer Swift, AWS S3, Azure Blob, Google Storage and Openstack Swift - and will be extensible to major CDN cloud storage in the future. It supports familiar SAN/NAS storage on premises via Aspera servers and clusters.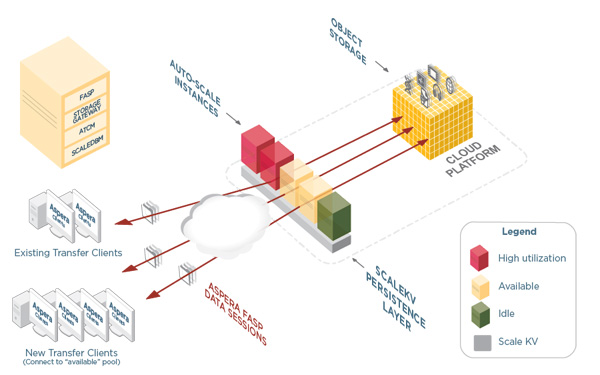 Aspera Files secures content across authorized users within each organization, with third-party partners and with trusted organizations. It also uses a new type ofdistributed content access controlthat enforces content sharing permissions on behalf of content owners. This authenticates each end user's access through a delegated authorization and secure access key system. Content transfers can be encrypted on the wire and at rest, with optional client-side and server-side encryption.
Built on the new cross-platformAspera Cluster Manager, Aspera Files automatically scale up with new transfer server instances in an organization's chosen location, on premises or in the cloud, to meet variable demand in throughput and storage. The distributed self-scaling clustering automatically adds new transfer nodes as transfer load increases, automatically moves heavily utilized transfer nodes into an unavailable pool, and automatically limits surplus nodes when transfer demand subsides.www.asperasoft.com