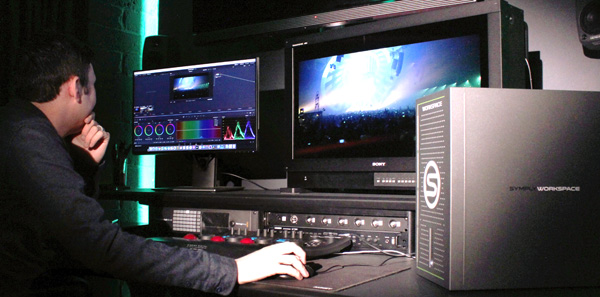 Symply has upgraded the SymplyWORKSPACE shared SAN storage system by embedding the axle ai 2020 media asset management system, to improve collaboration and increase efficiency in media production. The SymplyWORKSPACE storage environment uses the StorNext6 file system for collaboration over Thunderbolt3, supporting up to eight simultaneous clients – Mac, Windows or a combination – and including RAID protection.
SymplyWORKSPACE manages high bandwidth capable of supporting multiple streams of 4K ProRes. Due to the built-in AI-based MAM and Thunderbolt connectivity, it can operate as a complete shared production system without a major investment in hardware infrastructure. The compact, desktop design suits smaller post-production studios, in-house creative teams, houses of worship, sports teams, ad agencies and other types of creative facility using small workgroups.
The compact footprint and lack of rack requirements also make it suitable for on-set and remote production. SymplyWORKSPACE Assistant management software is included to use for system setup.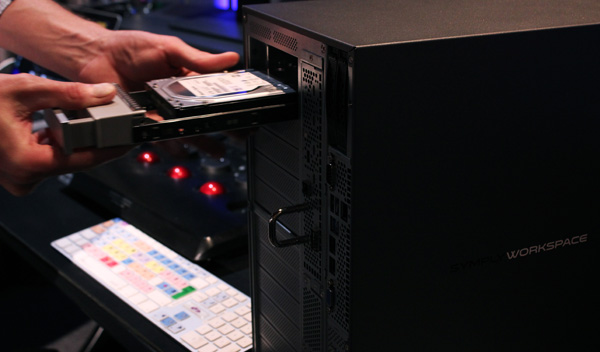 The SymplyWORKSPACE production environment's tools help users set up storage workflows ready for production. With the built in Media Asset Management from axle ai, teams can carry out content searches driven by artificial intelligence to speed up storage workflows and tasks. The axle ai software connects with the existing storage, and adopts and internalises its folder setup.
Users do not need to check files in to special locations, or upload them to the cloud. Largely an automated, browser-based system, it tags media, based on scenes, locations and events, and then automatically creates low-bandwidth proxies users can search and access from a web browser, smartphone or tablet – on site or remotely.
"We have been working with Symply and see the combination of SymplyWORKSPACE with embedded axle ai 2020 as a promising approach to management for the growing number of smaller post users," said Sam Bogoch, chief executive officer, axlevideo. "The ability to run in a Linux virtual machine on the Xeon processor of the SymplyWORKSPACE is especially useful. Its virtual machine design and solid-state disk architecture is unusual in such a low-priced SAN, and delivers the speed and power we need to manage and transcode large numbers of assets on the fly."
SymplyWORKSPACE systems include five seats of axle ai 2020, for 48TB of RAID protected storage and four simultaneous Mac users. Four extra users, up to eight total, can be added at any time. Several other configurations with up to 366TB supporting multiple 4K streams, and any combination of up to eight Mac or Windows users, are available.
The upgraded SymplyWORKSPACE is available now. For organisations with concerns about social distancing, the Thunderbolt connections can use optical fibre cables that support colleagues working within a 50 meter range. www.gosymply.com