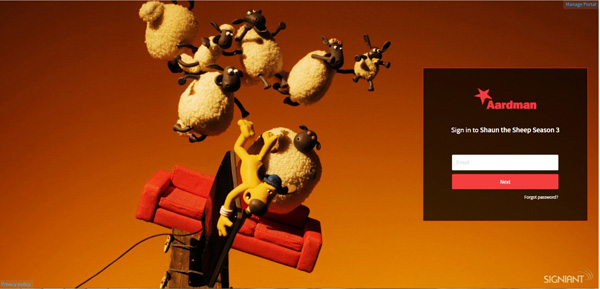 Signiant customers Aardman Animations have added a corporate identity to their Media Shuttle portal.
Signiant has acquired Lesspain Software, a German developer of embedded media processing software and the desktop application Kyno. Lesspain's expertise will be used to extend the functionality of Signiant's Software Defined Content Exchange (SDCX) software-as-a-service platform, adding tools for interaction with media assets. With nearly one million users worldwide, the platform connects more than 35,000 Media & Entertainment companies of all sizes.
Margaret Craig, CEO of Signiant, said that the company was not as interested in acting as a consolidator, that is, aggregating the revenue of legacy hardware and software companies, as in targeting software companies like Lesspain with complementary functionality that can serve as cloud-native SaaS.
Recognised within the M&E industry for some time for transfer of large files, Signiant's role has expanded significantly in recent years. In the modern hybrid cloud, multi-cloud environment, the SDCX platform acts as a connective fabric between globally distributed content storage systems, within and between media companies. As well as giving fast, secure access to media assets regardless of storage type and location, from cloud to cloud and cloud to on-premises storage, this now involves management of information about the assets as well.
Digital Media World spoke to Ian Hamilton, Signiant's CTO, who said, "Signiant has acquired the Lesspain Media Engine, which allows users on the SDCX platform to interact with media asset management systems and also with the media defined inside them, capabilities that several of our customers have asked for.
Kyno is Lesspain's video workflow management software.
"Because customers are looking to us to facilitate organising, finding and interacting with their media assets in ways that add value to the media and to their services, we want to strengthen our platform's metadata and proxy framework, areas where the Lesspain team will contribute skills and code.
"Lesspain has also been successful at developing proxy workflows for working with media in diverse codecs and file wrappers, and will help Signiant develop an agnostic proxy. This will be particularly useful in the future because many AI engines need to work with proxy media."
Kyno, Lesspain's desktop application, is the basis of video workflows for narrative, documentary and corporate projects. It can be used on-location for backup, previews and creating dailies, in post for selecting material and transcoding proxies and in the studio to tag media and manage shared storage.
Core members of the Lesspain team will remain in Germany, where Signiant plans to expand its development organisation. Robert Krüger, Managing Partner at Lesspain, said, "Our deep experience with content processing and management will enable meaningful contributions as the company continues to advance the SDCX platform vision beyond file transfer." www.signiant.com