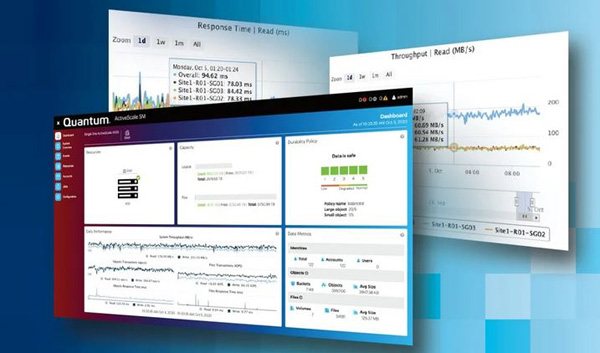 Quantum's ActiveScale object storage software, developed for managing unstructured data, has been updated to version 6.0 to support extreme scalability. It gives consistent performance at all scales without impacting data availability, durability and security.
The new software is now available as a subscription on qualified ActiveScale P100E3, P100 and the recently released X200 storage platforms, which are Quantum's high-density, high-capacity converged storage appliances. Through a new collaboration, ActiveScale 6.0 is also available for purchase through Supermicro, opening other hardware options for deploying ActiveScale.
"The move to digital transformation is accelerating data growth," said Jamie Lerner, President and CEO, Quantum. "The scalability of ActiveScale software puts organisations in a better position to use their data, regardless of the volume, to its greatest potential – whether in the sciences, business or media and entertainment."
For IT and data centre managers who need to affordably store this data and also keep it accessible, ActiveScale 6.0 and the new X200 platform make it possible to set up simple, high-performance access at greater system density, which contributes to less need for management, system power consumption and infrastructure costs.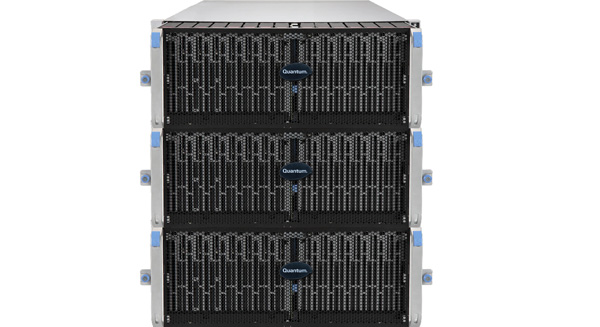 Focus on Optimisation
ActiveScale 6.0 software was built for ongoing expansion of capacity, processing and object count, to help users grow and manage massive data. Because an organisation can expand compute, networking and storage resources, it becomes easier to maintain a consistent performance at scale without tuning or rebalancing.
ActiveScale manages this flexibility through a two-layer software architecture that optimises flash and disk resources. Within the Access Layer, loads are balanced across all resources to optimise object and metadata resources. Independently, the Data Layer makes sure of data availability and the integrity of stored objects using erasure coding and data verification. Erasure coding breaks data into fragments, then expands and encodes it with redundant data pieces and stores it across a set of different locations or storage media.
Meanwhile the software employs quick, real-time problem-solving to dynamically place data across all system resources in parallel for efficiency and to balance long-term performance. This approach is in direct contrast to object storage systems that employ static or deterministic data layout policies that may lead to hotspots when limits are exceeded, and rebalancing tasks that overwhelm the system as it grows.
ActiveScale Qualified Systems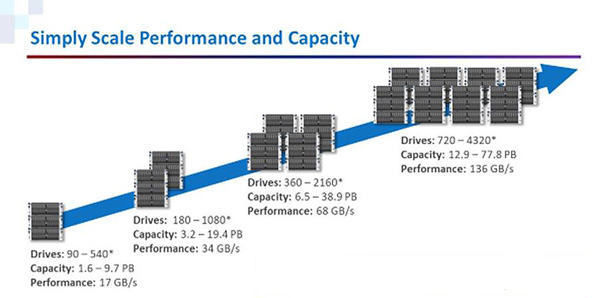 Non-disruptive expansion with no rebalancing required. *Maximum drive count with optional JBOD expansion.
Regarding hardware, the ActiveScale X200 platform uses new high-density, high-capacity server hardware in a small footprint. A converged system with scalable storage architecture, the X200 consolidates compute with storage, and is delivered as an appliance with both ActiveScale 6.0 and the underlying hardware.
Within a standard data centre rack, as compared to the previous generation ActiveScale platform, an X200 three-module ActiveScale object storage cluster now supports up to 14.6 petabytes of unprocessed data, 51GB/second sustained throughput and 30 billion objects, according to Quantum.
Each X200 module is a 3 x 4U chassis – giving a total of 12U with 6 servers and 270 drive slots – which runs ActiveScale 6.0 on each server as the OS, working in concert across all the other servers. Three of these X200 modules fit in a standard data-centre rack. The system scales out with multiple X200 modules connected via a private 25Gb Ethernet fabric. With a JBOD expansion module of 12U with 270 disk slots, an X200 can support a total of 540 disks.
Growing System Cluster
These greater capabilities reduce overall system footprint and simplify deployment in both large and small configurations. When scaling out with the new platform, capacity, performance and object count can continue to increase, creating a unified system cluster that potentially grows to exabytes of capacity and billions of objects. Current ActiveScale users can also use the new platform to expand existing ActiveScale clusters.
SuperMicro Simply Double
The ActiveScale X200 joins the recently announced ActiveScale P100E3 entry level object storage platform. With the wider portfolio, ActiveScale systems can be deployed at scales from hundreds of terabytes to hundreds of exabytes.
ActiveScale 6.0 software and the X200 platform are available now. Quantum is also collaborating with Supermicro, a manufacturer of the high-density, high-capacity servers ActiveScale uses. This collaboration means that Supermicro's customers, resellers and integrators can purchase ActiveScale 6.0 as a software only option and use Quantum's software-defined object storage to manage and monetise unstructured data on their hardware. www.quantum.com