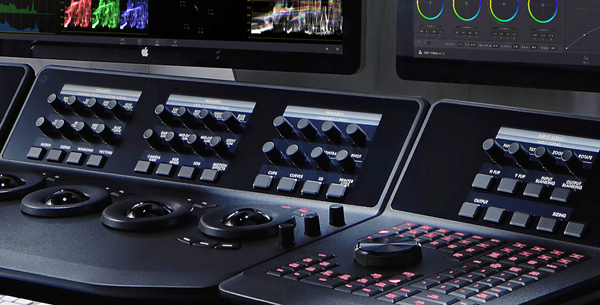 ColorTime post-production studio in North Hollywood specialises in digital media, content creation, and management and distribution for TV producers. ColorTime ingests raw camera footage to be colour corrected and edited, and also scans original film as high-resolution digital intermediate files that need to be stored. This work requires processing millions of small files as part of their fast moving media workflow.
Their previous storage system for this content was not ingesting data as fast as they could offload, so finding a new, more modern storage system for these files was a priority. As their growing content began to overrun ColorTime's SAN system capacity, they wanted to reduce the amount of data on their primary storage tier to make room for incoming projects.
From Ingest to Archive
ColorTime's teams need to manage their folders and files based on customer, age and type so that assets can be searched and recalled, simply and quickly. Furthermore, they want to copy projects to a tape library where they could be stored until finishing, as well as kept for affordable long-term archiving.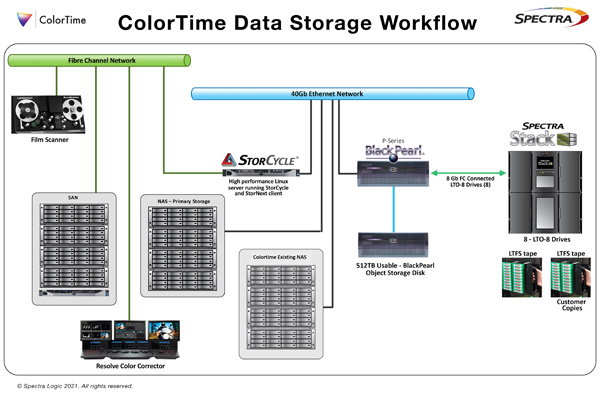 ColorTime often sends deliverables to customers via tape media in TAR format, a Unix-based utility used to package files together for backup or distribution purposes. ColorTime's new system needed to support this process, allowing them to aggregate a huge number of media assets into the TAR archive.
After a thorough review, ColorTime chose a BlackPearl storage system from Spectra Logic that includes content management, handles post-production workflows, maintains content availability, and has facilities to protect data for distribution and future use.
Storage Lifecycle Management
ColorTime deployed Spectra's StorCycle storage lifecycle management software as well, because of its ability to identify inactive files and migrate them off the SAN to lower-cost storage options via their new BlackPearl Converged Storage System. Meanwhile, ColorTime's staff can still find and restore those migrated media assets. StorCycle also makes it possible to re-use predefined migration jobs and automate the cleanup of production storage on an ongoing basis. ColorTime was able to repurpose an existing NAS pool in their storage workflow as well, protecting their previous storage investment.
ColorTime completed post for Season 3 of 'A Million Little Things', shown on ABC and Hulu.
"Spectra's StorCycle storage management software was what we needed to scan and move files to free up space on our storage area networks, enabling us to limit spending on further SAN clusters," said Bill Wornack, chief technology officer at ColorTime.
The studio also deployed a BlackPearl Object Storage Disk system with 500 terabytes for quick recall of active projects and high-resolution work-in-progress files with expiration dates of 30 days for efficient use of space and quick recovery. From there, the Spectra Stack Tape Library works as a modular long-term data repository that they can use to scale as their storage needs grow. spectralogic.com