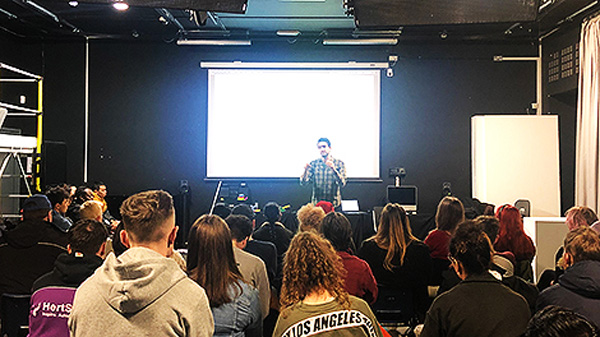 The University of Hertfordshire in the UK has about 400 students in its film and TV program. To make sure the graduates are ready for real careers as they enter the creative market, the program resets and re-validates its curriculum every five years, so that students are learning the most recent new techniques on up-to-date filmmaking and video production equipment.
One of the university's principal lecturers Howard Berry is especially able to bring wide industry experience to the classroom. He has worked on major motion pictures, and is an Avid Certified Instructor, an Apple Certified Master Trainer and a Blackmagic Design DaVinci Resolve Certified Trainer. This year, Howard led a campus-wide systems upgrade, which coincided with the department's 5-year course re-validation.
From Three to One
He said, "When we began the validation exercise, we had three different pathways that students could take – film and TV, documentary, film and TV fiction, and film and TV entertainment. Because students tend to move from genre to genre, we revised and consolidated the course to unified film and TV production, with a heavy emphasis on post-production. The new path would cover the range of production types, as well as picture editing, colour grading, visual effects and, most important, the workflow side of operations. This approach gives students a more well-rounded education."
Having consolidated the course into a single production track, Howard chose an EditShare EFS and FLOW storage and asset management system to support the multiple workflows, 80 workstations and various post-production tools used throughout the course.
Day to day, it serves as a central shared storage platform to house content and manage student permissions from an administration module designed for educators. As an open platform, it supports the university's strategy to design an integrated workflow that parallels real-world productions by integrating directly with Adobe Premiere Pro, Avid, FilmLight Baselight and Final Cut Pro, encouraging student collaboration.
Student Submissions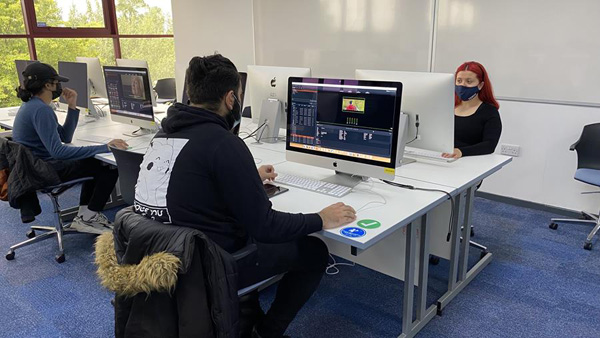 A process that has been automated using FLOW's automation functionality is the system that the film and TV Program students use to submit their work. "FLOW hosts folders for all the student assignments," Howard said. "When students submit their QuickTime and finished version files to the EditShare system, FLOW automatically scans the files and moves them into a folder only the lecturers can see. If a file is not in the right format, it will be scanned and transcoded. It also timestamps the submissions, so we know that the coursework was submitted on time.
"The written coursework is supposed to be submitted via the web portal, but students often work to the last minute and send in everything through FLOW. In that case, FLOW automatically filters their PDFs into another folder. It's a very useful system in which we can see all relevant submitted files at any time. Also, it runs in a web browser, which I use to manage submissions and share with my colleagues."
Remote Work and Collaboration
Because the EditShare installation had been completed just ahead of the pandemic, the film and TV department could use it to continue its coursework after the university itself shut down. Howard's team used FLOW with EditShare AirFLOW and FLOWStory software to set up a media management foundation. On top of that, AirFLOW and FLOWStory supplied cloud-based editing, review and approval tools.
FLOW media management works as the control layer for managing assets, alongside tools for ingest and logging, browse, automate and distribute, to and from shared storage built for media. AirFLOW supports remote production, including review and approval workflows, and FLOW Story editorial tools support remote storyboarding and remote editing.
When connected to an Editshare FLOW Database, FLOW Story supports collaboration with other FLOW clients, such as FLOW Browse and AirFLOW, in real time. Projects, clips, sequences, markers and metadata are also updated and synchronised in real time, opening different options for collaboration.
Howard said, "Without FLOWStory, the only alternative would have been to have students come into the university lab to work on their edits, which wasn't going to happen because our labs were closed for half the year. FLOWStory was a light install that ran on Windows and Mac and would allow the students to edit from anywhere.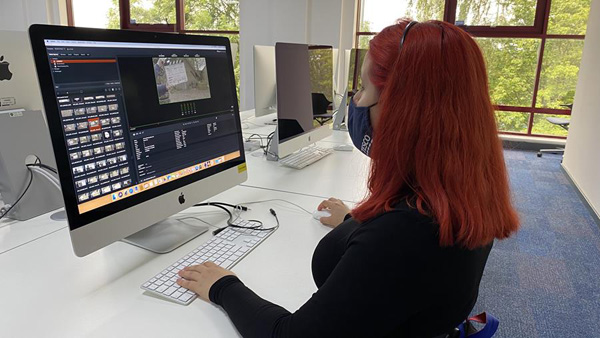 "As the students dove deeper into the application, they discovered that they could use it for 4K multi-camera editing and export the EDL directly into an NLE. From there, AirFLOW gave us remote review and approval capabilities. We were able to change over to remote working very quickly. Weekly edit reviews, where staff and students would normally meet face-to-face, became feasible again via AirFLOW remote viewing, by adding review markers to the timeline with notes that the students could instantly see and act upon."
Continuity
For Howard, production has typically been rigid with required specifications and hardware. But EditShare overcomes some of the restrictions of connecting with other systems and geographic boundaries. It allowed them to adapt to extremes. One degree project this year, 'My Hundred Brothers and Sisters', has involved students at a partner film school in Poland filming on behalf of Hertfordshire students who couldn't travel abroad.
The footage was sent from Poland over the internet, and the editor of the project was able to save it directly onto a dedicated 2TB EditShare space, which immediately made it available to the director to review, the assistant editor to log and add metadata to, and for transcripts to be prepared before the cut. The whole team could see the footage remotely any time they wanted to access it.
"We have many students who cannot return to campus because of the pandemic, for one reason or another," said Howard. "But they are still doing the coursework and the training, and are still able to learn because we are using a shared system like EditShare." editshare.com