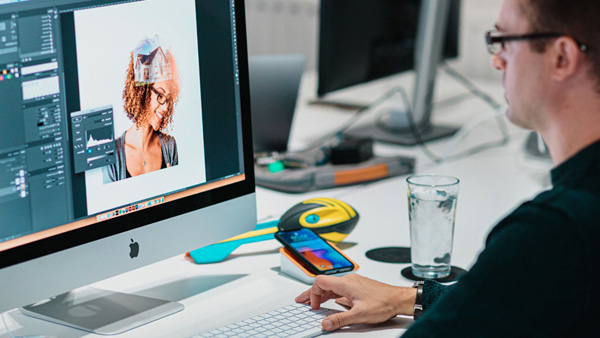 LEAP is a creative services agency that operates through a global network of hundreds of artists, designers and motion graphics editors who work remotely. The teams use the cloud as a way to collaborate on creative projects without spending undue time or effort on logistics, or putting data at risk.
The company's systems and technology director Aidan Taub said that this type of operation relies heavily on their ability to access data analytics in the cloud. He said, "Without data analytics running alongside those workflow processes in the cloud, production would wind down to a halt.
"When we moved office locations in 2019, it gave us an opportunity to overhaul our legacy data infrastructure and move our data analytics to the cloud," he said. "LEAP's file data had previously been spread across disparate legacy storage systems, which made managing and locating data at different points in the workflow extremely labour-intensive for the data administrators.
"While we were considering ways to manage the problem, cloud extensibility was a key requirement. We needed complete control over our data, with everything in the same place and the ability to respond instantly to conditions, which can change rapidly. LEAP chose Qumulo's file data platform because it gave us that extensibilty – it is built specifically for managing large volumes of unstructured data in a cloud environment." Qumulo's software defined platform functions in exactly the same way on-premises as it does in the cloud – in other words, it shares all enterprise features and 100% compatibility between on-premises and cloud.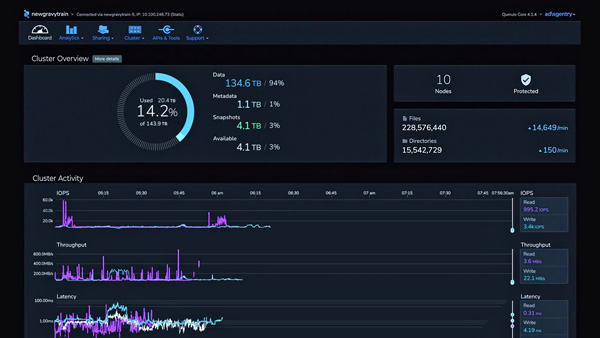 Visibility and Balance
A primary driver for LEAP's shift to cloud-based analytics was to get better visibility into performance across the entire company and to balance the needs of different users. They use analytics in order to see how many clients are connected, who is using the most bandwidth, and where the system is growing quickly. "For example, the IT team knows when large files are hitting the server, and can allocate capacity and accelerate file access for that operation without affecting any other department. We can see exactly what's going on," said Aidan.
Cloud-based analytics are tuned for the way data is managed in the cloud – independent of location with a short response time to rapid change. LEAP is able to monitor and control usage of their Qumulo capacity in real-time. The Qumulo analytics suite also integrates directly with native cloud monitoring and analytics like Amazon CloudWatch, which means they have Qumulo-specific views, as well as views that place Qumulo in the context of their overall cloud environments.
Features like Replication and Shift allow an organisation to move data between Qumulo clusters in the data centre and in the public cloud. Continuous Replication mirrors an up-to-date copy of a cluster's data to an off-site Qumulo cluster or to the cloud. Using unique identifiers, continuous replication continually takes a new snapshot and, comparing that snapshot against the last replicated snapshot, replicates the differences.
Using Qumulo Shift for AWS A3, users can copy data from an on-premises or cloud-based Qumulo cluster, to Amazon's Simple Storage Service cloud object store (AWS S3), ready and in a native AWS S3 format to use with thousands of AWS cloud services and applications, and those of other collaborators.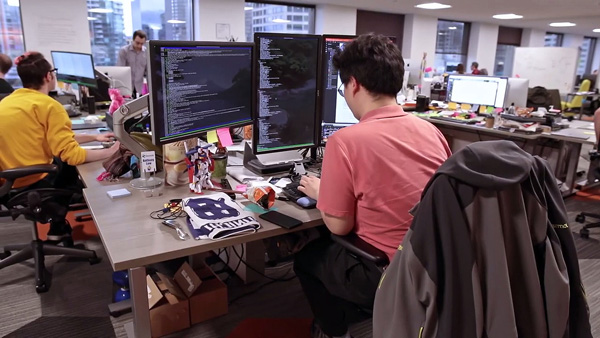 Scalable Nature of Cloud
As well as collaboration, LEAP was interested in a cloud environment because it would give them the scalability they need for high-compute workloads. Their projects generally involve working with massive amounts of heavy unstructured data – like video, images and audio – but they never know how big the next job might be, or when they will need the computing capability to manage petabytes of data at a time. In such cases, they especially need visibility to balance capacity and performance at any given moment.
Aidan said, "Traditional business intelligence and analytics can't scale in the same way that cloud resources do. The cloud allows you to quickly launch a server, for example, create a database or application that captures new inputs, and build new clusters at very short notice. You can immediately create the analytics infrastructure you need in the cloud instead of buying a ton of servers and having your IT team install and maintain them.
"When the COVID pandemic first hit, LEAP was able to implement the change to remote work because we had an existing system in the cloud. Our ability to mirror data to the cloud turned out to be vital, although we never could have foreseen the pandemic. Using cloud-based data analytics, we've been able to maintain efficient workflows and achieve business continuity.
"The cloud also makes information accessible to more people, faster. We have a distributed workforce, but because all our of teams are working simultaneously off the same data platform, we can access real-time data analytics from anywhere, at any time, instead of relying on separate systems for every department.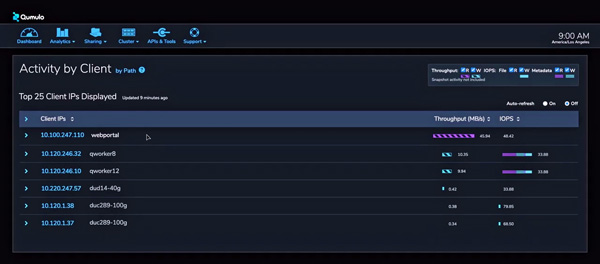 Migrating Data Instead of Operations
Aidan noted that switching service providers is intimidating. "For many IT administrators, the hardest thing they'll ever do is navigate the path to cloud – but it doesn't have to be that way if they choose the right approaches," he said.
When migrating data analytics to the cloud, IT teams often start with a 'lift and shift' process, porting existing operations over to the cloud. Often this means re-tooling applications and systems to re-architect them for the cloud. Qumulo, however, helped LEAP shift all of their data without having to re-factor applications for the cloud.
From there, the organisation was better able to think of their data in terms of when (or where) it is used in a workflow, instead of where it is located in a storage system. While data storage itself had to be addressed in practical terms, LEAP could then use Qumulo's built-in hybrid capabilities to manage, move and make their unstructured data cloud native, and then launch and build applications and workflows with that data.
Location, Security, Budget
"I would recommend finding an analytics system that makes it simple to replicate and extract data across multiple environments – whether it is on-premises or in a cloud – so that location is not an issue," said Aidan.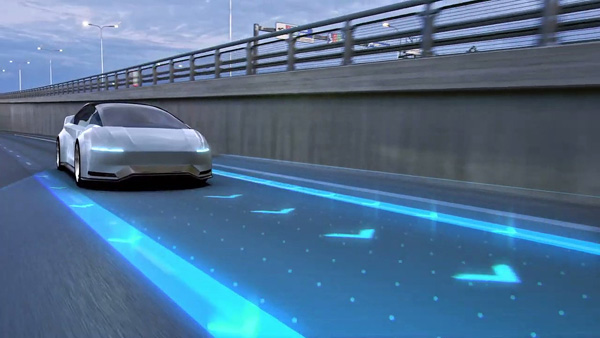 "Security also has to be top-of-mind any time you're shifting your company's valuable data out of a private data centre. Since LEAP's global network of workers includes freelance talent, we had to make sure our data would be protected in a cloud accessed by internal and external users.
"Finally, budget is always a concern. One-size-fits-all data architecture can be an IT spending trap. Enterprises often feel pressured to pay a high upfront cost but then get locked into a long-term contract that doesn't fit their current situation.
"The key here is to find a provider that doesn't force cloud lock-in. Take some time to shop around for a platform with flexibility. That way, you can address your current analytics needs and scale up later to meet other demands in the future." qumulo.com