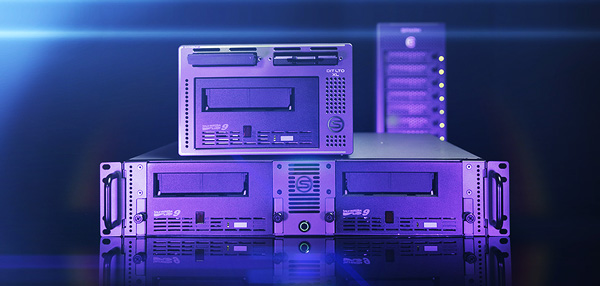 SymplyFIRST is a new series of storage products developed to help handle the common media workflows that creative teams, DPs and DITs use on-set, in post production, for visual effects creation and for independent filmmaking. The products, which include devices, software and a cloud archive service, help manage RAID protected storage, cloud archive/transfer, backup/archive and connectivity challenges experienced within diverse media pipelines.
"The SymplyFIRST series is an open storage system, accessible but also extensible," said Alex Grossman, founder and CPO of Symply. "It's designed to be affordable as well, so users upgrading from smaller systems have a jumping off point into wider media storage options."
SymplyFIRST has several options for data management, from desktop attached hardware, to tape archiving and expansion products. Symply has also developed five separate LTO products for on-set archiving of rushes, studio-based content offloading and other tasks. With those, an integrated, scalable cloud service called SymplyNEBULA is available as an alternative to mainstream cloud providers, and charges no egress fees for data retrieval – a major hurdle for many cloud adopters.
On-Set Appliances

Symply notes that the ability to offload content from cameras or other sources and safely store the data is essential to media workflows. SymplyPRO LTO and SymplyDIT LTO are Thunderbolt 3-connected desktop or rack appliances that incorporate the new LTO-9 tape storage format with up to 18TB native storage per tape and read/write speeds of over 400Mbps to move content quickly to secure tape media.
SymplyPRO LTO comes as a single or dual-drive desktop system in a metal alloy enclosure with two Thunderbolt 3 ports for daisy chaining, and fast device charging. It includes a SAS expansion port and SAS host connectivity port for connection to other SAS devices or non-Thunderbolt workstations. Its LTFS support uses drag-and-drop file operation similar to a conventional hard drive, and can reduce the need for backup or archive software. Users can interchange data using LTO cartridges, or by copying data to and from hard drives or SSDs. Configurations range from single and dual half height LTO-7 and LTO-8 drives, to full height LTO-9 drives.
SymplyDIT LTO is based on SymplyPRO LTO with similar features but serves as a multiple-access archive and transfer system that combines docking support for RED, Atomos and Blackmagic Design media, with removable 2.5" SSD and LTO tape, in order to help speed up DIT storage operations.


Management Software
Both the Pro LTO and DIT LTO systems are available in different configurations including a cable-less design in a metal enclosure that allows fast removal and insert of tape drives for transport or upgrade. They are supplied with SymplyATOM (Advanced Tape Operations and Management) software for daily tape read-write operations, firmware updates and maintenance so that users do not need to buy and learn a separate application.
Available for macOS 10 and Windows 10, ATOM software also has troubleshooting and diagnostic capabilities and contextual help tools. It is designed to work with the SymplyLTO family of products, and can support up to four LTO drives from generation 6 upwards. SymplyPRO LTO and DIT LTO systems are certified for use with backup and archive utilities for macOS and Windows as well, including YoYotta, Hedge Canister and Archiware P5.
Potable RAID System
Other SymplyFIRST hardware is SymplySPARK, a personal transportable RAID system optimised for media that is designed for both on-set and edit bay use. Achieving consistent, high throughput and low latency, it suits media workflows in post production, on-set, VFX, graphics and delivery.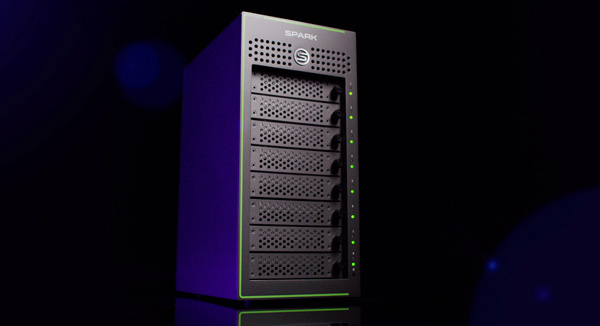 It is compact, light, has fast Thunderbolt 3 connectivity and is available in capacities up to 144TB. Packed in an impact-resistant carry case, its design allows tool-free user servicing of drives, fans and power supplies. SPARK integrates directly with the SymplyNEBULA cloud service, SymplyPRO LTO devices, and SymplyADDR Thunderbolt PCIe expansions.
Independent film producer Mikey Kowalczyk said, "Its speed exceeds any RAID device we have used before. Editing RED footage files straight from the drive was simple and not much different to running from the internal SSD. It's also robust and durable - I felt safe keeping, maintaining and editing several Terabytes of our film's footage entirely on the SPARK."
The SymplyNEBULA service was set up for content creators and business owners who are now considering the cloud for production and archive storage. Because the nature of media workflow requires significant data egress, which can drive up costs associated with using cloud resources, SymplyNEBULA aims to make cloud backup and archive fast, simple and affordable.
The service is available for a single per-terabyte price. It has S3 compatibility with data centres throughout the US and Europe, with no egress charges, and supports movement of content to and from AWS EC2 for various media processing and compute functions.
Expansion Hardware

Media workflows often depend on connectivity to Apple and Windows Thunderbolt-equipped workstations, and Symply aims to overcome the limited number of PCIe expansion slots available on most mini, all-in-one workstations and notebooks. For example, workflows often need specialised PCIe cards for Fibre Channel and high-speed ethernet connectivity, audio and video capture cards and RAID controller cards.
SymplyADDR is a series of compact, affordable, high-performance PCIe expansion systems designed to utilize the full bandwidth of Thunderbolt 3 equipped computers and make it simpler to add or remove cards. All of the devices are approved by ATTO Technology for use with their line of PCIe storage adapters.
As well as SymplyADDR, SymplyLOCK is a cable lock that works with all SymplyFIRST products and any Apple-certified Thunderbolt cable. It was developed to use with the other SymplyFIRST equipment to prevent accidental disconnection of a Thunderbolt device, which is important for remote or on-set editing operations. Its design accommodates varied cable types. gosymply.com