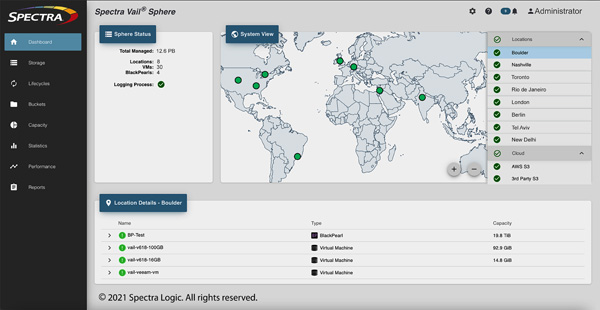 Spectra Logic has upgraded its products with a multiple-cloud management system and Attack Hardened capabilities to protect data from threats. Spectra has developed a new, distributed software called Vail that gives users universal access and the ability to manage data across multi-site and multi-cloud storage, thereby supporting hybrid and multi-cloud workflows.

Other changes to Spectra's portfolio include the expansion of the Spectra's BlackPearl hybrid storage platform, which manages data storage from NAS and S3 to tape, and now includes a native S3 interface designed to set up local on-premises S3-standard object storage using the same affordable, scale-up architecture. BlackPearl S3 can be used to synchronise data, bi-directionally, between public cloud and on-premises storage.
BlackPearl also helps to protect data from external and internal threats with new features Spectra calls Attack-Hardened – such as triggered snapshots, multi-factor authentication, encryption and virtual air gap – to mitigate the effects of ransomware.
Spectra Logic is now using these features to protect all of its hardware and software, including its StorCycle Storage Lifecycle Management software and its line of enterprise tape library equipment, against the impact of ransomware and other cyberthreats. Support for business continuity is also improved through rapid restore of clean data after an attack.
Vail Distributed Multi-Cloud Data Management
Hybrid cloud environments are putting strains on IT professionals who must manage and secure data in multiple clouds and on local storage in multiple sites. Vail distributed multi-cloud software centralises data management across on-premises and multi-cloud architectures, making it possible to access, place and store data dynamically, on-demand, with a single namespace.
"Today, 92 percent of IT organisations are leveraging some public cloud services, yet most continue to maintain on-premises data centres for cost, data security and other reasons," said Scott Sinclair, ESG (Enterprise Strategy Group) senior industry analyst. "The resulting hybrid cloud architecture is often difficult to manage and protect without a dedicated approach like Spectra's Vail software that can unify and safeguard an organisation's data, no matter where the data is located – in the cloud, multiple-clouds or on premises in multiple sites, anywhere in the world."
Vail's interface sets out policy-based data orchestration that presents all data stored anywhere as a single pool of storage, which helps make workflows simpler and keep the cost of egress low. Regardless of where data is created or stored, whether in a public cloud, on-premises, a hybrid set-up or multi-cloud, all files appear in their native format and are accessible and protected.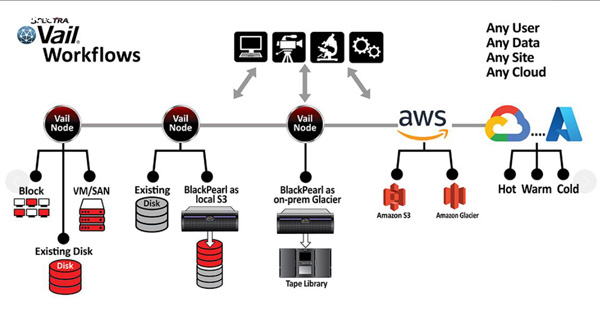 User Options and Controls
Vail's single namespace works as a universal file directory for objects, which will appear as if they are available on a single global file server. Without having to change the underlying folder hierarchy, it virtually consolidates access to any file or object data storage from a single global catalogue. This simpler storage architecture removes islands of storage and disaggregates namespaces on each file server, making files faster and easier to find.
The new architecture supports multi-directional data synchronisation, serverless cloud-based management and a configurable policy engine to manage data across multiple clouds and on-premises sites consistently. Users also have support for a secure, central repository for long-term data preservation and disaster recovery, and for on-premises AWS Glacier storage using automated tape libraries.
Users have the option migrate to the cloud, or move between clouds, in order to use the best services of particular clouds without vendor lock-in. Egress can be optimised for cost and speed of accessibility, independent of the data's physical location.
BlackPearl Hybrid Cloud Strategy
Spectra's BlackPearl multi-purpose hybrid storage platform scales up as object and file volumes grow, adapts as operational requirements change and can be used to synchronise data between on-premises and cloud storage. BlackPearl software is made for use with multiple types of media including cloud, disk, flash and tape.
BlackPearl's scale-up NAS and S3 storage combine to over 20PB in a single 42U rack, with a combination of disk and flash for high performance. It supports native S3 protocols, and existing Spectra DS3 applications. DS3 is Spectra's nearline gateway extension that can be configured with multiple storage targets to support numerous, concurrent workflows.

BlackPearl directly supports On-Premises Glacier storage, including spin-down object storage disk, which intelligently powers down bands of storage when idle and extends the life of the disks, and connectivity to automated tape. Data can be replicated to offsite storage and public cloud for disaster recovery, and bi-directional data synchronisation can be set up for automatic replication between on-premises storage and cloud.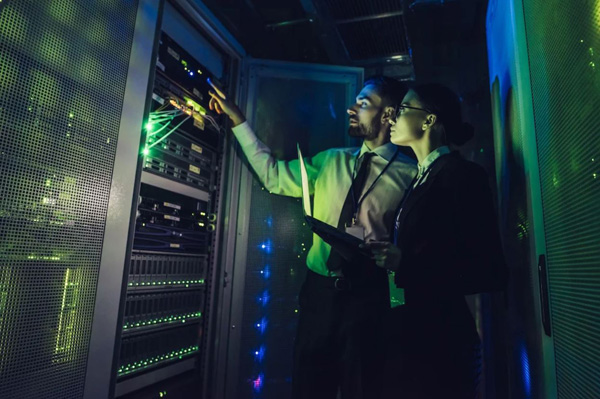 StorCycle Controlled Data Migration
StorCycle Storage Lifecycle Management software gives organisations a better understanding their data so that they can migrate it to the optimum storage tier in terms of access and preservation. It can also be used to encrypt data for further Attack-Hardened security against threats.
The new StorCycle release 3.6 includes Ransomware Snapshots, which integrate directly with Spectra's BlackPearl snapshot feature. When enabled, StorCycle initiates snapshots of BlackPearl volumes at the end of migrate jobs, and optionally maintains immutable read-only status of volumes, resulting in Attack-Hardened protection from network intrusions by reducing accessible attack vectors such as ransomware attacks, system misconfiguration and others.
3.6 can also be used to configure an existing BlackPearl object storage system as a storage location, or bucket, and automatically adopt the contents of the bucket into the StorCycle database. The objects remain in the bucket, but are available for StorCycle restorations. Bucket adoption enables existing BlackPearl users to integrate StorCycle into their workflows for straightforward access to object or tape archive.
Scalable, Affordable Tape Storage Libraries
Spectra Stack Tape Library starts as a 6U library, with 1 to 6 LTO tape drives and 10 to 80 LTO tape slots, and is scalable from 10 to 560 tape slots and 1 to 42 tape drives. Spectra Stack Tape Library is updated with the new Attack-Hardened features that include a cold partition to lock tapes so that they cannot be overwritten or loaded into a drive if ransomware takes control of the tape library itself. Traditional air gap protection is maintained, because any data stored on tape can be kept away from the network. The Tape Library is now shipping with LTO-9 drives and media. www.spectralogic.com