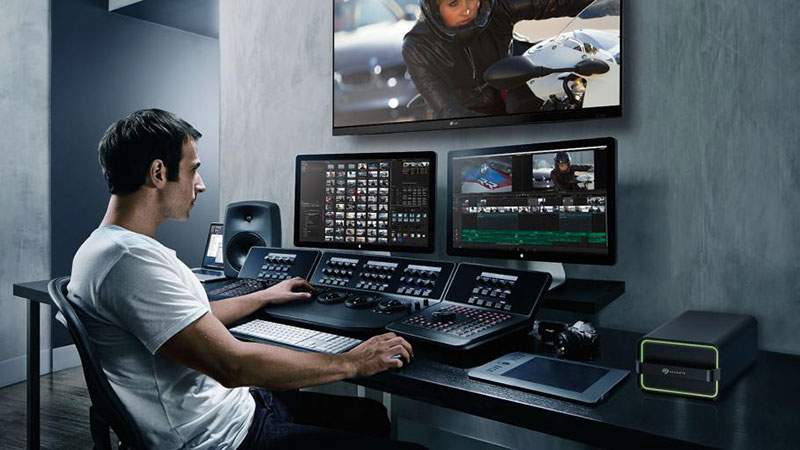 Seagate Technology, mass-data storage infrastructure specialists, and EVS, developers of live video systems for broadcast and new media productions, are collaborating on mass-capacity, mobile storage and data transfer services for media and entertainment businesses.
Their collaboration centres on using Seagate's Lyve Mobile edge storage and data transfer service with EVS' live production and replays system, LiveCeption Signature. The EVS system supports live shows, addressing fast turnaround constraints while transporting multi-camera content and metadata. Using the new storage-as-a-service, transport is handled via Lyve Mobile to the intended landing destination, which may be a website, archive or post-production.
Lyve Mobile devices are purpose-built for the movement of mass-data specifically for the M&E industry, where data compliance and security requirements are critical at all times. Functionality ranges from data capture, archive and copy, to access needs for remote on-set or on location production and post.
Producers using the new service can subscribe to storage capacity without having to invest in hardware. Seagate ships the required components to reach that capacity, when it is required. Once the production is finished, the customer ships the components back to Seagate.

Using Lyve Mobile as external storage with LiveCeption Signature makes efficient use of infrastructure. Near real-time traffic between production and post can lower costs and, if using the dedicated connection between the rack mount and EVS XFile3, users can reach higher bandwidth than with a USB connection. Automated XFile3 software archives, transforms and restores selected content during a live production, in any format and from multiple destinations. From one interface, the application is used to control and monitor all file transfers for archiving locally or through a connected live workflow.
Seagate Lyve Shuttle and Lyve Mobile Array have been tested with different XFile3 versions for compatibility.
"The full value of a digital workflow depends on systems that deliver the right content at the right time and to the right audience at any time, without compromising on quality at any stage. Today's M&E businesses need to implement new data management strategies that can handle increased volumes of data – from UHD or multi-camera applications, for instance – while at the same time, enabling the workflow to run smoothly," said Melyssa Banda, Seagate vice president for Lyve Mobile Solutions. "Adding Lyve Mobile to EVS live production systems addresses evolving industry demands."
"With the significant amount of multi-camera sources being recorded and the use of higher resolutions, customers are increasingly preoccupied with bandwidth constraints," said Laurent Petit, SVP Products & Solutions at EVS. "The use of Seagate's Lyve Mobile Service with EVS' LiveCeption Signature solution helps production teams move content securely and more efficiently. Feedback from early adopters is very promising." evs.com