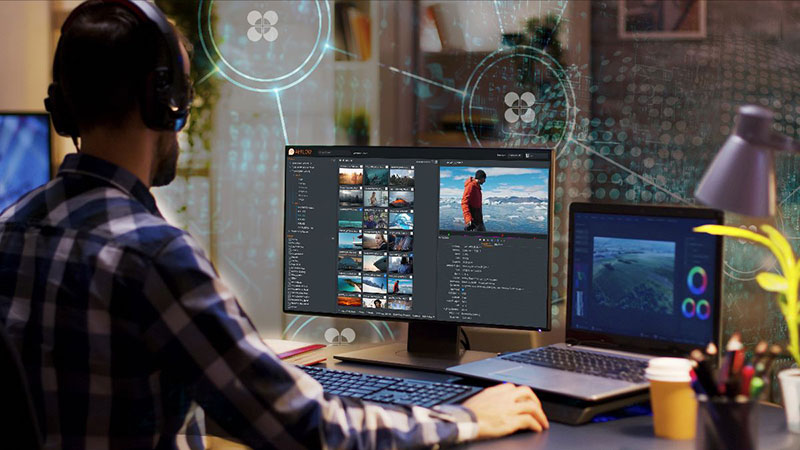 EditShare's new FLEX suite of cloud media asset management and storage software is developed to help businesses take advantage of cloud services and workflows. FLEX helps set up a footloose working environment, with access to content from wherever the creative staff need to be, and its use of cloud storage and processing supports an OpEx financial model, by adjusting the cloud hosting and storage fees to reflect the level of business.
"EditShare took part in the industry's shift to the cloud a few years ago by extending many of its existing core product capabilities – openness, interoperability and scale – to the cloud," commented Stephen Tallamy, CTO, EditShare. "EditShare FLEX is the result of these investments and can greatly simplify how teams organise and adapt their working environments."
A primary advantage of of FLEX is its strong and completely open hosting environment that leaves users free to use whatever editing software they prefer. FLEX Cloud Edit is the main part of the suite, based on media asset management, high performance software-defined storage and virtual workstations in the AWS cloud.

FLEX Cloud Edit+ adds functionality for accelerated file transfer using the CloudDat transfer software from Data Expedition Inc. Workstations are managed through Teradici's Cloud Access Manager, tightly integrated into a single-sign on EditShare environment.
FLEX Cloud Sync synchronises content between local EFS (EditShare) arrays and archive storage supplied by major cloud providers. By automating backup to the cloud, EditShare FLEX Cloud Sync forms a simple communication with the providers, with the associated resilience and availability. If necessary, a FLEX Cloud Edit system could, in fact, be launched using all of the content in a customer's FLEX Cloud sync backup.
FLEX is supplied in turnkey bundles that customers use to get started with a known configuration and pricing profile. "The professional services team can work with customers to tailor the system to exactly match their needs," Stephen said. "The customer maintains operational oversight and budgetary control, with no over-provisioning to avoid over-paying."
EditShare will be at NAB2022 at Las Vegas Convention Centre, 24-27 April. www.editshare.com