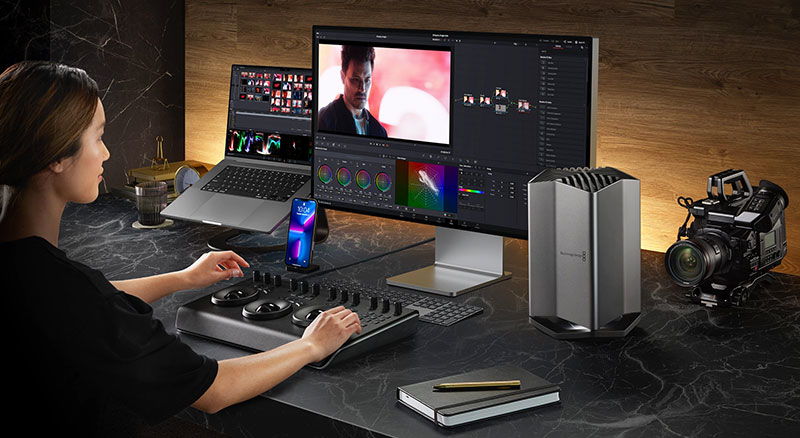 Cloud Store
Blackmagic Design's three new networked cloud storage devices -- Cloud Store, Cloud Store Mini and Cloud Pod -- are small, portable and very fast, allowing users to share 12K Blackmagic RAW digital cinema files without latency. The largest is Cloud Store, high performance network storage with four 10G Ethernet connections and a parallel memory core that can sustain maximum possible transfer speeds on each 10G Ethernet port simultaneously.
Blackmagic Cloud Store suits film and television applications in which large media files need to be shared between multiple users for editing, colour correction, audio post and VFX work. It can handle 12K Blackmagic RAW digital cinema files, for example, without latency or requiring users to store files on local computers. These characteristics make it a good companion for DaVinci Resolve.
Parallel Design
The Cloud Store device has a vertical portable design and runs quietly for use on location. Internally, an array of flash memory cards works in parallel for speed and data protection. The four 10G Ethernet ports operate as a switch. This feature allows users to connect four computers, working separately or together, using link aggregation for a high 40G Ethernet speed, which keeps multi-camera editing very smooth.
The internal memory core is designed to saturate all four 10G Ethernet ports, at the same time, to their theoretical maximum speed. Two extra 1G Ethernet ports also allow you to keep the 10G Ethernet ports free for faster computers.
Monitoring
Users can watch a live graphic view of their storage operations on a TV or monitor via an HDMI monitoring output. The storage map shows a graphical representation of the memory core and where the read and write access is happening for the connected users. Four graphs show the data transfers on the four main 10G Ethernet connections. The main space indicator shows the capacity of the memory core and how much is currently used, and also makes it possible to see connected users and the power supply status.

Capacity
The Blackmagic Cloud Store is available in 20 TB, 80 TB and 320 TB models. M.2 flash memory cards are used for reliability, high access speeds and minimal seek times. The M.2 cards are arranged in parallel RAID 5 groups, operating faster than a single card and combining speed with fault tolerance. To change settings, a Blackmagic Cloud Store utility is available on Mac and Windows.
Dropbox Sync
The new storage can also be used to set up a local cache for Dropbox files, making them instantly available without downloading. Meanwhile Blackmagic Cloud Store works continuously to keep the files synchronised. The cached Dropbox files can also be moved directly to the Blackmagic Cloud Store to make them accessible to users on the local network. Multiple Blackmagic Cloud Stores may be synced via Dropbox so that people in different geographic locations can collaborate without latency, as each person has a local copy of the files. Adding Dropbox sync folders can be done via the Cloud Store utility.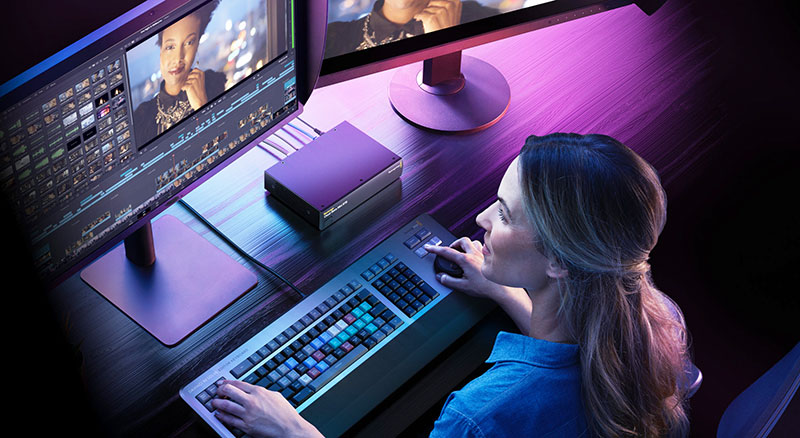 Cloud Store Mini
File Loading and Backup
For very thin laptop computers that do not have an Ethernet connection, Blackmagic Cloud Store has a USB-C-to-Ethernet adapter built-in that can be accessed by plugging the computer into the USB-C port on the store as a quick way to fetch files. The two USB-C ports on the Blackmagic Cloud Store can be used for loading and backing up files. Connecting a media card reader or USB-C disk to the ingest port loads all files on that disk into the Cloud Store. For backup, connecting a USB disk to backup port performs local backups without ongoing costs and in privacy. It works with a USB-C disk or with USB-C disk arrays.

A primary advantage of Blackmagic Cloud Store is privacy. It does not involve subscriptions, monthly license fees, or tracking of usage or data. Users can run a private network, disconnected from the internet, a critical factor for security standards for which computer networks cannot be connected to the external internet.
Blackmagic Cloud Store Mini and Cloud Pod
Alongside Blackmagic Cloud Store, Cloud Store Mini is network storage with high performance M.2 flash memory in a RAID 0 configuration. Its main difference from Cloud Store is its compact rack mount design and 8TB capacity. With built-in 10G Ethernet, the Blackmagic Cloud Store Mini is fast enough to allow a group of users to collaborate on video editing in software such as DaVinci Resolve. It includes Dropbox sync as well, synchronising units across different geographic locations.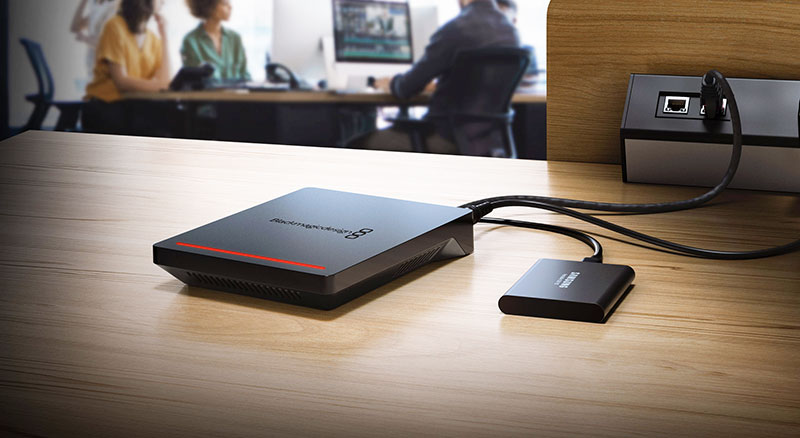 Cloud Pod
Blackmagic Cloud Pod supports the use of any USB-C disk as network storage. Users can build their own network using USB-C flash disks they already own. Depending on the brand of USB-C flash disk used, it can also handle 12K Blackmagic RAW digital cinema files. Without any internal storage, Cloud Pod is extremely small, thin and quiet. It features two USB-C ports, hosting two separate, networked USB disks at the same time.
Both of these smaller versions have the same HDMI monitoring output showing a graphical representation of the memory core and real time read and write access.

Blackmagic Cloud Store will be available before mid-2022 (AU$15,099), and Cloud Store Mini (AU$4,725 ) and Cloud Pod (AU$625 ) are available now, from Blackmagic Design resellers. www.blackmagicdesign.com