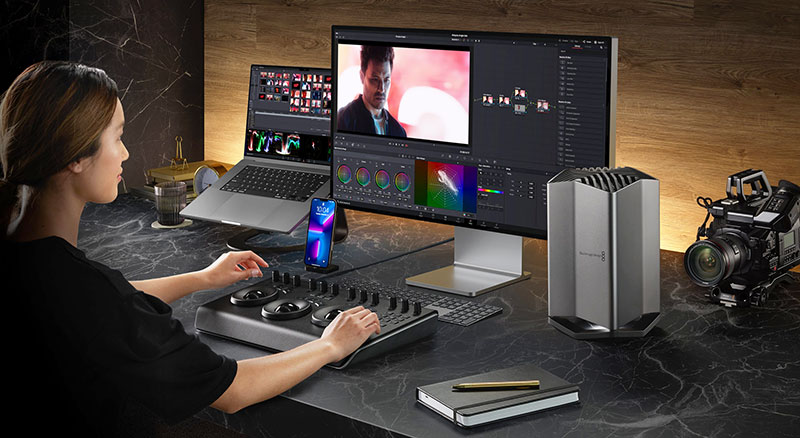 Blackmagic Design has lowered the price for its Cloud Store network storage. The Blackmagic Cloud Store Mini 8TB is now reduced to US$2,355, Cloud Store 20TB is now reduced to $7,595 and the Cloud Store 80TB model is reduced to US$22,995.
These reductions have been made possible by better pricing on the high speed flash storage components. The new prices will help to make high performance network storage more affordable for producers who need to rapidly distribute large media files globally.
Cloud Store and Cloud Store Mini uses flash memory to support many simultaneous users. With Dropbox and Google Drive live sync, files can be distributed between multiple units globally for very fast local file access, even on lower cost internet connections.
Cost of Collaboration
Sharing media files via Cloud Store avoids the high cost of collaborating with post production teams around the world. It syncs and shares media with Dropbox and Google Drive, and aligns with proxy workflows so that a complete timeline and its media can be shared quickly.
The internal memory core is capable of parallel processing fast enough to saturate the 10G Ethernet ports to their theoretical maximum speed, even with multiple users connected. The result is a responsive system with low-latency file access, making it useful for sharing media between editors, colourists, audio engineers and VFX artists.
The Blackmagic Cloud Store Mini is available with 8 TB of flash memory housed in a portable size, which is convenient for television production. M.2 flash memory cards are used for extreme, high access speeds and zero seek times. The four M.2 cards are arranged in a parallel RAID 0 group, which allows them to operate much faster than a single card, and fast enough to keep up with the 10G Ethernet connection. As larger M.2 cards are released, the existing cards can be replaced with new ones.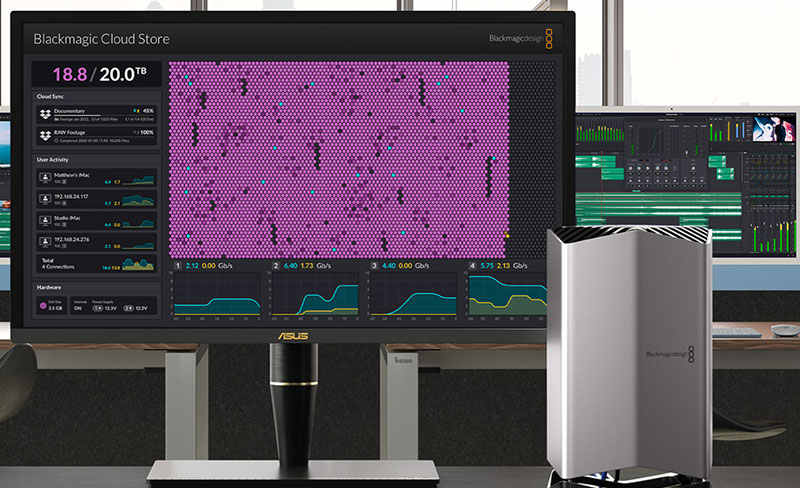 Capacity
The Blackmagic Cloud Store is available in 20 TB, 80 TB and massive 320 TB models, allowing business users space for files as well as video media. As video becomes a standard for information delivery in business, many users will have sufficient capacity to store all of their company's media in a single location on the network.
The M.2 flash memory cards combine high speed with fault tolerance. If a faulty M.2 card is detected, the Cloud Store will automatically enter a read-only mode, allowing users to continue accessing their files. Even at maximum speed, the Blackmagic Cloud Store is extremely quiet, generating very little cooling fan noise.
Local Caching and Back up
Customers can setup a local cache of their Dropbox and Google Drive files, which makes working much faster because files are instantly available without requiring downloaded from the internet. Blackmagic Cloud Store constantly works to stay in sync. Customers can move cached Dropbox and Google Drive files to the Blackmagic Cloud Store to save local computer space and allow everyone on their network to share them.
Its also possible to sync multiple Blackmagic Cloud Stores via Dropbox and Google Drive. This means groups of people in different geographic locations can collaborate without latency because everyone has a local copy of the files. Dropbox and Google Drive also serve as options.
Blackmagic Cloud Store supports Ethernet over USB-C connection to computers, does not involve subscriptions or licenses and does not track user data. A software utility for Mac and Windows platforms is released as well. www.blackmagicdesign.com