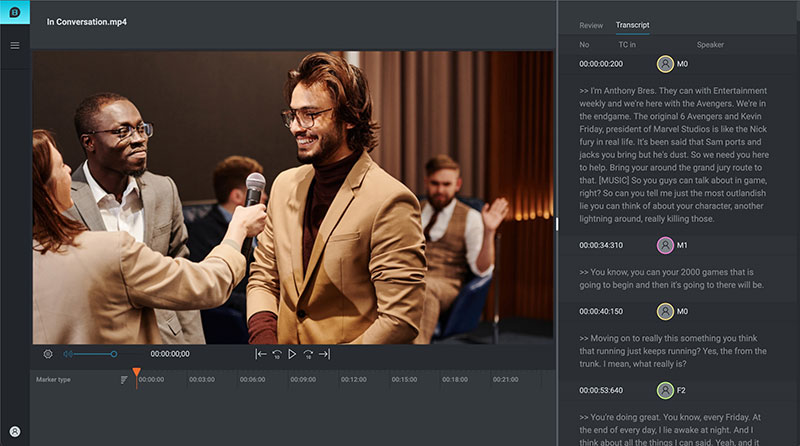 At IBC2023, EditShare will introduce EditShare One, a comprehensive tool giving a single, faster experience across all of the company's production asset management and media storage systems.
EditShare One is intended to simplify interactions at all stages of the creative process. Initial applications include Producer View for assigning tasks and delivering comments and feedback to the production team. Collaboration becomes simpler, even across multiple locations.
The AI-integrated Transcription View speeds up the identification of the key points in large media captures. Users will find Transcription View visible in EditShare FLOW directly, as well as in the FLOW panel in the Adobe user interface, and in Resolve due to the direct integration.
Already available, EditShare's Universal Projects allows editors to set up projects, link them to bins and synchronise them with their chosen editing software. The new EditShare One user interface and its initial applications to add further creative control.
"Our users around the world talk to us about the challenge of creating exceptional content within tight time constraints," said Sunil Mudholkar, VP Product Management at EditShare. "That is why we have put the focus on strong workflows, using automation where it is practical. Now, with EditShare One, we have user experiences that are thoroughly intuitive and consistent, so you are able to sit at any workstation and understand the complete content flow and the state of any project."
IBC2023 will also show the continuing extension of EditShare foundation software and hardware that support development of the modern media production industry. It is now common for content to be stored at multiple locations, in the cloud, and in the remote workstations of editors working on site or at home. A single instance of EditShare FLOW maps all the content in every location and makes sure it is ready. Automated proxy creation and integrated file acceleration keeps the right media always to hand.
Part of the IBC demonstration will be the integration of Cinedeck and EditShare FLOW to make live logging vailable for reality television, sports and other metadata-rich applications. This is a practical answer to the need to capture large amounts of media and information across multiple content streams.
"IBC brings creative people together from across the media industry," Sunil said. "We are pleased to be able to show how we're continuing to develop our platform to meet their real day-to-day challenges. More new introductions to the EditShare line up will be announced next month." www.editshare.com