AKiTiO Thunder3 Duo Pro Puts Thunderbolt 3 Speeds on the Desktop
AKiTiO Thunder3 Duo Pro is one of the first hardware RAID and display dock systems designed with the Thunderbolt 3 hardware connection interface. As well as super fast transfers it is built with a dual DisplayPort video output in a device small enough for a desktop.
The Thunder3 Duo Pro can transfer data at speeds up to 770 MB/s while simultaneously outputting two 4K video streams to connected displays – approximately 8 times faster than USB 3.1 Gen 1 and 4 times faster than USB 3.1 Gen 2, according to AKiTiO. It also combines high capacity external storage with RAID support and robust data protection.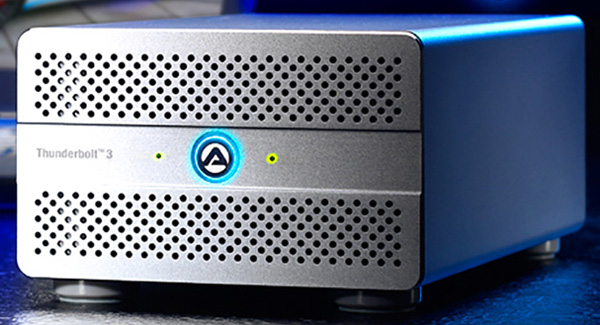 Thunderbolt 3 data transfer ports can also be used to quickly charge notebooks up to 100W with a single cable, and are compatible with existing USB devices and cables and DisplayPort 1.2.
Thunder3 Duo Pro is sold as a 2-bay RAID enclosure supporting four RAID modes - RAID 0 striping, RAID 1 mirroring, SPAN, and Non-RAID. It has two Thunderbolt 3 Ports, a USB 3.1 Gen 1 (Type-B) port, and a DisplayPort video output to connect to 4K 60HZ displays. The second Thunderbolt 3 port on the device operates in the same way as a Thunderbolt 3 computer port by supporting up to 5 daisy chained Thunderbolt 3, USB 3.1 (10Gb/s) and DisplayPort devices.
Thunder3 Duo Pro can also accommodate 2.5-inch SSD/HDD and 3.5-inch HDD drives. Thunder3 Duo Pro has a tool-less design, so that drives can be installed or uninstalled more easily. When SSDs are installed Thunder3 Duo Pro can also run without a fan when required during audio recording.
Sony Vegas and Adobe Premier Pro users can edit and playback multiple streams of HD and/or 4K content with enough headroom to daisy chain multiple 4K displays simultaneously. Thunder3 Duo Pro also has storage space large enough for applications such as Lightworks, ProTools, Corel VideoStudio, Pinnacle Studio, Cakewalk and Cubase. Multiple Thunder3 Duo Pro enclosures can be connected together for more storage capacity.
The Thunder3 Duo Pro will be available in early 2016 from www.akitio.com