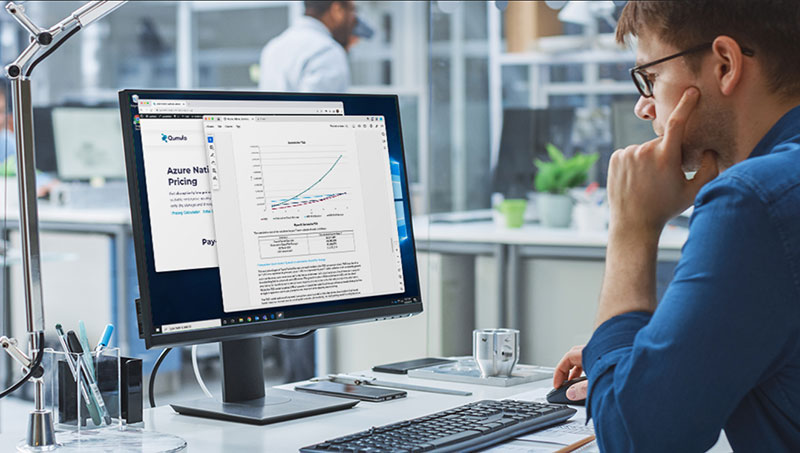 The Qumulo Scale Anywhere Platform is now available in a new version, designed so that users can access and work with on-premises storage in the same way that cloud storage is handled. Originally built as a simpler way to manage very large-scale data anywhere, the platform is intended to help enterprises overcome the challenges of massive quantities of unstructured data by creating a unified, scalable system that promotes efficiency, security and business agility.
Qumulo is used to manage data held at the edge, core or cloud on the platform of the user's choice. Users can also work from anywhere. According to Bill Richter, CEO of Qumulo, unstructured data in enterprises is growing at a rate that traditional storage systems are not coping with. "Qumulo addresses this issue with a software platform built for hybrid IT that scales to exabytes anywhere unstructured data is generated, stored, consumed or managed."
Azure Native File System
The new platform is comprised of four major components, beginning with Azure Native Qumulo (ANQ), a cloud-native enterprise file system with unlimited exabyte scale, manageable economics and performance elasticity. Jointly developed by Microsoft and Qumulo, ANQ avoids the trade-offs normally involved between scale, economics, performance and features when using file services in the public cloud.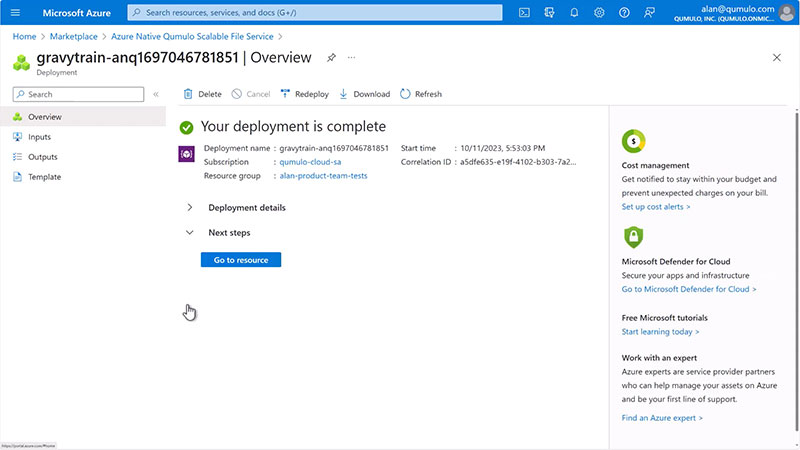 Qumulo estimates that the ANQ file service is typically less expensive than the closest alternative in the market. It is comparable to the on-premises cost of file NAS, including maintenance and running costs, and achieves the 12 9's of data durability of Microsoft's zone redundant storage. Capacity and performance are billed based on actual usage. Usesrs can run Qumulo on commodity hardware or public cloud of their choice.
ANQ scales capacity and performance independently – for instance, capacity can grow from 100TB-100EB and down again, and performance can scale from 1-100GBps+ and down again. It can be configured and deployed directly from the Azure service portal, very quickly. It also comes with Qumulo's set of data services, including quotas, snapshots, multi-protocol access, enterprise security integrations, and real-time data analytics.
Global Namespace and Management
Qumulo's Scale Anywhere further includes Global Namespace (Q-GNS), a unified data plane for an organisation's entire unstructured data, from edge to core and cloud. Through Q-GNS, enterprises can access remote data as if it were local for all of their workflows, from performance-sensitive applications to active archives. Q-GNS delivers the same data services mentioned for ANQ, across geographically distributed systems – that is, edge, core or cloud.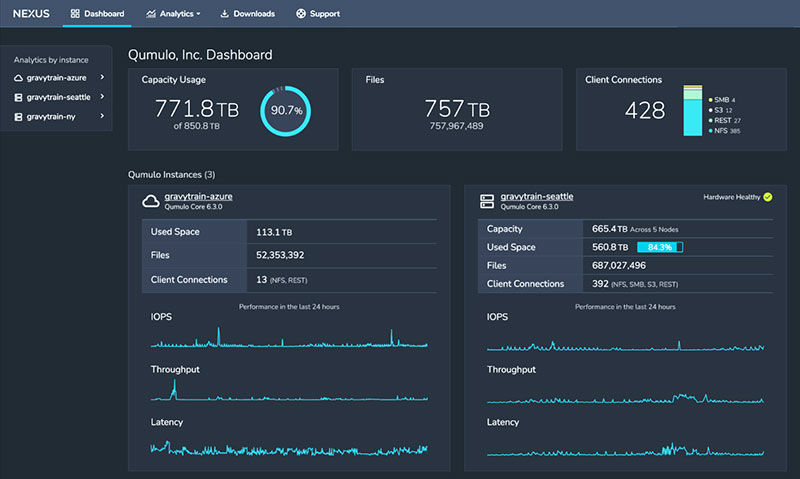 Qumulo Nexus console
For example, JD Whitlock, CIO of Dayton Children's Hospital said that the hospital is adopting cloud services to store long-term radiology images, but keeps new images on-premises. He said, "Qumulo's Global Namespace means we can bring our file-based workloads to the cloud without refactoring any applications."
Nexus, Qumulo's unified control plane, is a single management console that gives users the same tools for all unstructured data in any location. Monitoring is also handled from the same interface, including real-time performance and utilisation metrics, hardware health for physical deployments, file and directory counts and any active connections.
Qumulo One is the enterprise-level licensing program to use with any of Qumulo's products. Enterprises can now manage a globally distributed hybrid infrastructure and link distributed teams, all enabled by a single, secure platform. qumulo.com