Imagine Products PreRoll Post Simplifies LTO Tape Archiving for Windows
A Windows version of Imagine Products PreRoll Post archiving application is now available to create nonproprietary backups of any file or folder using the open-source Linear Tape File System, LTFS. Made for broadcast and postproduction applications, it places files of all types onto an LTO-7, LTO-6 or LTO-5 tape, or onto Sony's Optical Disc Archive, in a simple process at low cost.
Archives are often stored on hard drives, which may become less reliable the longer they are stored. PreRoll Post mitigates this problem by backing up full-resolution media to local disk and to a long-term tape or cartridge in a straightforward manner, so archives are made correctly the first time they are generated. It is also compatible with Imagine Products' ShotPut Pro offloading application for Windows, which make multiple copies across multiple drives at once and then verifies all files.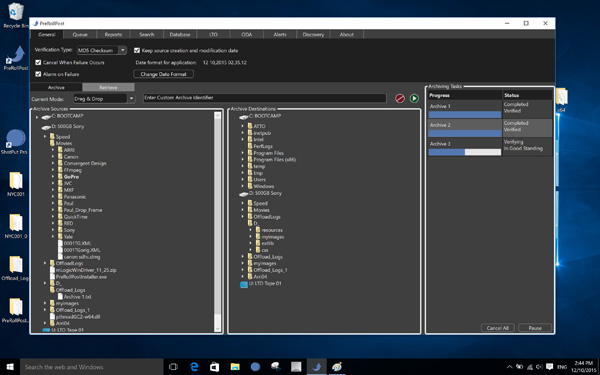 PreRoll Post uses a checksum system to make sure the files on tape exactly match the originals. By storing the checksum values for each file, PreRoll Post also verifies files during restoration back to hard disk whenever they are retrieved so that, again, all copies of files match the originals.
Within the PreRoll Post application, the LTFS mounts a tape as a volume, like a hard disk, within Explorer, making it possible to write to and read from the tape as if it were a disk, without other proprietary software or formatting. PreRoll Post also allows searching for and retrieving previously backed-up files.
Using drag-and-drop functionality for both archiving and retrieval, users can drill down into folders on mounted or unmounted tapes and cartridges to locate the files or folders they are looking for. Inserting and searching each tape individually until the correct file or folder is found is not necessary. Instead, once they determine which tape or cartridge holds the file or folder they want, users can insert that tape or cartridge and pull what they need.
For content creators or post houses that create the LTO deliverables for Discovery Channel, PreRoll Post has a Discovery Channel mode which checks that LTO tapes meet the network's specifications for field, graphics or program masters. In this mode, PreRoll Post automatically places files in the proper locations on the tape to meet Discovery Channel specs.
PreRoll Post is hardware-independent, meaning that it is compatible with any LTFS-compliant tape drive, including MagStor, mTape, UNITEX LT60 with USB 3.0, 1Beyond or any desktop-connected LTO drive, as well as Sony's ODA. Installation instructions show users how to set up the appropriate drive. Users can customize settings such as naming conventions and notifications via email or text, are customizable to ensure archiving consistency. www.imagineproducts.com