StorNext Connect 1.1 Visualises Multiple-tier Workflow Storage
Quantum StorNext Connect is a management tool designed for installation, searching, administration and monitoring of StorNext media storage environments. It is unusual for its ability to integrate management and reporting tasks across a multiple-tier storage environment – like StorNext. Instead of having to work with separate monitoring and reporting tools tuned specifically for each storage tier, users can access a unified view of the entire workflow storage environment, including disk, tape, object storage and cloud resources.
Designed for Quantum StorNext-powered environments and built into the company's new Xcellis workflow storage systems, StorNext Connect is used to deploy and configure new equipment and then monitor and manage multiple systems at the same time. Its functionality applies to both production and archive environments.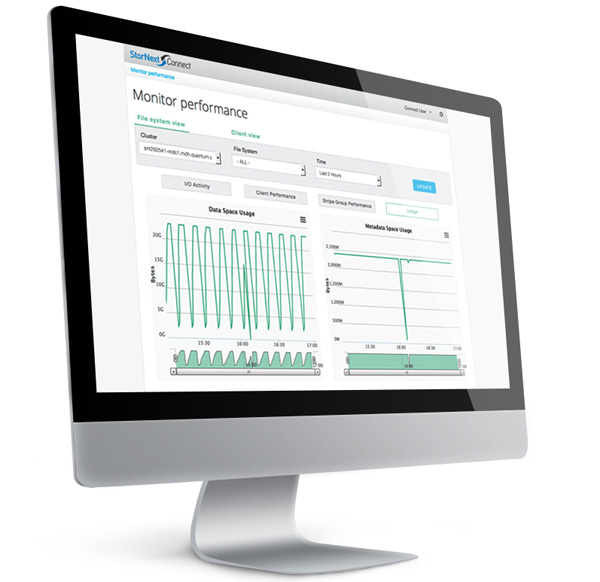 For StorNext installations that utilize storage tiers – that is, disk arrays, object storage and tape libraries - it gives a view of I/O performance along with real-time data, historical trends and archive media statistics across each tier. As an example, users can now monitor their storage resources to determine how much of their data is on disk, in a tape library, in the cloud or offline in a vault.
Updates in the 1.1 release include a graphical dashboard, see above, that describes the current state of the complete StorNext environment at any given moment, including information on all resources - storage, CPU, memory and network interconnects. Alternatively, several performance metrics over the same period of time can be displayed simultaneously, to help pinpoint and troubleshoot performance bottlenecks.
The software incorporates a self-guided interface for the installation and configuration of Xcellis workflow storage systems, and a step-by-step configurator for NAS setup and management. StorNext Connect also monitors and manages Quantum's Lattus object storage - made for the scaling, durability and access demands of large-scale, long-term archives - including real-time status and historical reporting.
Further to giving administrators visibility and reporting tools relating to environments that contain StorNext appliances, StorNext Q-Series storage and the latest StorNext clients, StorNext Connect also supports the new Xcellis Workflow Director controls, Xcellis Q-Series Storage and Lattus object storage. StorNext Connect 1.1 is immediately available and is a part of all new StorNext-powered systems free of charge.
Q-Series storage is optimized to work with StorNext 5 Metadata Appliances. By connecting over the same FibreChannel network, files and folders on Q-Series storage are available for use and management through metadata control, and presented for access by the FibreChannel connected clients depending on privileges. www.quantum.com/stornext