Digistor's Media Technology Open Day Sparks Innovative Conversations

At Digistor's Media Entertainment Technology Open Day, held 19 October in Sydney, many thought-provoking conversations were held and lots of information was shared. If you couldn't be there or would like to hear any of the briefing sessions again, Digistor has now uploaded the recordings as On-Demand Videos. You can watch online at the event webage.
Also note that some Special Offers from the event are still in place until 26 October
20% off selected models of Eizo's graphics monitors, including 4K models,
Various discounts on PAG Batteries and Telestream's Wirecast and Wirecast Gear
Visit www.digistor.com.au for details.
Here are some Briefing Session highlights to look for:
OTT Video & Live Streaming Mark Richards at Digistor showed some new options and developments for producing and delivering live video content easily and cost-effectively for prosumers and professionals including live OTT distributors and sportscasters, live event organisations and others.
Automatic Quality Control Paul Hayes from Editshare explained that final quality and technical checks are a critical workflow step before content delivery, helping to avoid expensive revisions, re-scheduling or even loss of business. He showed the systems behind file-based Automatic Quality Checking (AQC) and how to integrate the process into production asset management.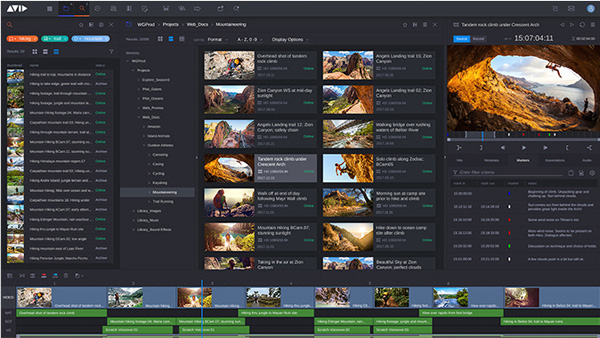 New Workflows for Post David Woodward from Avid talked about how file-based post-production has changed the way content is created and distributed, giving professionals the freedom to configure workflows in many ways. With Avid MediaCentral plus Avid's tools and workflow in the cloud, creative teams and media enterprises can create, manage, distribute and monetise content more efficiently.
MAM and Archive Trends and Experiences Steve Baird at Intraware brought real life examples from customers who have implemented MAM to improve distribution of assets to social media and content delivery networks, and incease in-house access to content. He discussed how to take advantage of new trends enabling object based archiving to multiple targets including cloud, disk and LTO tape.
Smart Storage and AI Christopher Jenkins from Quantum demonstrated the significance of AI in content awareness and data management, and how some AI engines available today can help to improve the ability to find, remonetise and enhance the value of locally stored video content and storage environments.
Editing and HDR Monitoring Felipe Rojas and Marcus Smith at Eizo explained how to select a monitor that's right for your work, set it up for a colour correct view and calibrate it to film and video standards. They also broke down the HDR post-production workflow and showed ways to calibrate and use SDR monitors to create HDR content in colour critical applications.
Animation Industry at a Glance David Zwierzchaczewski for Autodesk checked out the animation industry in ANZ to understand where it is growing and contracting, what the trends are and what to expect in the future. He considered the potential for opportunities in new content, including AR and VR and how recent developments in animation tools and emerging platforms help artists take advantage of these opportunities.
Production Design and Visual Storytelling Freelance Art Director Jacinta looked at her workflows and pipelines using 3D tools to model, draw and communicate effectively. Her design and previsualisation techniques and experience have broad application for set designers, cinematographers, VFX specialists, directors and art departments working in film, television, live theatre, events, live streaming and advertising. www.digistor.com.au