FilmLight's STUDENT Software Moves Up to Baselight v5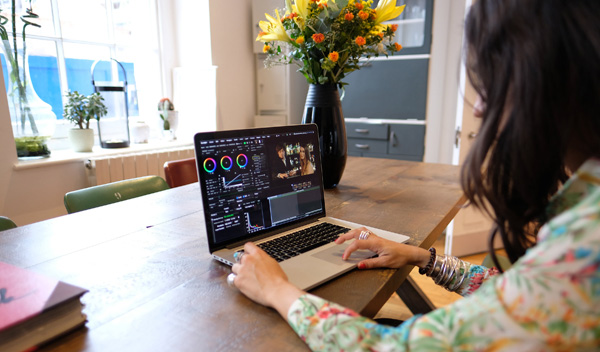 Baselight STUDENT, FilmLight's free macOS application, has been updated to align with the most recent version of FilmLight's grading system, Baselight v5. The software gives users access to all of Baselight's tools, based on the same platform, helping them to develop skills as colourists.
First launched in 2017, Baselight STUDENT is an accessible way for colourists to learn Baselight, either to move into grading as a career or to transition from other grading systems. It is a comprehensive, software-only version of the Baselight system, running on supported Mac hardware with GPU rendering. To get the full user look and feel, artists can also use FilmLight's Slate control surface to control the software. It is designed for skills development rather than commercial work, so the outputs are restricted to H.264 movies and JPEG still images only.
Baselight v5's functionality centres on Base Grade, which applies a specific approach to colour manipulation by imitating the way human eyes see colour and using a set of controls called Flare, Exposure and Tint instead of the conventional Lift, Gamma and Gain controls. The result for colourists is an experience more like developing photographs than colour grading. The performance of the controls is also more consistent across different colour spaces.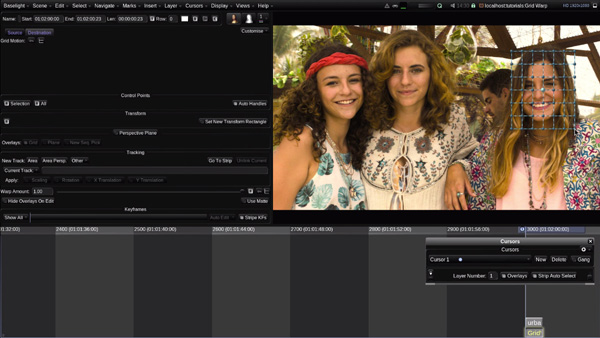 Baselight Grip Warp
Users start with Base Grade, and extend its functionality with other new v5 grading tools such as Boost operators and beauty tools such as Texture Equaliser, Paint and Grid Warp. Boost Contrast, for example, applies sharpening to the midtones but without the ringing artefacts sometimes caused by sharpening tools, and Boost Range expands the dynamic range of an image when converting from SDR to HDR, using local tone mapping.
Texture Equaliser is often used to smooth skin tones because it divides the image into spatial frequency bands that can be adjusted individually, for precise control. In this way you can soften or enhance textures and, at the same time, preserve the texture of the pores and other fine detail. The Paint tool is a vector utility with Colour, Clone and Matte brushes and trackable paint layers, and is useful for logo removal and precise skin retouching. Grid Warp helps emphasise or deemphasise and element by changing its size or simulating lens distortion using mesh overlays.
Baselight STUDENT v5 also includes FLUX Manage, a new media asset management system introduced with Baselight version 5 and used with FilmLight's own indexed filesystem as part of an organisation's storage. The FilmLight standard filesystem is augmented with synchronised metadata to support searching for files. Instead of devoting time and effort to opening files to find their timecode, ISO setting or any other metadata within post-production media, users can use FLUX to instantly search across large filesystems for the matching metadata.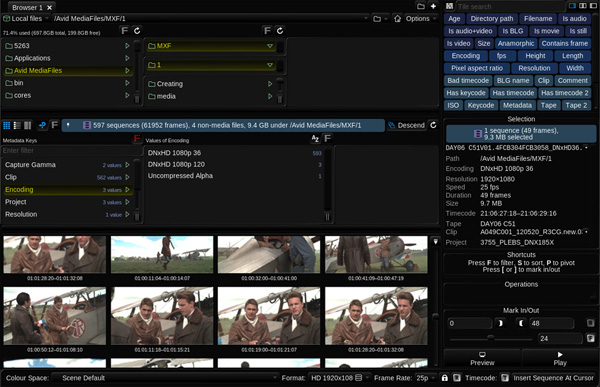 Baselight FLUX Manage
Baselight Learning Programme
Justin Tran, colourist/finishing editor, said, "Having access to the same tools and colour science as used in Baselight hero systems is invaluable. As a freelancer, having access to Baselight STUDENT software allows me to keep up with the updates, develop further skills and improve workflows." STUDENT registrants can use it to make sure they are prepared, should they decide to move up to the next Baselight level.
Initially available as a 90-day license for artists who register as part of the Baselight Learning Programme, colourists can apply for a license review to extend the length of use, for example, to work on a short personal project, to start a career as a professional colourist assistant, or to create academic-year projects. For the duration of the license, the FilmLight training team are available to answer questions from users.
Users have access to Baselight manuals, a media training package and training videos as well. One-on-one training in professional practices is also offered from in-house experts in the London, Los Angeles, Munich and Sydney offices, once students reach the job market as colour assistants and colourists. www.filmlight.ltd.uk