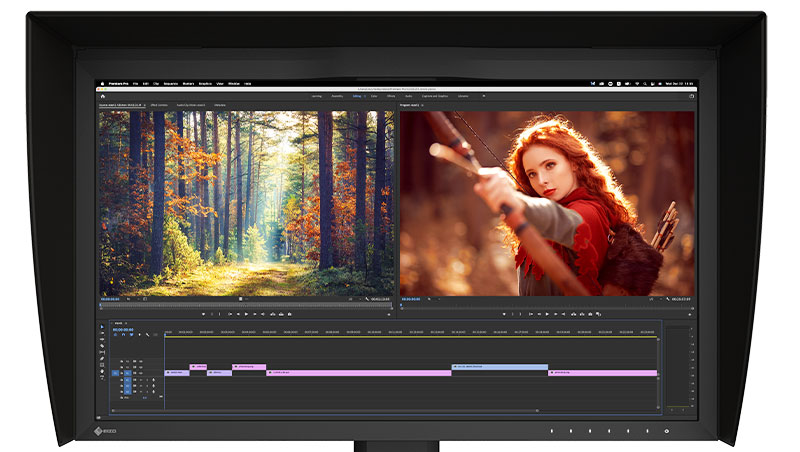 For all Video Creators involved in
VIDEO PRODUCTION • POST PRODUCTION • COLOUR GRADING • VFX • YOUTUBE / SOCIALS / VLOGGing
PHOTOGRAPHY / VIDEOGRAPHY
EIZO VIDEO ROADSHOW
SDR & HDR video talk topics - for beginners & pros
Question & share ideas with industry professionals
SDR & HDR Video Workstations on site for demonstration + hands-on practice.
Coming to Sydney, Melbourne and Singapore. Come all day or select a session. Simply register for the day you plan to attend.
EXHIBITION SHOWCASE: On-site Video Workstations
Grading: a simultaneous HDR and SDR grading workstation set-up, featuring the CG3146 HDR reference monitor and the CG319X SDR (standard dynamic range) reference monitor
VFX: this typical artists' workstation will demonstrate the benefits of using a good quality calibration monitor, and how to maintain colour accuracy of all on-site and remote artist monitors with ColorNavigator or ColorNavigator Network.
On Set: cinematography camera + new ColorEdge CG2700 monitor preloaded with LUTs for HDR and SDR live views.
Adobe Production Suite: An example of an effective and affordable video production suite for small business video production, vloggers (eg; YouTube, Insta, FB, TikTok, Chrome) and photographers producing both stills and video for their clients. Although not common knowledge, there are some key image, audio and file settings that any video creator must know, to achieve good quality results.
Put the theory in to practice at the workstations after each talk. www.eizo-apac.com
SYDNEY
Date: Thursday 19 May and Friday 20 May
Time: Morning and Afternoon Sessions - see registration page for details
Venue: Australian Cinematographers Society (ACS) Level 2/26 Ridge St, North Sydney NSW 2060
Cost: Free with registration
REGISTER 19 MAY
REGISTER 20 MAY
MELBOURNE
Date: Wednesday 25 and Thursday 26 May
Time: Morning, Afternoon and Evening Sessions (see registration page for detail)
Venue: The Backlot, 165 Bank St, South Melbourne VIC 3205
Cost: Free with registration
REGISTER 25 MAY
REGISTER 26 MAY
SINGAPORE
Date: Thursday 2 June and Friday 3 June
Time: Morning, Afternoon and Evening Sessions (see registration page for details)
Venue: Aliwal Arts Center, 28 Aliwal Street, Singapore
Cost: Free with registration

REGISTER 2 JUNE
REGISTER 3 JUNE