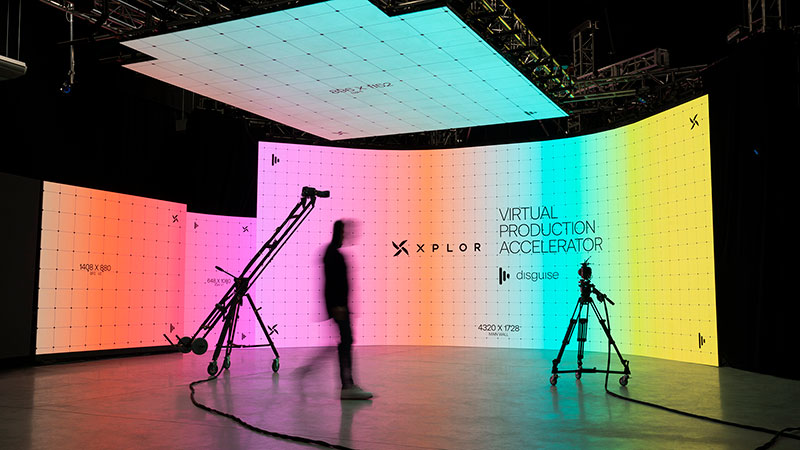 disguise and XPLOR have announced a new partnership to further tackle the skills gap in virtual production. Together, the two organisations are launching the first UK Virtual Production Accelerator, a learning program that gives trainees hands-on experience with the latest real-time technologies and advanced LED volumes.
Based at XPLOR's £7m Production Park facility launched recently in West Yorkshire, featuring a 340sqm virtual production volume and xR studio with ROE Visual LED screens, the program is suitable for both students and industry professionals. Over the course of four days, participants will ramp up their skills in volume control operations, virtual art department integration and practical shoot elements through a combination of online, classroom and on-set learning.
XPLOR's training is delivered by education providers Backstage Academy, who are specialists in live experience production, supporting the future of the industry through undergraduate and postgraduate degrees, and short courses. Operating from Production Park, their facilities are one of the more than 400 virtual production studios and xR stages globally that are running on disguise systems. This rapid adoption of disguise's production systems brings the need for skilled talent who are well versed in the highly customised workflows that deliver virtual production and in-camera VFX.
"In just under three years, virtual production has changed from something only a few producers are experimenting with to a global phenomenon that allows filmmakers to tell even more ambitious stories. However, this growth in adoption has left a huge skills gap. disguise, like XPLOR and Backstage Academy, shares a strong passion for education. After launching our Virtual Production Accelerator Program in America last year in partnership with ROE Visual, we now hope to bring the Accelerator's focus on the practical to Production Park for VP enthusiasts in the UK and Europe," said disguise Chief Experience Officer, Alex Wills.
The R&D element to disguise and XPLOR's partnership combines disguise's production systems and workflow-focused training with XPLOR's facility and large-scale design and prototyping spaces. Together, disguise and XPLOR will investigate new features and capabilities that push the boundaries of what is possible in virtual production.
"Backstage have been long-term partners with disguise. This is the latest exciting development in our relationship moving into film and TV," said Rachel Nicholson, Head of Backstage Academy.
Find out more about the Virtual Production Accelerator course here. www.disguise.one