Thinkbox Accelerates Frost MX Particle & Fluid Plug-in for 3ds Max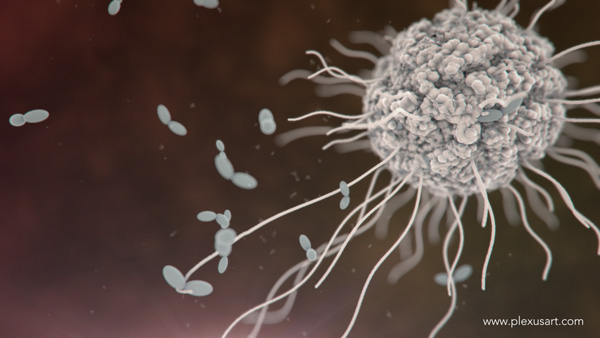 Close-up of a macrophage rendered in Frost. Image courtesy of Khye Kading.
Thinkbox Software's Frost MX 2.0, an Autodesk 3ds Max plug-in for meshing particles and fluid simulations, is a major update that has been developed to nearly double the performance of the previous release and integrate more deeply with the Chaos Group V-Ray renderer. Thinkbox has also launched the beta for Frost MY 2.0, the Autodesk Maya version of the plug-in.
The software's integration with V-Ray v3.1 and higher makes it possible to customise particle scattering to distribute and render millions of mesh instances using Custom Geometry meshing, a part of V-Ray's new Instancing mode. The Instancing mode takes advantage of dynamic memory allocation to render millions of high-resolution meshes with very low memory overhead.
Frost MX 2.0 continues to support all Custom Geometry functionality within Instancing, including particle channel propagation, material and shape ID controls, animation timing offsets and motion blur from particle velocity. When combined with the particle generation and Magma data channel manipulation capabilities of Thinkbox's Krakatoa MX, V-Ray's Instancing becomes a more flexible, effective tool for Frost users. For License-Free Frost customers, Krakatoa MX is available at no extra cost.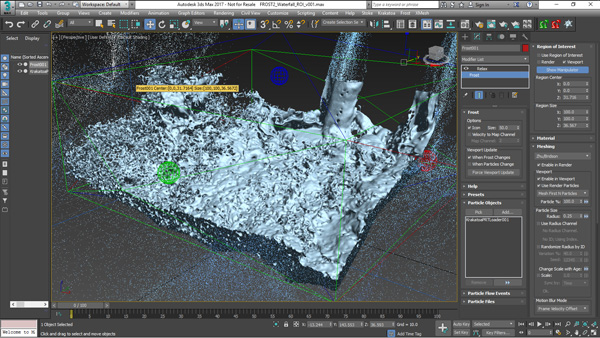 Screenshot of Frost MX 2.0 inside Autodesk 3ds Max 2017 showing the Region of Interest function. Waterfall dataset courtesy of Adam Guzowski of evermotion.org.
"Version 2.0 of Frost gains speed by stripping away much of the computational burden usually associated with data-heavy particle meshes and fluid simulations. Artists can work more dynamically and see their work come to life faster," said Chris Bond, founder of Thinkbox Software.
The new Region of Interest option in Frost MX 2.0 helps define a custom bounding box region that can be applied to Viewport meshing for faster previews while adjusting settings of complex particle data sets, to remove unwanted areas in Render-time meshing, or both. A dedicated Frost menu bar has been added to 3ds Max's main menu for faster access to major tools such as creating Frost objects, automatically adding new sources to a Frost object, accessing the Log window, and changing the meshing mode of selected Frost objects as a group.
Frost MX 2.0 is available for 64-bit versions of 3ds Max from 2012 to 2017, and requires an updated license. To request an evaluation, purchase a new license or renew an existing one, visit this page on the Thinkbox website.
Contact Thinkbox This email address is being protected from spambots. You need JavaScript enabled to view it., for access to the beta for Frost MY 2.0 for Maya. www.thinkboxsoftware.com