Autodesk Maya and 3ds Max Push Ahead to 2017 for 3D Artists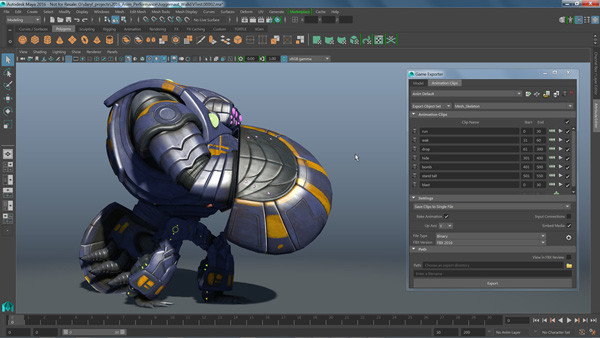 Autodesk Maya and 3ds Max have undergone many changes and updates over the past year since the announcements at NAB. Some were announced at IBC, when Extension 2 was release for Maya, but both applications received important changes to their software for 2017. This article outlines some of the most important ones, as a review before the end of the year.
Maya 2016 has a new content browser, replacing the Maya visor. It displays Playblast previews and uses metadata for searching. The updated workspace has become very customisable with tear-off panels. You can change it to suit your working style, or to serve the type of job you are working on - animation, modelling, FX and so on. It will also remember your placement upon re-opening, and not go back to the default configuration. Maya's UI now supports the new high-resolution screens as well, up to 4K.
Modelling Fixes
In Extension 2 many transform and pivot fixes were included among the modelling fixes such as matching pivots or baking pivot orientation and position, and options for combining a mesh with pivots.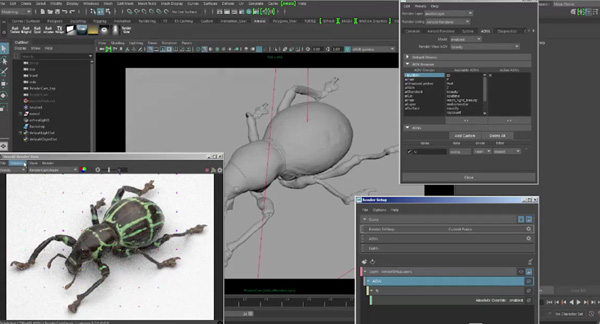 General polygon modelling fixes are numerous and continue a long series begun in 2014. Symmetrical modelling in particular has required a lot of refinement but now works with many tools such as slide edge, vertex normal editor, bridge and multi-cut and connect. A new consolidated mirror tool has been added and includes the UV workflows. Consequently, UV editing now includes a Symmetrize UVs tool, plus auto seams for UV shells. These updates were made to make UV workflows simpler and less tedious for unwrapping and texturing.
XGen has been effective as a geometry instancing tool but now is also a hair grooming tool, having been improved enough to overcome its earlier clumsiness with hair. It is suitable for games asset work, producing geometry suitable for in-game use through its interactive grooming functionality on instances, 13 new brushes and non-destructive sculpt layers.
Motion Graphics in Maya
Users can now bring scalable vector graphics, SVG files, into Maya to work on them, a useful update for motion graphics artists. This has been added to 3ds Max earlier on but has been more challenging to build into Maya.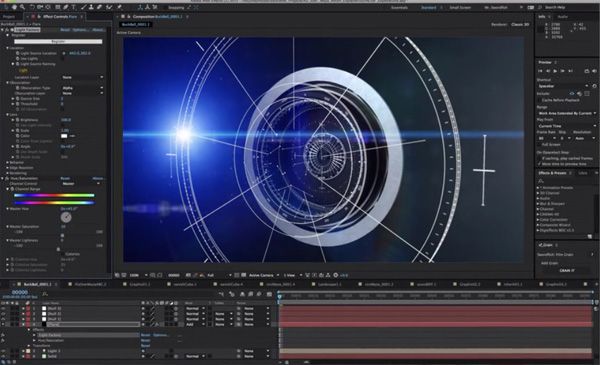 Also for motion designers is another tool borrowed from 3ds Max – 3D type, which has been difficult to achieve until now. The 3D Type tool supports all True Type fonts, bevelling, extruding and all animations. Animation can also be added to text.
The former MASH plugin that Autodesk acquired and integrated into Maya in 2015 is mainly for motion graphics but, as a procedural animation tool with mesh instance output, it can be applied to other elements. It now has a new editor, and new nodes for breakout, signal and strength.
Rigging and Animation
The quick rig tool from Human IK is now a part of Maya's character creation tools and is similar to this tool in Motion Builder. It generates a skeleton and includes guides so that a bi-pedal character, for example, can be rigged and skinned very quickly.
The shape editor has a new BlendShape UI that is good for managing blend shapes and controlling the workflow including targets and import/export. BlendShape sculpting has been updated for 2017, and has erase, mask, smooth and clone tools.
The new Pose editor will help fix problems with skin weights in your geometry. You can adjust weights with individual, one-off deformations if required. The Time editor now replaces Trax in Maya, and is similar to the Story editor in Motion Builder. More robust than Trax, it means you can build animations non-destructively and layer up animations. The Graph editor, which is critical to animation, is improved with GPU acceleration and an UI update for better visual fidelity and interaction.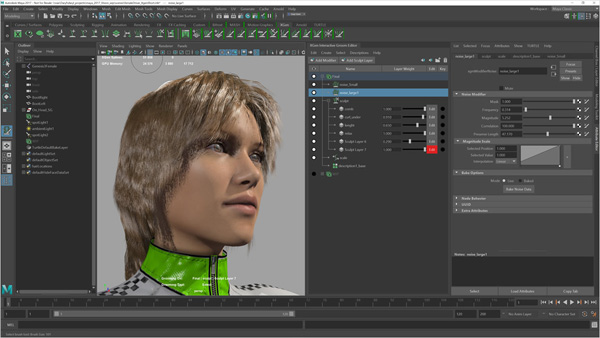 Performance-wise for animation, the GPU override is on by default, the wrap deformer is improved and VPU2 rendering is faster, with multiple-draw consolidation.
Lighting and Rendering
Maya has a new, more robust render layer set-up with more visibility. It is also useful for scene management, with both render and animation layers, because you can match the layers in the scene with your final render set up.
Maya is now exclusively integrated with the Arnold renderer, and will no longer ship with mental ray, as first announced at NAB 2016. You can use Arnold's RenderView window, its interactive rendering (IPR) utility, and convert shaders with the mrShadersToArnold.py conversion script. Google Zync has also become a direct cloud option to scale up render capacity.
FX Updates
The FX updates focus on Bifrost, including viscosity and erosion, churning and adding depth to fluid surfaces. Viscosity is relatively new to Bifrost because it was originally developed from Naiad, the ocean simulation package for large body fluid simulations, which hasn't really needed viscosity. Now, thick viscous fluids such as honey and lava are possible to create with Bifrost.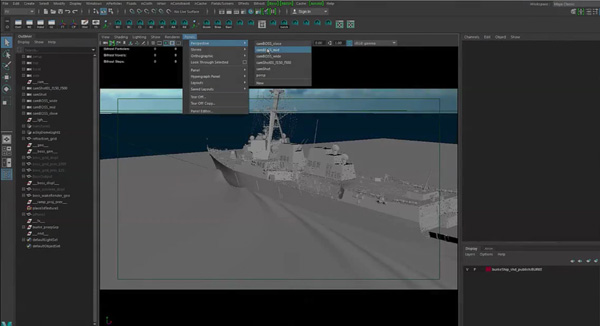 But, regarding oceans, the Bifrost Ocean Simulation System, BOSS, has a dedicated UI for solvers and influencers. For bubbles and foam effects, the simulations are located at depth instead of at the surface, producing a more realistic effect. Bifrost also supports motion fields now, for more art-directable controls, and Kill Fields for controlling foam. Mesh property attributes now reside in nodes, such as emitter nodes, colliders and accelerators, making the UI easier to manage.
Among some general FX performance improvements is playback, which is two to three times faster in scenes with hidden objects, which Maya no longer 'sees' or takes up memory on. You can also control the preview quality of UV textures in the UV editor. The Outliner, showing a hierarchical list of objects in a scene in outline form, has some new right-click menus and search tools.
3DS MAX 2017
Geodesic voxel and heatmap skinning are new in 3ds Max and can help character builders generate better skin weighting, much faster than otherwise. Voxel skinning in particular can overcome overlapping issues, and voxelised skin weights improve realism. As bones move, the voxels are reappropriated to sit more naturally, often an issue with elbows and fingers. Also for animation are Trackview updates such as a new persistent layout, keyframing tools and tracks selection.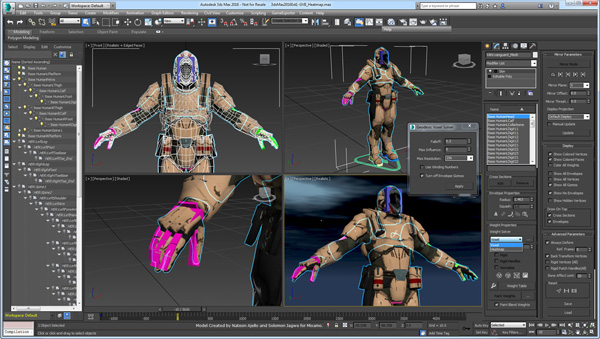 With the Max Creation Graph, you can also author animation controllers from a new series of modifiable animation tools. Physically-based simulation controllers can also be created. The MCG uses a node-based editor to build graphs that produce 3ds Max commands and other functionality. It can also create compounds, which are sub-graphs that simplify redundancy within the graph tree structure by combining elements together.
UV mapping, recognised generally as a time-consuming, labour-intensive challenge, now has faster UV navigation, greater workflow efficiency for texture creation and more consistent tools. 3ds Max's Object tool has been improved for modelling and animation, affecting alignments, Working Pivot and point to point selection.
3ds Max also supports high resolution screens now, like Maya. The UI will adjust accordingly, becoming more legible and displaying a new Qt-based skin.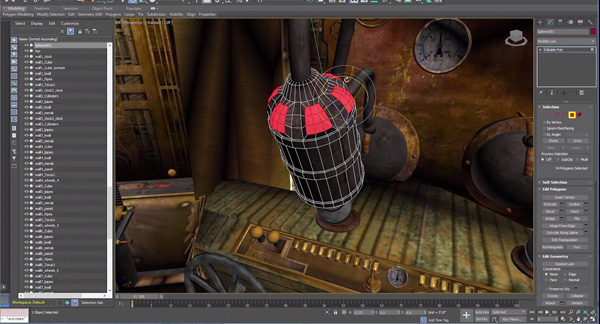 Users can now import simulation data from third party applications, and animate and render it in 3ds Max - for example, airflow spline animations. This includes data in CFD, .csv and OpenVDB formats, and is useful for visualisation. Due to better, extended Python .NET tools, users can integrate more closely with pipeline software like Shotgun or ftrack, and write their own plugins.
The new Asset Library gives access to 3D content on the local computer and network in a single view. Asset locations can be indexed and searched, and assets are added to a scene using Xref, Merge or Replace. The asset Library is an import method for any supported, non-3ds Max file type. Images can also be dropped into viewports as backgrounds or used as material diffuse maps.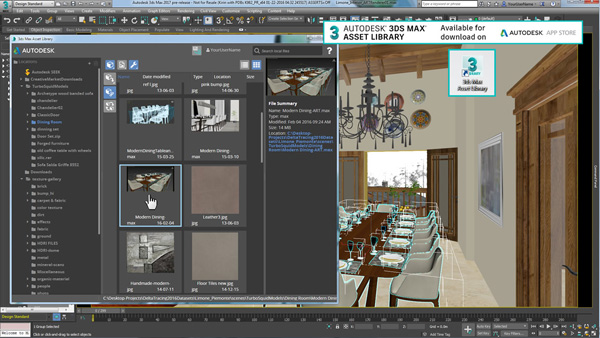 With the 3ds Max Game Exporter, there are now several ways to export data – models, animations, riggning, textures and materials, lights and cameras – and three ways to send information into different game engines with the FBX interchange. The 3ds Max Game Exporter will automatically set up the file structure for you in different situations.
Live linking with Stingray is useful for geometry and camera connections to interactively assess and review3D assets. It also means that you can modify projects in 3ds Max and see the updates in Stingray. Owing to ShaderFX updates, 3dsMax has better support for Stingray physically based shaders. Users can transfer materials crated in ShaderFX into Stingray for a high degree of consistency in both tools. www.autodesk.com