ZYNC Renders Houdini and Cinema 4D on Google Cloud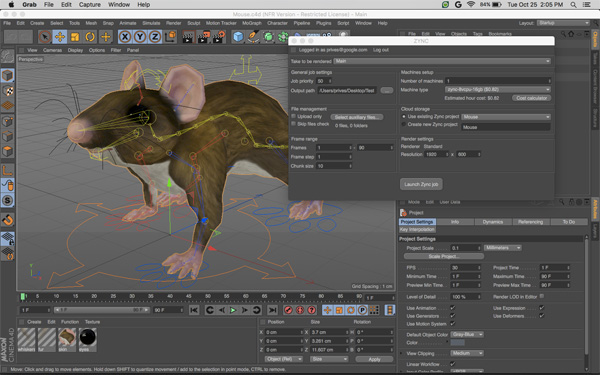 ZYNC Render on Google Cloud has now been extended to support two new host applications, SideFX Houdini and Maxon Cinema 4D. Both integrations make it possible for animators, motion designers and VFX artists to use Google Cloud Platform (GCP) to scale up their render capacity and access compute power.
Google Cloud continues to push into media and entertainment since completing the acquisition of online video platform Anvato and a collaboration with Autodesk at NAB earlier this year. New media requirements including multi-screen video transcoding, livestreaming to global audiences and 3D rendering have generated demand from customers in many industries where video and creative content is now expected, such as advertising, education and others.
ZYNC is a turnkey renderer for small to mid-size studios, deployed through plugins to common modelling and animation software that artists normally use, and opening access to the compute, storage and software resources on GCP. Users of Houdini, complex 3D effects software, can now use up to 32,000 cores on GCP for rendering projects. Small to mid-size studios may not have funds available to purchase and staff a traditional render farm of this size. Instead, artists can render on-demand, paying on a per-minute basis.
The integration with Maxon Cinema 4D, a package for creating motion graphics, is the first time Maxon has made a cloud rendering service an option for Cinema 4D. As artists create more complicated scenes for commercial work and feature films, on-demand, scalable cloud rendering has emerged as a viable tool to help meet tight deadlines. zyncrender.com