Axis Animation Transforms 'Dawn of War III' Cinematic with Fusion Studio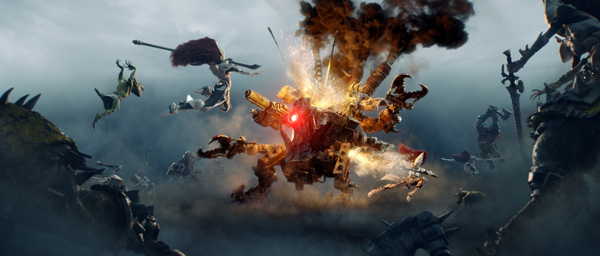 Axis Animation has completed work on the game cinematic and cutscenes for 'Warhammer 40,000: Dawn of War III', the new real time strategy game developed and published by Relic Entertainment and SEGA Europe.
Axis Animation had worked on earlier AAA SEGA titles such as 'Aliens: Colonial Marines' and 'Alien: Isolation'. For 'Dawn of War III', however, the team adopted a different approach to its VFX pipeline, allowing the studio to simplify and automate production of its 3D characters and environments within a 2.5D compositing setup in Fusion Studio.
Surreal Art Direction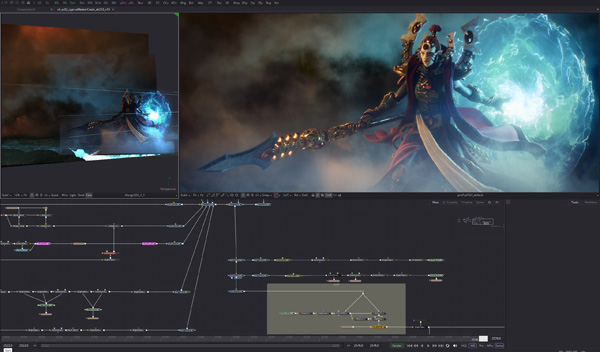 Axis' lead lighting, rendering and compositing artist on the project John Barclay described how they landed the job. Axis had produced the award-winning trailer for 'Dawn of War III', which so far has won two Bronze A-List Hollywood Awards for Film Advertising Craft and Branded Entertainment as well as a Gold Scottish Creative Award. The trailer is nominated at the 2017 Royal Television Society Scotland Awards, which is taking place 17 May, and has been shortlisted for a Develop Award.
With the success of the trailer, well-received by both the fans and the critics, developers Relic Entertainment wanted to take the team's same art direction into the cutscenes. John said, "It was the work of Polish surrealist painter Zdzisław Beksiński that was the essential ingredient in our pitch to Relic. We worked with their team to strike a careful balance between our intended aesthetic, inspired by Beksiński's ethereal imagery, and the established Warhammer 40,000 world created by the IP holders, Games Workshop."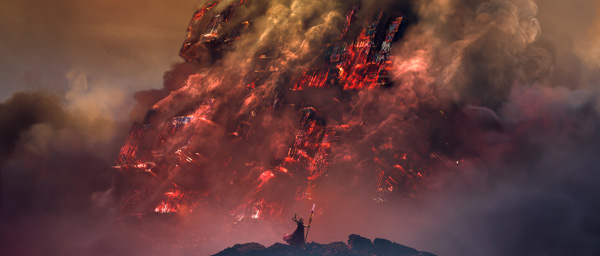 2.5D Advantage
Using 2.5D composites for this project had certain advantages. Bringing cards for 3D characters and environment elements into Fusion meant that every artist at Axis could automatically render their character from Houdini and import it as a projection into Fusion. This task was done with a custom Python and Lua script to ensure all the data was positioned correctly. An alembic export was then used to bring in the camera positioning from Maya.
The Axis team assembled their scenes within the standard studio pipeline but automated the process of converting the 3D scene into the large number of image planes their 2.5D composites would need in Fusion. The automation helped enormously, and of course especially suited the cutscenes where the camera movement was limited.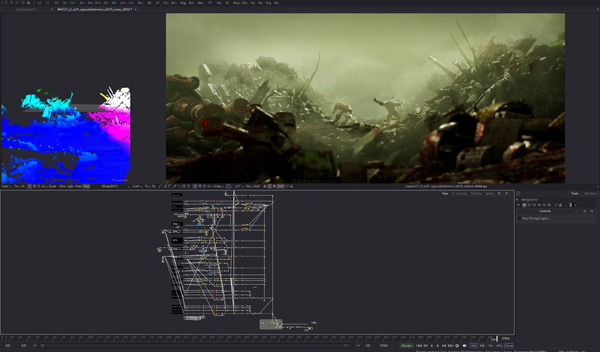 John said, "Using image planes in Fusion also significantly reduced some of the render times and gave us greater flexibility with more creative iteration over the whole show. Consequently, the workflow allowed artists familiar with our standard pipeline to create something a little more unusual." Normally, they carry out modelling in Zbrush and Maya, and the animation and camera in Maya. Houdini is used for 3D FX and the lighting and rendering, and Fusion for compositing.
"Fusion frequently helps us solve creative and logistical challenges, and became an essential tool on 'Dawn of War III'," said John. "Having the flexibility to use effects like volumetric fog and composite them into the same scene as characters and environments built from 2.5D cards, was a huge benefit. It also meant our lighting artists could work on the scene as though it were any other 3D set." www.blackmagicdesign.com