Substance Painter Adds UI Access to Source Textures and New Content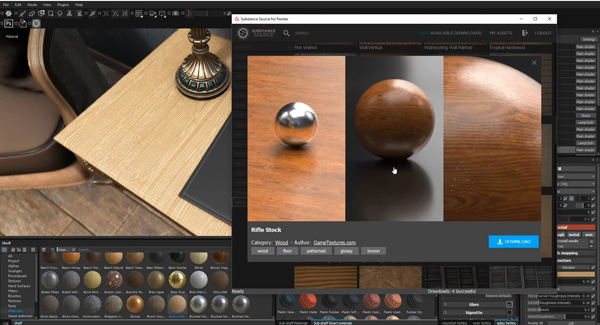 Substance Source is now more accessible to texture artists using Substance Painter, which makes workflows involving both applications easier to set up. Source has been directly integrated into the Substance Painter UI so that you can browse the Source online library without leaving your project and download materials directly into your project's work shelf.
Substance Source is content library of customisable physically-based, high resolution assets for texturing. It contains procedural and hand-painted materials, and physically based scans, varied enough to suit most types of 3D projects. New assets and new parameters and options to existing materials are regularly added to the Source collection.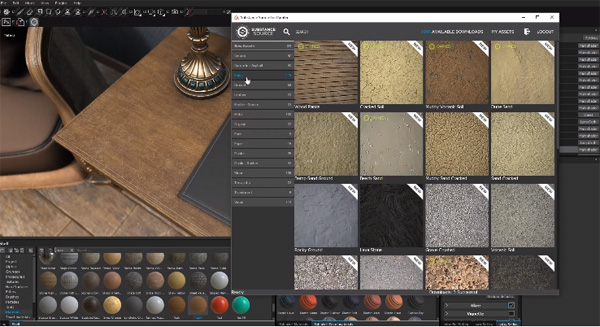 A single Source file contains all the outputs - Classic, PBR Metallic, Roughness, Specular and Gloss - needed for most workflows, including physically-based workflows, and can be downloaded and varied almost infinitely. Your materials may be exported at any resolution up to 4K to use in other platforms, renderers or game engines.
300 new customizable alpha masks and patterns have been added to the Substance Painter Shelf, plus updated filters, new fonts and other additions. Styles include Celtic and medieval symbols, and types range from organic-looking brushes, stains and splatters, to geometric shapes and barcodes. Most of them also have procedural parameters to increase their potential.

The HBAO Ambient Occlusion light technique from Substance Designer has now been added to Substance Painter, making it possible to generate effective ambient occlusion quickly from painted height and normal map details. HBAO can perform calculations in image space, mostly in 2D, while standard SS or screen-space AO SSAO transforms must first shift to into world space and then back again. As a result HBAO is much faster and produces better visual quality for the same render cost. It also applies an angle bias that can be used to remove artifacts associated with low-tesselation geometry.
A new filter in Painter will apply interactive edge wear to the normal map and height details painted onto assets. It allows the user to see worn edges as they adapt in real-time to custom-painted details. New Glow and Drop Shadow filters are improved to make them more predictable and realistic.Two new colour filters, Colour Balance and Correction, allow you to fine-tune the look of textures by controlling the shadows, midtones and highlights separately.

This release is developer Allegorithmic's first iteration of a new number-less release cycle. Subsequent releases will be named after the current year rather than a major version number. This release is accessible for free to all Substance Painter 2 - Indie license holders, and to Substance Painter 2 - Pro license holders who purchased after 1 January 2017. www.allegorithmic.com