Union's New Roster of VFX Supervisors Broadens Capacity and Scope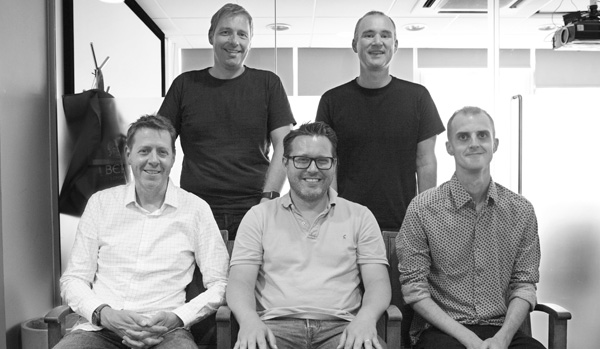 Union's expanded supervision team now includes Mark Michaels, James Etherington-Sparks and James Roberts (L – R, front row).
Union visual effects facility has recently hired three new VFX supervisors to support the growing number of film and television projects underway at the studio. The existing senior creative team of Co-founder and VFX Supervisor Adam Gascoyne and VFX Supervisor Simon Hughes have been joined by James Etherington-Sparks, Mark Michaels and James Roberts.
Union is an independent facility founded in 2008 by Adam and Tim Caplan, now Executive Producer, as a service for feature film and TV productions. Some of the world's best known filmmakers are regular clients, who return to Union as a technical and creative partner. The team works with clients through VFX design and previs to CG animation, digital makeup effects, compositing and matte painting. Core specialties include CG environment work and invisible effects.
Union's growth prompted the addition of a secondary studio space in 2016, increasing capacity in order to deliver projects including 'T2 Trainspotting' 'Bridget Jones' Baby' and TV work including 'Oasis', 'Outlander' and 'My Cousin Rachel'. The extra supervisors not only increase the volume of work that Union can undertake, but adds to the breadth of expertise across different kinds of VFX projects to the team.
James Etherington-Sparks brings a wealth of experience gained at The Senate VFX, The Mill and, most recently, Double Negative where he worked for five years. He started supervising in 2010 and has earned diverse credits ranging from VFX Supervisor on season one of 'Sherlock', for which he received an Emmy nomination, TV series 'Downton Abbey' and British independent film 'Fast Girls' through to 2D Supervisor at Double Negative on projects including 'Inferno' and most recently 'Dunkirk'.
Similarly, Mark Michael's background at VFX facilities including Digital Domain, Cinesite, The Mill, MPC and Double Negative in the UK and the US adds up to a credit list that includes two Tomb Raider films, four Harry Potter films, 'Casino Royale', 'The Wolfman', 'The Hunger Games: Mockingjay - Part 2', 'Maleficent' and 'Pirates of the Caribbean: Dead Men Tell No Tales'.
Union is also promoting James Roberts to VFX Supervisor. James joined Union in 2012 and has proved himself to be a creative and versatile member of the team on projects including 'Everest', 'The Lady in the Van', 'The Take', 'Bridget Jones' Baby', 'T2 Trainspotting' and 'My Cousin Rachel'. Over the last few years, he has contributed an increasing amount of on-set supervision and is currently working on his second project as VFX Supervisor. Union continues hiring. People interested in joining the team can visit here.
Tim Caplan said, "We're really excited to be expanding the capacity and scope of our team at Union to support our growing roster of work. Adam, Simon and I all have worked with both James Etherington-Sparks and Mark before, so we knew they'd be a great fit for both us and our clients. It's also rewarding to be able to promote some home-grown talent in the form of James Roberts who has proven himself both internally and externally with his creative eye and aptitude for problem solving. We're looking forward to tackling new projects for both existing and new clients in 2017 and beyond." www.unionvfx