AEAF's 360/VR Category Diverges into Two New Categories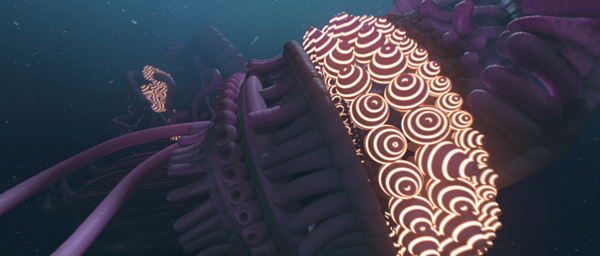 AEAF Awards has now split its 360/VR category into two distinct categories – 360 and VR Experience. This division reflects the two distinct types of production required, and the different results for viewers in terms of their experience. Also, we have had so many more entries of this kind compared to last year that it seemed like the right time to make this distinction.
360-degree video is imagery of the real world, captured with video cameras usually positioned in a purpose built rig held by a cameraman or DP as he or she moves through a set or location. The cameras are angled so that, between them, they record the entire 360 scene around the DP, and often overhead as well. Then in post production, the views from all cameras can be stitched together into a single file suitable for viewing inside a headset.
The imagery in a virtual reality experience, on the other hand, is not real. It is built as a 3D computer-generated environment in 3D modelling software like Maya, Cinema 4D or Blender. It is also output as a file that is suitable to view inside a headset, in which the viewer's eyes become a roaming 3D camera surrounded by this environment.
However, a major difference in the two results is the level of autonomy that the viewer has.
In the 360 video, the DP's experience gets recorded as well as the view. Yes, the viewer can look around in any direction at any time but when the DP walks through the set along a particular path, for example, the viewer has to follow the same path because the motion is built into the recorded video. Also, some CG worlds are built in the same way, with a single 3D camera origin. For storytelling purposes, this result can be very desirable and just what both the filmmaker and the viewer want.
But if viewers want a chance to enter a world and go exploring, as in a game where you must make your own story, they will have to go into a VR production built out as a complete virtual environment. There, they'll be limited only by how much of the environment the 3D artists actually built, and by practical limits like the walls of the room they are in, or the cable tethering them to the computer that is playing back the CG into the headset.
An example of this latter type of project entered into AEAF is the Shell V-Power Virtual Pitstop Game made at Traffik in Unity 3D in which each player wearing a HTC Vive headset enters a full 3D recreation of a pitstop at the Clipsall 500 and competes as part of a team to change a racing car's wheels and brake pads faster than the other teams. Digital producer James Neale said, "Since each player wears a headset, they can move about as far as their cord will allow them. This gives them a full realtime 3D VR experience, not just a static 360 degree camera.
"While the gameplay is fast, there is a full VR training session prior to the competition, and at any time if they want to, the player can walk around, through and into the car, and also see other players moving around in the game as well."
The Framestore studio team first scripted the 'Fantastic Beasts and Where to Find Them' experience for the new Google Daydream to make the user truly feel like the protagonist - a wizard with a wand in their hand, able to cast spells and control their environment, while tending to their Graphorn, Erumpent and Thunderbird beasts. Using a photo­realistic style that combines real-time elements and pre-rendered environments, players feel that they are at the centre of the movie character Newt's magical world. They can feed and play with the creatures and manipulate various objects.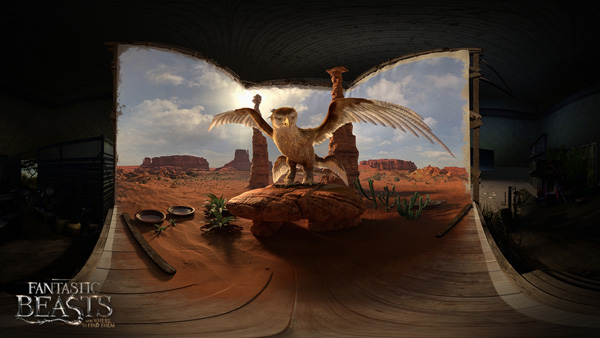 The real-time VR team at The Pulse in Sydney launched a VR experience in January at the Detroit Motor Show for INFINITI, Nissan's luxury car brand. Viewers at the show put on a light back pack, carrying power and a player allowing them to experience the project untethered, with a custom-designed headset based on the HTC Vive. Once inside, they find themselves wandering through an open, sunlit alpine landscape complete with birds and butterflies, sparkling water and blue skies where they experience an accurate, photoreal 3D tour of the newest model INFINITI car and engine, the QX50. Read a ful article about how this was produced, here.
VR NOIR is a complex project, essentially a 360 experience shot using a combination of techniques, but also featuring some scenes combining 3D modelled environments in the foreground with a stereo 360 technique used in post to render distant items.
"The user can also navigate the story arc by using their judgement to give a different narrative, said Jack Quick from production company Start VR. "The scenes contain interactive game engine elements but in terms of the environments, they are not constructed to allow complete freedom of movement for the user." Made for the Samsung Gear, VR Noir's production and post was jointly achieved by Start VR, Vandal and AFTRS.
Rotor Studios constructed the Dreamworld Motocoaster VR Experience from a single camera-person's view, built to imitate the motocoaster track, movement and speed that viewers then travel along with as a 360 ride. Rotor supplied the creative content design, software development and hardware integration. In seven weeks, Rotor designed and implemented a ride through an alien landscape tailored specifically for the track of Dreamworld's existing motocoaster. This required creative realtime CG content design and production. It also needed bespoke software and hardware to synchronise the rider's headset with the variable speed of the mechanical ride - critical to a realistic experience.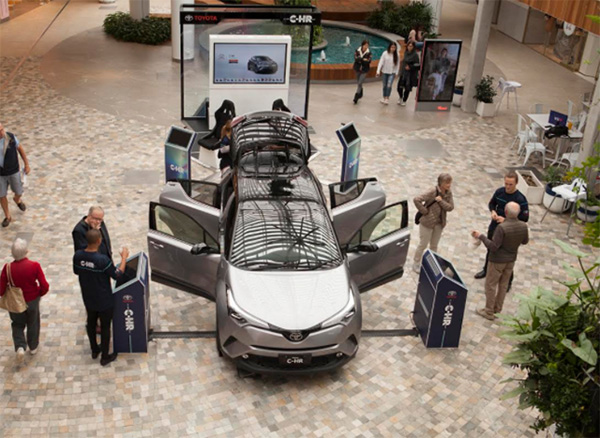 Their Toyota C-HR VR Experience is a little different. Currently touring Westfield Shopping centres around Australia, this five minute experience gives an exploded view of what goes on under the bonnet of the C-HR, with photorealistic quality sufficient to produce an immersed feeling using close-ups of the car mechanics, energy flowing through the engine, and a compilation of the vehicle right before the viewer's eyes. It is a full-lead Oculus Rift tracking experience, not a 360 video, but for safety reasons was designed to be experienced by one person sitting down.
Alt.vfx creative leads Tyrone Estephan and Raymond Leung concepted and created an immersive 360 VR experience in which the viewer gets to spend time with a creature from the 3D projection film for the sails of Sydney Opera House at the VIVID festival, as it lives in its other-worldly dimension. Eventually the viewer is swallowed in a kaliedescope of evolving colour. Set to a beautiful soundtrack by composer Amon Tobin, the film 'The Last Audio Creature in Virtual Reality' was been designed for children of all ages. The piece became an installation in the Opera House foyer during VIVID. The experience is created for the Samsung Gear VR, so it is a passive, artistic experience, created entirely in CG.
Developed and created by Oxfam, Filmgraphics and Alt.vfx, another 360 film titled 'Evelyn's Story' combines film with 360 story telling. Designed to highlight Oxfam's work in bringing clean water to remote areas, the team developed a stereoscopic 360 camera specifically for the project that would resist the harsh terrain, and 45 degree temperatures. This proprietary camera rig named The Don offers live view, ambiosonic audio capture, stereo 360 at 4K, synchronized cameras with micro 4/3 sensors chosen for low light performance, packed into a custom designed carbon fibre lightweight casing for ease of use on location.

As well as the unusual story approach and stereo camera, Alt developed a customised post-production VR pipeline. Editor Matt Bennett and VFX Supervisor Raymond Leung developed a programming language that supports an immersive 360 headset live interactive experience in editorial. The new system allows the viewer - be it director or client - to see the edit being worked on live in 360. The same experience has been developed for the grade suite, where live streaming of the footage in 360 allows for colourist and client to grade the film in 360 allowing for instant understanding of results.

Psyop and ILM have both demonstrated how exciting 360 experiences can be. InILM's Battle Test: A Nissan Rogue 360° Experience, viewers join the Rebellion and face the might of the Galactic Empire by jumping into the front seat of the new 2017 Nissan Rogue. When the action starts, they dodge simulated threats, aliens and characters taken from ROGUE ONE: A STAR WARS STORY in an immersive 360° VR experience throwing one danger after another at the driver from every angle.
Psyop, on the other hand, have created intriguing 360 videos for a wide variety of applications. One is an original VR film created for the fasionable skin care company SK-II that swaps back and forth between live action and CG environments, another is a magical holiday world called 'Candy Cane Lane' made for Honda to bring a special surprise to a few kids unable to leave hospital and, for gamers, a finally there's a chance to experience the Clash world through the eyes of the Hog Rider bounding through the woods and into battle with fellow Hog Riders.
Check out these and many other 360 and VR projects at aeaf.tv.