Vortechs FX Eddy Simulates Fluid Effects in Nuke's 3D Space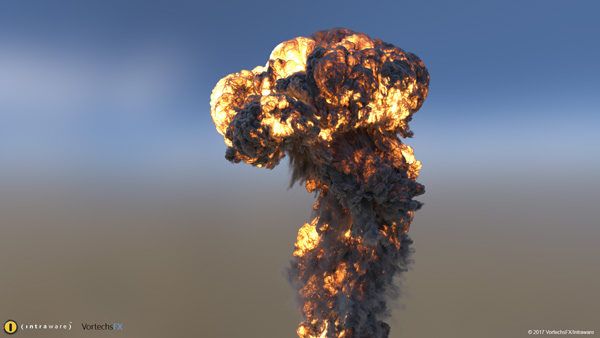 The new Eddy plugin from Vortechs FX, designed for simulating gaseous phenomena inside Nuke, is on the verge of release. Eddy for Nuke makes it possible to generate and work with smoke, fire and similar gaseous fluid simulations, fast and interactively.
Working with fire, smoke and combustion remains a challenge for post production artists, who either have to rely on pre-made 2D assets to complete shots or engage a CG team. Such assets or cards may not only be time consuming to find or create, but can also pose technical challenges when compositing the imagery invisibly into the shot. CG work can take up even more time and require a lot of back and forth communication between departments to finalise the effect.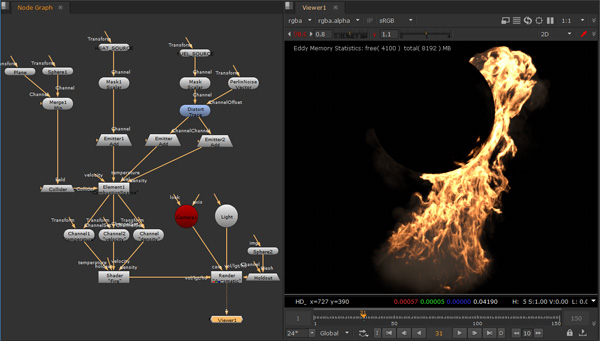 In contrast, because it is also a physically-based volume renderer and compositing system, Eddy for Nuke enables the compositing or effects artists to build and simulate the effect they need directly in Nuke's 3D space, and then physically render it into Nuke's 2D view. The software is capable of deep data output and interactive simulation and rendering. To help with data management and playback, the simulation data is automatically cached, and reading and writing out manual caches is supported.
New Compositing Workflows
The level of control Eddy gives artists directly in Nuke means that workflows can be designed that have not been achievable before within a compositing package. For example, to support look development, Eddy artists can read in caches from other software such as Side Effects Houdini, and then shade, physically light and render the volume effects inside of Nuke.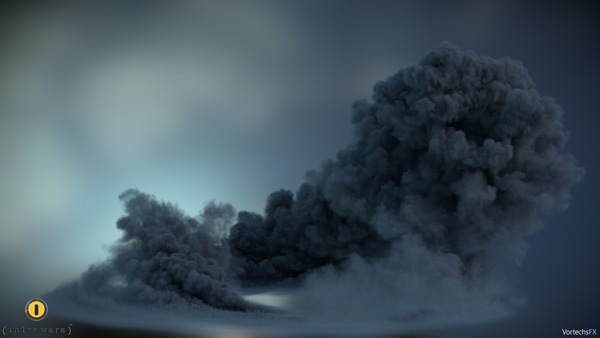 Also, because Eddy runs entirely on the GPU, these new workflows become quite fast. A background smoke or fire effect for a shot can often be created and rendered in a few minutes with Eddy.
Customisation
Eddy comes with a comprehensive C and Python API. Its Python scripting language has been optimised to use within the system, and will be familiar to technical artists. Called EddyScript, it is compiled and run as CUDA code on the GPU, and allows users to customise the solver, write expressions to modify fields and effects, or create shaders and rendering templates inside of Eddy.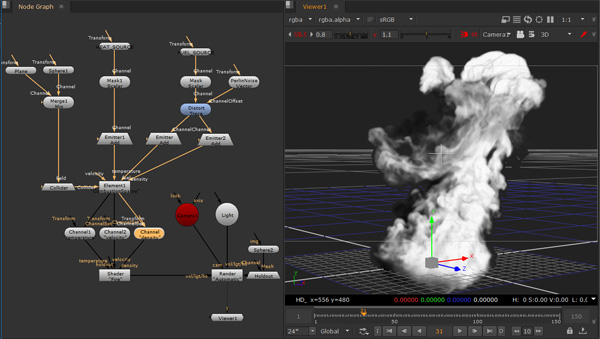 Eddy's developers at Vortechs FX say that this is the beginning of an interesting journey and a new paradigm in solving complex VFX simulation challenges. They have already mapped out the next two years of development for the plugin, which is expected to include AOVs, a Cloud/Sky toolkit, hard surface rendering and multiple GPU support among many other new functions. Both the team at Vortechs FX and reseller Intraware are working with studios that use Eddy for Nuke as a source of advice and direction for its future development. vortechsfx.com