Substance Plugin for 3ds Max Goes Standalone, Integrates Source Textures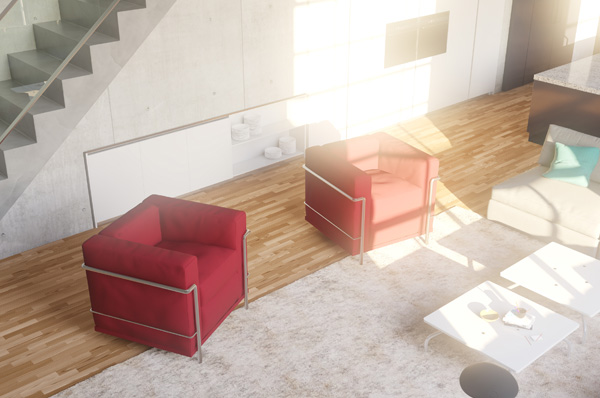 V-Ray scene rendering, from 3ds Max using Substance textures.
At Autodesk University 2017 in November in Las Vegas, Allegorithmic showed the public beta of Substance Plugin for 3ds Max to demonstrate its performance, 8K visuals and new user interface. Its purpose is to make authoring photorealistic materials in 3ds Max easier. Up until now Substance textures were natively integrated into 3ds Max, and no plug-in was necessary. Users could tweak the textures in 3ds Max in real-time and had one single file for diffuse, normal, bump, height, specular, AO and other variations.

Now a standalone plugin used in combination with Substance Designer, the Substance Plugin for 3ds Max still gives users the ability to open and tweak Substance files, as a simple method for creating physically based materials. Resolution rates have been increased to 8K, enhancing visual quality when creating polished renders.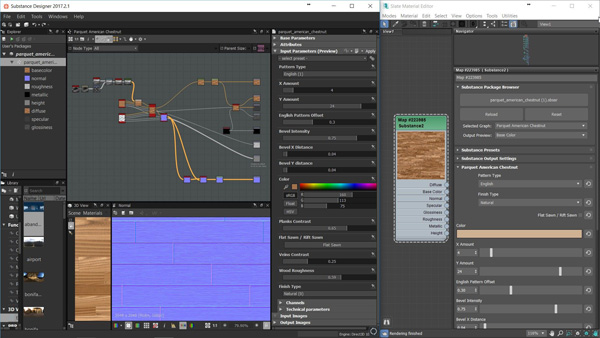 Substance Designer materials authoring.
By linking the software to Substance Engine, Allegorithmic's developers been able to expand its functionality and anticipates that as a separate plugin, it will be possible to update the product faster, so that 3ds Max users receive updates at the same time as other Substance Designer users who access the files through plugins.

Company founder and CEO Dr Sébastien Deguy said, "When we started this plugin process, we were dealing with an outdated version that didn't reflect how far our software development had come in recent years, and so we have changed that."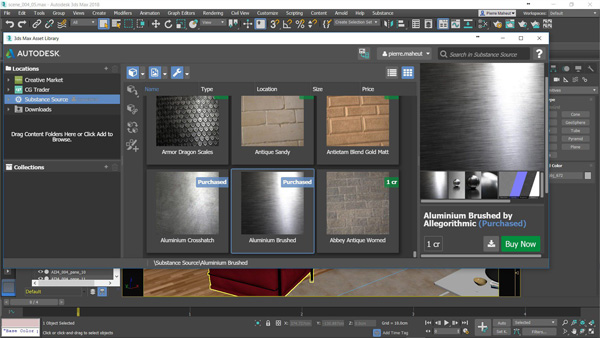 Looking at Substance Source materials in the 3ds Max Asset Library.

The plugin has a redesigned the UI for ease-of-use, employing sliders and colour-coded mouse-over effects so that users can dial in settings more naturally. Batch imports, preset management and support, and one-click material creation for the V-Ray and Arnold renderers have also been added to make the creation process simpler.

Regarding the Autodesk-Allegorithmic partnership, Autodesk will also integrate Substance Source, Allegorithmic's library of physically based materials, into 3ds Max. Now, users will be able to search Substance Source via Autodesk's own 3ds Max Asset Library, which gives access to about 1,200 PBR materials designed for architecture, design, visual effects and game-related projects.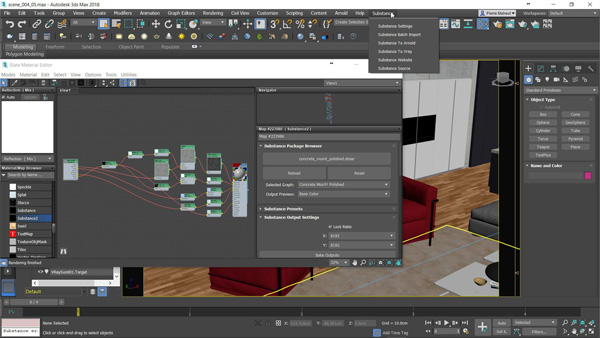 Substance menu in 3ds Max.
Substance Plugin for 3ds Max 2018 is available now as a free public beta for Windows users. Substance Source files can be accessed through a Substance subscription. You can also view a video walkthrough of Substance Plugin for 3ds Max and the Substance Source integration on Allegorithmic's YouTube channel. www.allegorithmic.com/substance