Amimon Transmits Wireless VR Video for Untethered Exploration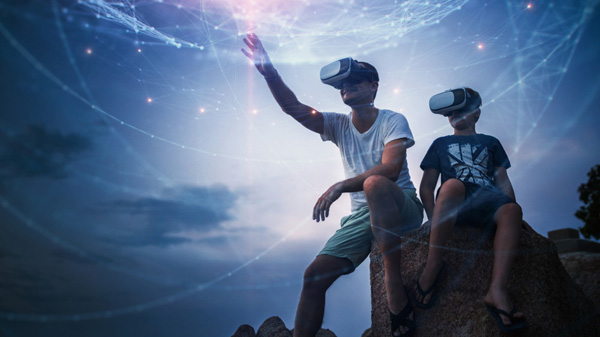 Amimon, creators of wireless HD video systems with zero latency, has developed a robust method for transmitting virtual, augmented and mixed reality video, allowing users to experience the virtual world without physical restrictions posed by tethering. Amimon's patented sytem delivers high quality HD video for uninterrupted VR visual integration, which was demonstrated at the VRX Conference in San Francisco earlier in December 2017.
VR delivery still lacks the means to navigate independently inside VR experiences – that is, users still have to either stand in one place, limit their range of motion or avoid getting tangled in hanging wires. Amimon's approach to VR makes it possible for users to experience a virtual space in real time beyond their immediate view or physical reach, and VR providers and producers can use the system to facilitate these personalised experiences.
Barriers to VR
Digital Media World asked Uri Kanonich, VP Marketing of Amimon, what the biggest challenges have been, up until now, to providers giving users greater access to their VR experiences. He said, "Because VR strives to 'trick' your mind into an alternative reality, the requirements from the user's point of view for a completely natural, interactive video are extremely strict. The video quality must be at its highest level, and the latency should be practically zero – your vision expects the video to change according to your movements.
"While 60GHz-based solutions have been able to fulfil these requirements to some extent, users were still confined to navigating in one room because 60GHz requires reflections from the ceiling. Only a limited number of simultaneous users could be supported, and physically crowded environments could compromise signals if they were, for example, blocked by furniture in the room."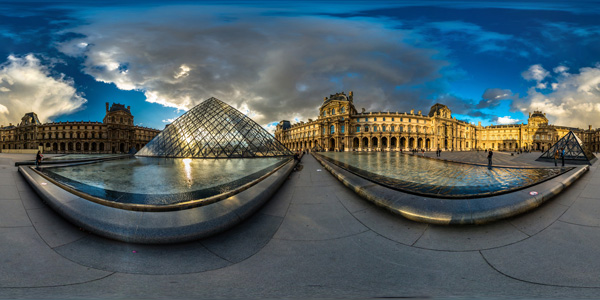 Amimon's ability to deliver high quality, zero-latency signals in the 5GHz bandwidth is a means to overcome these VR barriers. Hardware that operates on the 5GHz band delivers a robust enough link to support environments including large interiors and crowded environments. Amimon's video modem supports complex scenarios with multiple, simultaneous users, and overcomes persistent 60GHz band line-of-sight limitations.
New Worlds
The set-up is compatible with most VR headsets, including Oculus, Vive and PSVR, and the video link system has an embedded chip that supports VR resolution of 2K at 90fps, similar to the Oculus and Vive, as well as 1080p at 120fps, like Sony's PSVR.
Uri said, "While the 2.4GHz band has 80MHz bandwidth available for public use, it is rapidly becoming overcrowded by the use of increasing numbers of Wi-Fi devices. Today the 5GHz bandwidth has 320MHz available, and it's actually growing, with more channels added a few years ago. There's even further discussion in Europe and the US to expand 6GHz band for public use."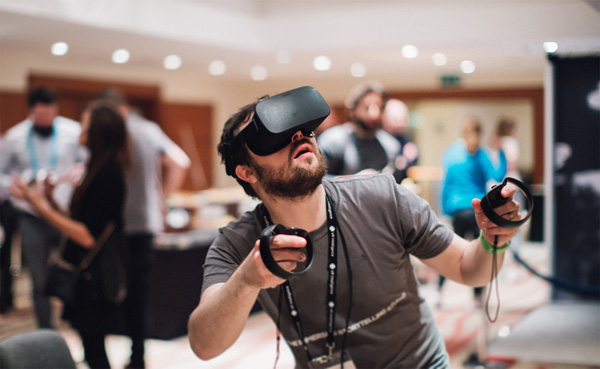 A visitor at the VRX Conference in San Francisco.
At this moment of course, VR users can only 'explore' as far as VR providers extend their digital worlds out to, and Uri agrees that sophisticated content is the missing link for ultimate virtual reality experiences. "Although today you can actually start viewing such content at specialised VR arcades, most VR video is still very limited and is confined to 'VR from the chair' experiences, rather than an immersive virtual reality world," he said. Hopefully, developments like Amimons will encourage producers to push out their environments for deeper exploration.
Turning back to the hardware, Uri notes that, as the wireless video systems developer, from the very first stage Amimon has been in direct communication with manufacturers to create add-on accessories to be connected to existing head-mount-displays on the market. "We are also in contact with relevant candidates about embedding this solution within their next generation HMDs (head mounted displays), so that users can enjoy wireless experiences as soon as they buy them.
"Our 3rd generation chipset, which is already available, supports all leading HMD video requirements in the market today. We're currently in the process of developing our 4th generation chipset that will support next generation requirements and beyond, including 8K video resolution, 120 fps and more." amimon.com