Red Giant Films Releases FX-Packed Short Film 'Go Bag'
A new short film titled 'Go Bag', written and directed by filmmaker Seth Worley, is a fast-paced action film about a spy code-named Rabbit who must fight for her life using only the contents of a stranger's carry-on bag.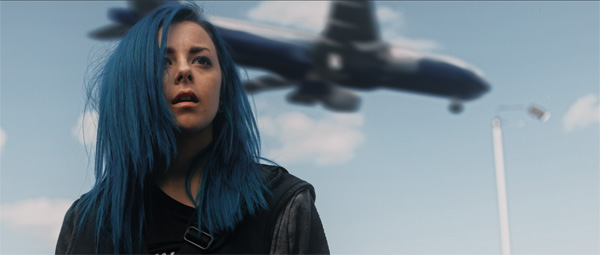 Produced with extensive stunts, practical effects and CG VFX, it was created at Red Giant Films and therefore, its post production employed every suite from Red Giant software. The applications include the Trapcode Suite 13 for muzzle flashes, sparks, smoke, debris and the film's cinematic end title sequence; the Keying Suite for green screen and compositing; and Magic Bullet Suite 12.1 for colour correction.
Practical Effects & Stunts
Director Seth Worley said that this film was their most ambitious project yet because of its use of hand-to-hand combat and real stunts, which they had never incorporated into their projects before. In contrast to Red Giant Film's last short film 'Old/New', 'Go Bag' has virtually no dialogue, focusing instead on fast-paced action.

Imagining what a typical TV action character might keep in her kit bag for handling dangerous situations, the film follows our heroine as she mistakenly picks up a stranger's bag instead of her own. Suddenly she finds must defend herself against a crew of assailants armed only with an iPad, a selfie stick, shaving foam and a pair of gym shorts.
The project was shot in a multi-story carpark in Nashville, Tennessee. In post, the team added planes and aviation elements to establish the airport setting. These elements came mainly from stock footage, and one was modelled in 3D and animated using Element 3D from Video Co-pilot.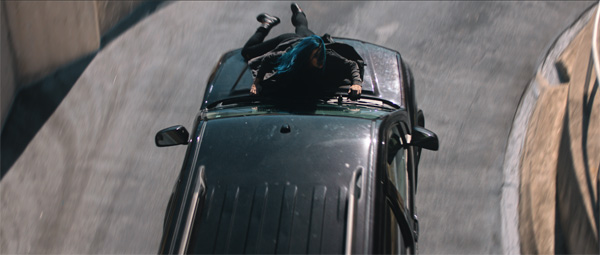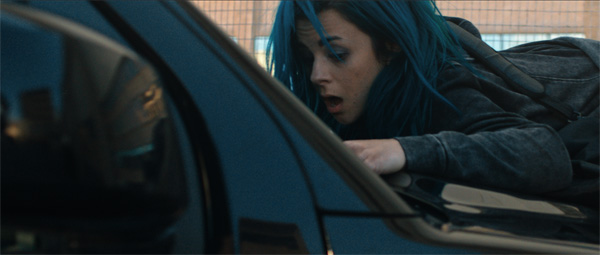 The crew shot most of the footage on the ARRI Amira, and hired an ALEXA Mini for car rig and RONIN 3D system shots. The actress performed many of her own stunts. To decide on the balance of in-camera and post-produced stunts, Seth relied on a stunt co-ordinator and his own knowledge of what his team could achieve in post.
Rabbit in Post
Small mics were distributed around the set during high action sequences like the fight scene in a stair well to record a selection of authentic sounds. Other sound effects were acquired from Soundsnap.com, and all effects were synced in post with Red Giant PluralEyes.

The VFX team enhanced the actors' prop guns by customizing presets and sprites for muzzle flashes, sparks and debris in Trapcode Particular 2.5 and the software's new Effects Builder. A scene with Rabbit on the bonnet of a car traveling up and down the spiral ramp was potentially dangerous, limiting their speed. For best results, they used a combination of green screen and live action car shots with the actress strapped tightly to the bonnet. They had four camera angles to work with - from on and in the main car, and from a second car in front or opposite the main car.
Tools from the Red Giant Keying Suite were used for clean-up was required on the actress' harness, and compositing the live action green screen elements into the environment. ColorMatcher from this suite, plus Magic Bullet Colorista 3, helped blend the shots together. The team also used Looks from Magic Bullet Suite 12.1 as a fast, real-time 4-way grading tool and hue control to narrow the colour palette, aiming for vibrance.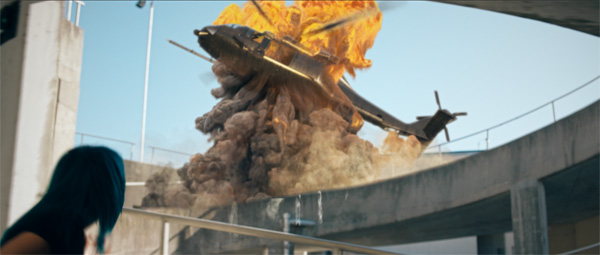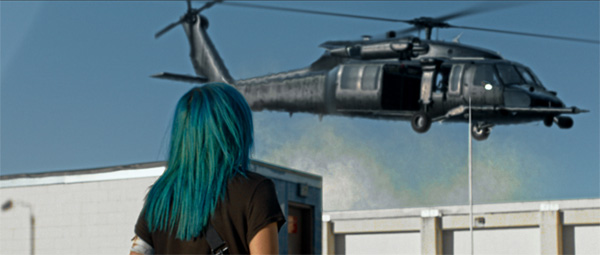 Happy Ending
In a scene in which the helicopter approaches Rabbit on the rooftop, pressuring her to blow up the car, the helicopter and explosion had to be handled as full, animated 3D effects created by David Coalter, a mechanical engineer who visualises concepts in 3D. Meanwhile, Red Giant handled the stunt work when she climbs under the moving car. Her performance had to be shot separately, and composited into the plate using a combination of rotoscoping, stabilisation and matchmoving techniques.
The end credit sequence for 'Go Bag' was created by Territory Studio www.territorystudio.com/, whose motion graphics appear in 'The Avengers: Age of Ultron', 'Guardians of the Galaxy' and 'The Martian'. Senior motion designer Nik Hill said the team used Trapcode Form to import obj files from Cinema 4D and turn these into points, producing the sequence's distinctive looks. The new tool Trapcode Tao was used for the 3D fractal shapes, which then drove the 'glitch' transitions running throughout. www.redgiant.com