VFX studio Cantina Creative created hologram effects and animated monitor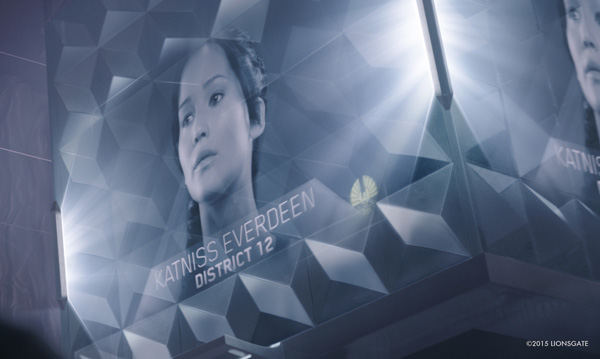 screen content for close-up views of the Capitol and districts of Panem in
'The Hunger Games' final film.
---
Cantina Creative Lights Up the World of 'Mockingjay 2' with Cinema 4D
Visual effects studioCantina Creativein Los Angeles created 120 visual effects shots and 30 motion graphics shots including holograms, animated posters, monitor and UI graphics that appear throughout the movie'Mockingjay Part 2', the final film in 'The Hunger Games' series.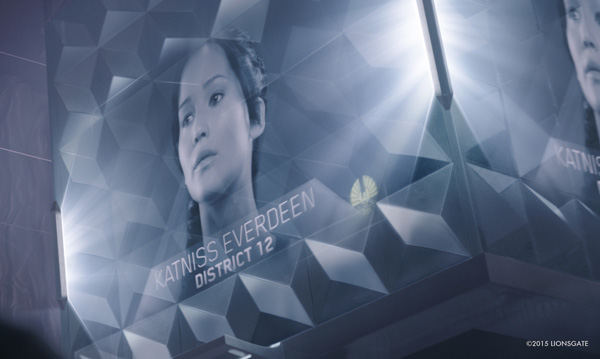 The Cantina Creative VFX team, which also produced VFX for 'Mockingjay Part 1', included VFX supervisorsJay GrunfeldandVenti Hristova, compositing supervisor and company co-founder Stephen Lawes worked with the director, Francis Lawrence, and production VFX supervisor Charles Gibson.
The Capitol Close-up
Venti Hristova said that their main task in the previous film had been to generate interactive on-set monitor graphics that would stream live during shooting. This time, the work also involved the creation of two hologram effects and compositing hero monitor screens that required story specific information and animations to help progress the story through some of the key sequences.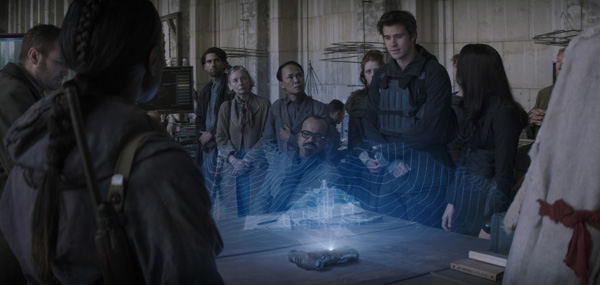 "Because our aesthetic reach in this film was broader, we needed to deliver a more advanced design style. For example, we were asked to create detailed3D hologram contentfor the Capitol, contributing to the first time that audiences would get a close-up look at the capital city of Panem, the Capitol chief legislative building and various other Panem districts," said Jay Grunfeld.
"Although the director and producers at Lionsgate had very clear ideas about the look of each environment, our collaboration included opportunities to experiment with style and feel. We used a pipeline based onMAXONCinema 4D, which allows enough flexibility to explore and tweak storytelling notes throughout some challenging design sequences. In combination withAfter Effects CC, which was used for compositing, we generated External Compositing tags and compositing project files throughout the hologram sequences, for example, to help improve efficiency."


When setting up a project, theExternal Compositingtag tells Cinema 4D to make the coordinates of the object available to After Effects CC. Cinema 4D passes a series of flattened, two-dimensional renders of a 3D scene to After Effects, as well as 3D information about the camera, lights and External Compositing object anchor points. The tags allow you to create object buffers, which are mattes meant to reveal and occlude the selected object as required when it is composited in 2D.
Strategic Hologram
"One of our holograms represented the 'Nut', a strategic military compound located in an underground mountain bunker that houses all the military equipment for the Capitol." This hologram required a detailed, photoreal 3D mountain range, with only a single 2D matte painting to use as reference. 3D artistJayse Hansenwho worked with Cantina in preproduction and on location, designed the initial hologram concept including the entire interior encompassing the crew quarters, armory, hovercraft hangars and other elements.

Jayse said, "By using a landscape generator with Cinema 4D I blocked off shapes, and then used the sculpting tools to create a number of very precise hologram looks and models of the mountainous terrain surrounding the Nut and Capitol from different perspectives." These concepts were handed off to compositorStephen Mortonwho further refined them into a final workable version that the team used to work out positions for specific story elements for several hologram sequences.
Organising Layers
"Thesculpting toolswere also useful for customizing and organising the project in layers, and worked non-destructively to churn out dozens of iterations of mountain topography. Then we rendered out several different passes through Cinema 4D, including variations of cel renders, layered procedural shaders and a depth map. We also exportedlightandnull datato use for other elements we added in compositing," said Stephen.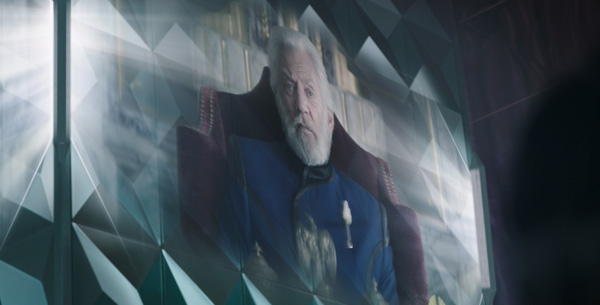 After Effects handles Cinema 4D files similarly to footage. As well as importing, modifying and rendering Cinema 4D projects natively within After Effects, bringing cameras, lights and null objects, the After Effects project files can also be exported directly from Cinema 4D complete with layered multi-passes and animated 3D solids. You can work simultaneously with the same Cinema 4D file in both softwares and navigate Cinema 4D scenes in 3D within After Effects.
"To rotate topography designs uniformly across nearly 30 shots of the mountain hologram in the sequence, thetime effectortool – which sets up transformation values for an object according to the length of the animation and loops through it over and over - was very effective for experimenting with rotation speeds and ultimately arriving at something that both the client and our team were pleased with."www.maxon.net