Foundry Athera and Google Push VFX Production to the Cloud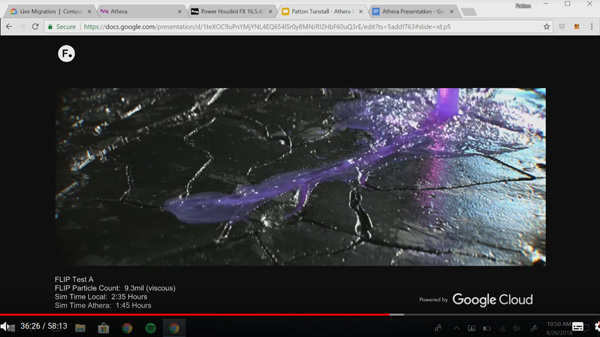 Foundry has now launched Athera, its cloud-based service platform for visual effects artists and teams. Hosted on Google Cloud Platform, Athera gives users flexible access to VFX applications, virtual hardware and compute power running in the cloud, with GPU, networking and storage capabilities from Google Cloud. Studios and freelancers have the means to move their workflows and entire pipeline into the cloud.
In the course of developing Athera, which started in 2015, Google and Foundry have made interesting discoveries about organisations' motivations for moving operations to the cloud, about who can benefit the most and why the cloud is a good place for visual effects artists and teams. Among the top reasons for users moving to a cloud environment like Athera's, Google sees opportunities to become more data driven, agile, collaborative and productive, to stay ahead of competition and to ensure an organisation is working in a secure environment.
Scalable, Remote Power
Also, up until now scalable, remote power has been what gives large companies the edge over smaller ones. Athera now aims to make on demand power and flexibility available to freelancers and smaller studios through the elasticity and scale of the cloud – a meaningful claim considering that changes in workload and demands on a small facility are likely to be more dramatic, with greater impact on resources, than in a large company.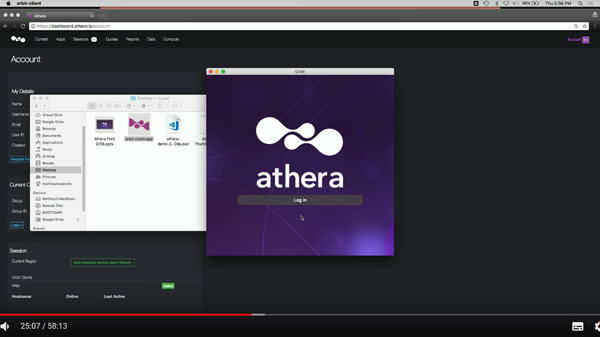 In 2015, Foundry started working on a project named Forge with ILM to explore the feasibility and limitations of cloud environments for VFX work. In 2016, an internal labs project toward a pipeline in the cloud, PIC, was undertaken, followed by the Elara beta programme launched in 2017 to involve outside users as beta testers.
Through this period Foundry realised that the cloud environment itself was not as interesting to users as the access it opened for them to talent and tools, to speed increases and to the choice to work anywhere. The industry overall is still concerned about cost, security and capability but remains uncertain about what the cloud is in terms of how it can work for them.
It has become clear to Foundry, however, that the shift to the cloud will come from independent operators because they have more to gain from it. Larger establishments are generally thriving where they are, whereas independents are looking for mobility, control over their income, bidding transparency, and choices regarding tools and hardware. Therefore, Athera's environment supports the organisation of distributed teams around projects, collaborating through centralised cloud storage. Users have flexible access to software on virtual machines and can provision elastic render capacity, powered only as needed. Cyber security firm Independent Security Evaluators, ISE, performs regular manual security audits on Athera, and users are also relying Google's own security infrastructure.
Contexts, Atlas and Entitlements
An important concept behind Athera is Contexts, which are carefully constructed for and used to identify each project, and can be manipulated with the Context Switcher. A Context wraps up and isolates the team, software, assets, roles and permissions, quotas and storage – per project. Each one is sealed off from the others so that when a user opens a new Context, no assets from any others are accessible.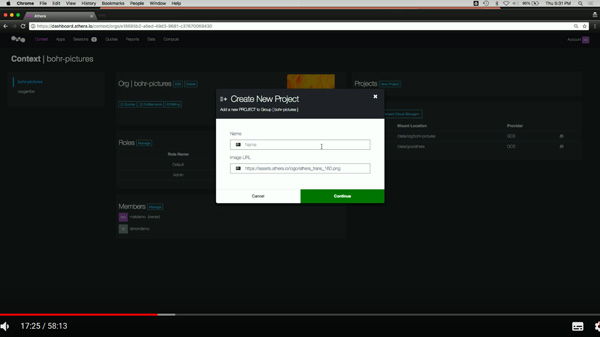 Another principle Athera feature is storage, named Atlas and used more as a cloud file server connecting elastic object storage to the Athera environment, into an NFS (network file system) interface. You can use your own Google storage, Amazon S3, Dropbox, Google Drive – regardless, the goal is keeping control over your data.
Software access, called Entitlements, comes in two ways – as 'compute entitlements' or render power that you stock up with and use up over time, and 'interactive entitlements' that give 30-day access to a selection of software plus workstation charges. When you launch an application, Athera chooses the hardware specifications appropriate to the context you are working in and software you are using, and Google Cloud orchestrates the appropriate resources, dynamic storage and execution environments.
Containerised
Athera takes a containerised approach to the software, handling each application as an executable package that includes everything needed to run it - code, runtime, system tools, system libraries, settings. Containerised software will always run the in the same way, regardless of the environment. Containers isolate software from its surroundings and help reduce conflicts between teams running different software on the same infrastructure.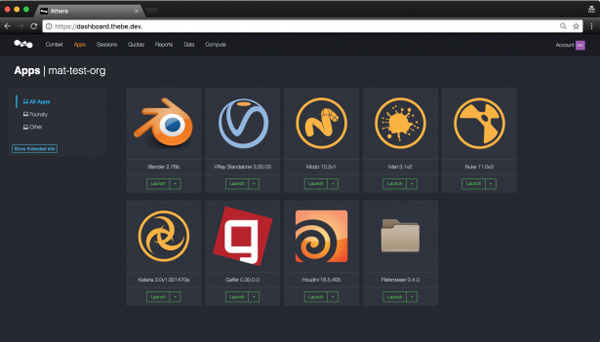 Applications available on Athera so far include Foundry's, of course – Nuke, Katana, 3Delight, Modo, Mari and Cara VR – plus Houdini and Blender with others on the way, hopefully V-Ray, Shotgun and ftrack. Athera has shown good performance on simulations, particle work and meshing.
Instead of being confined to using software through a web browser you can work with more professional performance using Orbit, Athera's desktop agent. It gives a better connection or stream to your session and has a lightweight file transfer system API to synchronise your data automatically with storage and local data and computers. Software will work faster through Orbit, display colour more accurately, and it adds Wacom tablet and monitoring support.
A dynamic render farm is available at all times. Every node on the farm is a clone of your artist session – that is, the Context – including the pipeline and permissions. There is no need to move or send files to or from the cloud because all interaction occurs in the virtual studio in real time. Render log files are displayed as well.
Analytics
Running alongside the functionality in Athera are usage analytics, accessed through the Reports tab. Analysing a virtual studio's services usage of compute power, and virtual machines reveals details about users, software applications they employ, time spent using them and so on. Integration with Google's Vision API is a facility Foundry is developing further for deeper analytics as well, through automated tagging, metadata generation, and machine learning opportunities such as predictive cost modelling.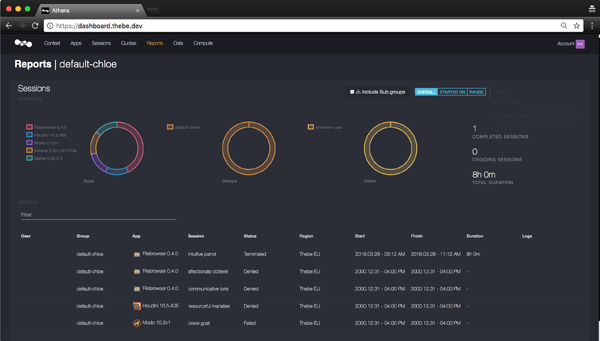 Google Cloud Vision wraps machine learning models in a straightforward REST API that can be integrated with image storage on Google Cloud and used to understand the content of individual images. It classifies images rapidly into thousands of categories, detects individual objects and faces, and finds and reads printed words contained within images. With the results, you can build metadata on your image catalogue, seek specific content, or apply image sentiment analysis to marketing.
Many aspects of Athera are still in development. Its functionality now may work somewhat differently further down the track. It may not be perfect – some artists find it expensive, others are unsure of the value of a service oriented approach to visual effects provision – but it seems unlikely that the concept of a cloud-based virtual studio will go away. Athera lays down some important groundwork and its developers continue to explore the potential for M&E production. www.foundry.com