Ample Projects' Nicholas Tory and Lucy Keeler Illuminate AEAF Program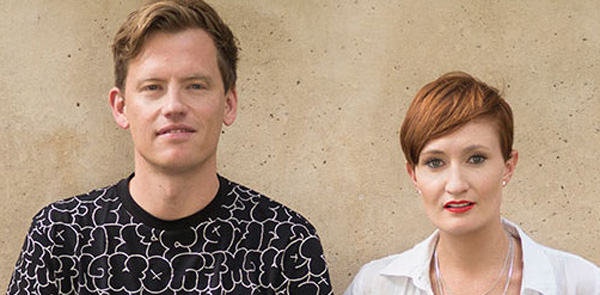 Artists Nicholas Tory and Lucy Keeler at Ample Projects will talk about creating and directing their brilliant environmental artworks, animations and installations that bring locations to life. The team at Ample combine traditional artistic methods with new and old technology, to create public artworks that people can relate and respond to.
Their work appears each year at VIVID Sydney and is featured at many other venues. They will show attendees their processes and approaches to building their beautiful, evocative projects from the ground up, and the tools used at different stages. They will also share sources of inspiration and reference for their graphics and animation.
Nicholas Tory is an award-winning artist, artistic director, designer and project director, and a co-founder of Ample Projects. He graduated from Sydney College of the Arts' Electronic and Temporal Arts studio, and specialises in site-specific collaborative art projects including sculptures, installation, light-based art and animated films. To develop his varied, multi-disciplinary practise and style, he collaborates with artists, technicians, engineers, animators and designers.
After spending the past 20 years working with artistic production teams on a diverse range of impressive projects, Nick's projects are his response to life in the modern world, and explore themes relevant both to the experience of urban environments, and to a desire to be closer to nature. They also reveal the fragility and complexity of all life on our planet, human mythology and the roles that technology play in our lives and world.
Through collaboration with other artists in various disciplines, Nick's work uses light, spatial and object design, electronic engineering, interactive design, sound, projection, animation, film making and traditional techniques like drawing and painting. Nicholas hopes to produce though-provoking work that makes our experience of the world better.
Lucy Keeler has developed her work and style as an artist over 15 years, supported by a multi-disciplinary studio devoted to painting, sculpture, virtual art, projection and theatre design. Based on her love of traditional art mediums and 2D animated filmmaking, her projects bridge traditional and technological art forms.
Lucy is a founder and co-director at Ample Projects, developing large-scale art projects in Australia and overseas, including video and installation art, sculptural works, projection mapping and animatronic sculpture. Over the past several years, she has designed and directed numerous projects from the ground up, securing funding and bringing together sculptors, painters, video artists, animators, lighting programmers and designers, interactive developers, composers and musicians to develop public artwork.
Lucy's individual art practice is focused on hand animated oil painting. She is currently completing postgraduate studies (Master of Fine Art, Painting) at Australia's National Art School in Sydney, and previously undertook two residencies in Italy followed by a solo show, and has won several awards as a painter. www.ampleprojects.com