Foundry Nuke 11.2 Updates UI, Deep Compositing and Scripting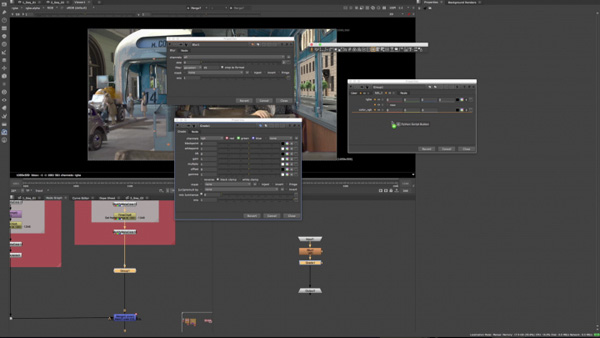 Foundry Nuke v11.2 focusses on speed due to an upgraded UI, greater performance and a new API for deep compositing.
The new deep compositing API was developed to increase the speed of script processing through efficient memory management. The scope for better performance varies according to the project and set-up. More support for deep compositing comes from updating the DeepExpression node to add the ability to use Nuke's metadata nodes within a deep stream.
The Nuke Tab menu and UI for creating user knobs have been revised to ease and speed up some of the tasks artists perform repeatedly, such as adding nodes and creating Gizmos.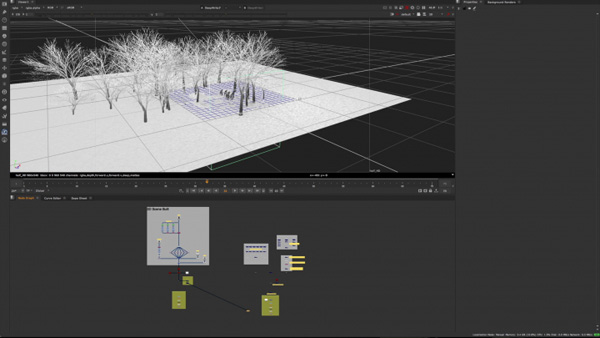 Making it faster to find and add nodes to a script, artists can now use partial words as search criteria in the Tab menu, or set 'favourites' among commonly used nodes and organise them using a weighting system. These updates may save time when building scripts incorporating a large number of nodes.
A new UI allows user knobs to be linked between nodes by dragging and dropping. Artists can add, rearrange or remove user parameters using the same interface. This replaces the drop-down menus for selecting user knobs, noticeably speeding up the set-up of Live Groups and Gizmos and reducing the average number of clicks required.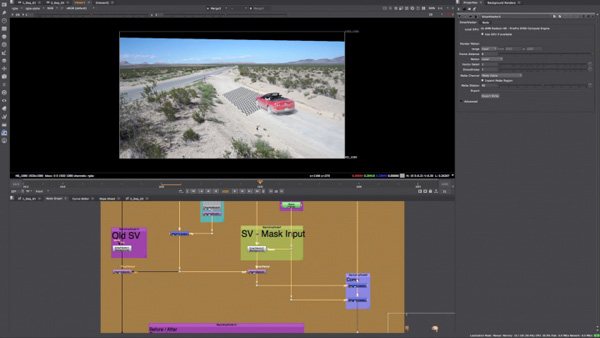 The Smart Vector toolset, handy for work on shots with occluding objects, is now faster as well. Smart Vector and Vector Distort have been optimised for the GPU, so that users can generate Smart Vectors on the fly and preview the results without needing to pre-render the vectors.
Previously, occluding objects would impact motion vectors and influence the Distort result. But, by using the new mask input, now you can identify areas of motion to ignore when generating the Smart Vectors and warping the paint or texture. Consequently, using the Smart Vector toolset for occluding objects will involve less manual clean-up, making these tools better suited to more complex tasks.
Upgrades for Nuke Studio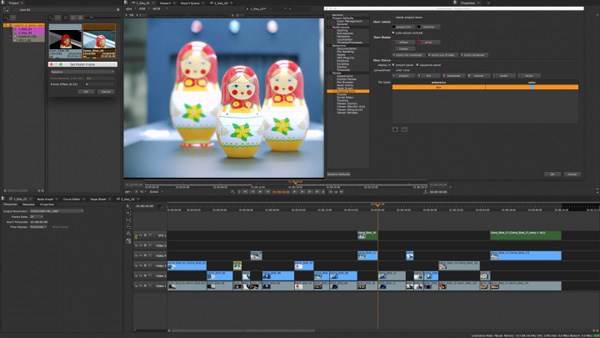 In Nuke Studio, the project panel UI is updated with new controls that display visual reference to help manage and organise complex projects. Artists can assign colours to items in the project bin and the timeline, based on file type and other parameters that are accessed via the UI and python API.
They can also choose and set the poster frame, or thumbnail, for single or multiple clips in the bin or from the viewer. This is useful when working with clips that have black frames or slates at the start. These two improvements will help artists to visually distinguish between different file types much more easily.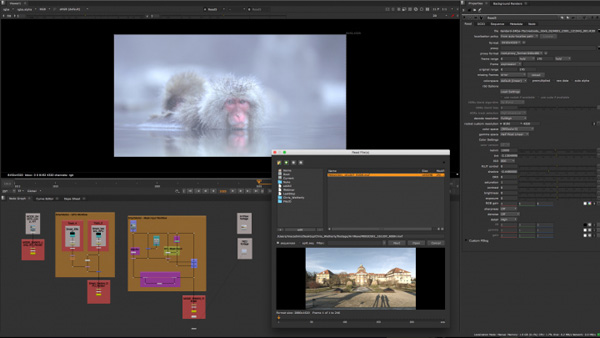 SDKs for ARRI and R3D have been updated to match the most recent versions of the codecs. The list of supported GPUs has been expanded.
Nuke Studio's sorting and searching functions in 11.2 allow users to arrange project bins in a preferred order. Artists can also search through project items using multiple keyword and file metadata with keywords, or through all metadata. This improved functionality of the project panel will aid artists managing larger projects.
Nuke 11.2 is available for purchase now. www.foundry.com