Sapphire 2019 Adds Tools for Original FX and CPU/GPU Acceleration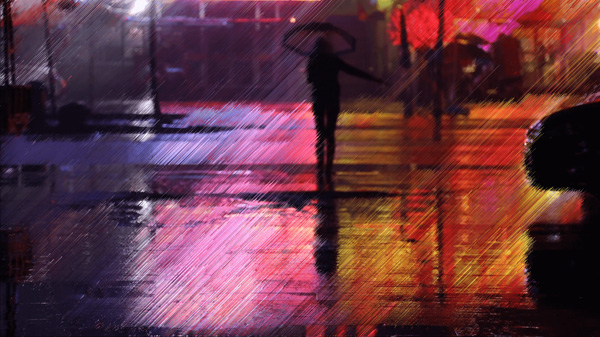 PixelSort
Sapphire 2019 suite of visual effects plug-ins from Boris FX includes a major upgrade for LensFlare and Flare Designer, a new PixelSort digital glitch art effect and WhipLash transition, plus a new animating shape tool for the Effect and Transition Builder. The Mocha Essentials workspace, a new tracking and masking UI for less-experienced Sapphire users, has new spline tools such as magnetic edge snapping.
LensFlare and the Flare Designer have new functions that put more of Sapphire's flare engine under the control of the artist, and make the plug-ins easier to use. The preset browser is now integrated directly inside the Flare Designer, for example, making accessing and modifying lens flare presets more straightforward. A new lens flare component workflow has been developed so that artists can build an original, complex flare from scratch. 27 new presets have been added as well.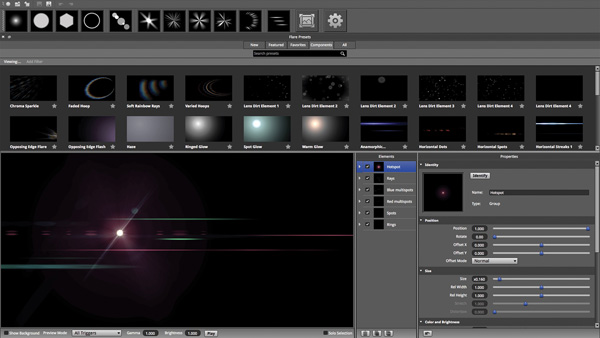 Lens Flare and Flare Designer
PixelSort is a new digital glitch art effect. It has a number of different, deep parameters artists can set to distort the image in many different ways, and produce distinctive results. PixelSort is also available inside Sapphire's Effect and Transition Builder, where it can be combined with other Sapphire effects to create original looks or used as a transition.
Builder is the node-based effect compositor that comes free with Sapphire. It is used to create complex multi-layered effects and transitions from scratch and then save these effects as single instances, which then can be applied elsewhere in the same project.
Other improvements to Builder in the Sapphire 2019 release, apart from PixelSort, include a new animating shape effect that is useful for developing presets like multi-colour shape wipes and organic transitions with a hand-drawn look. PixelSort and S_Whiplash (described below) have been added to Builder to help create original new effects.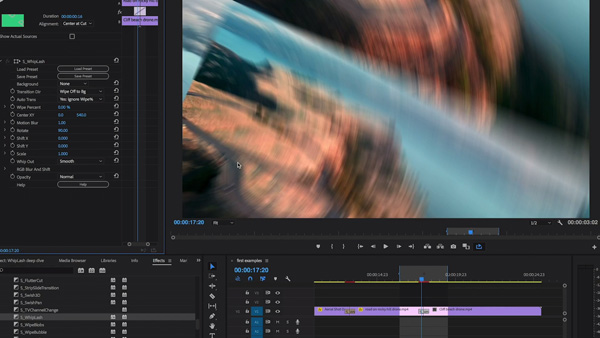 S_Whiplash
S_Whiplash is a new transition related to a conventional S_SwishPan that mimics a very quick camera pan, blending multiple copies of an image together in a series to leave the impression that a great distance has been travelled in a short space of time. Users choose a soft bounce stop, a smooth finish or a snapback at the end of the transition. S_Whiplash can travel in any direction or angle, as well as scale up or down, and incorporate RGB separation blurs to give it a different look.
Sapphire 2019 is the fastest version of Sapphire so far, due to optimisation for peak GPU acceleration with CUDA enabled NVIDIA graphics cards. Blackmagic Resolve colourists and Adobe Premiere Pro CC editors will notice the most evidence of this change.
Mocha Tracking and Masking
Tracking and masking tools from Boris FX Mocha software are available within each Sapphire effect, and separately as the S_Mocha spark when Sapphire is hosted by Autodesk Flame applications. Sapphire 2019 includes improvements to this integrated functionality from Mocha, reflecting the recent Mocha Pro 2019 release in September.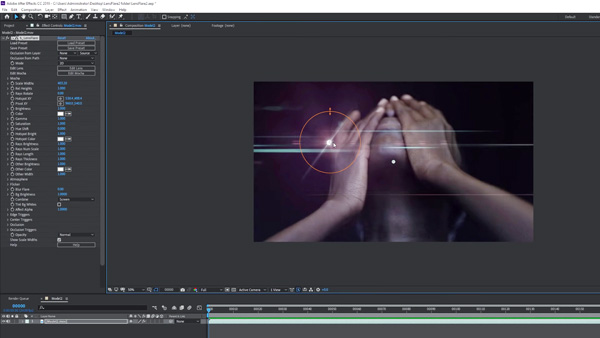 Mocha Spline tool
There are four new Mocha spline tools for masking and rotoscoping to speed up shape creation - the Magnetic Spline Tool with edge snapping, a Freehand Spline Tool for fluid handdrawing, and new preset circular and rectangular shape tools.
The Mocha interface has been redesigned in two versions as well, in order to make Mocha easier to learn. The Essentials Workspace reduces complexity and focuses the Mocha UI on the key tracking and masking icons and tools. The user can switch to the Classic interface later for advanced modules and customisation of workspaces for flexibility.
Sapphire 2019 supports video host applications including Adobe After Effects CC and Adobe Premiere Pro CC, Avid Media Composer and Autodesk Flame family. Among OFX hosts are Foundry Nuke, Blackmagic Design DaVinci Resolve and Fusion, and Magix VEGAS Pro. www.borisfx.com