Adobe After Effects and Premiere Pro Get Smarter, More Efficient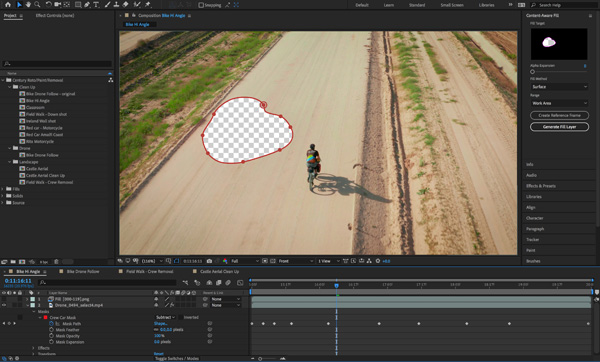 The April 2019 release of Adobe Creative Cloud video and audio software, coming to NAB 2019, includes major changes to Premiere Pro and After Effects. The updates focus on improving performance and efficiency, and on using Adobe's Sensei artificial intelligence engine to speed up post-production tasks that have traditionally been completed manually.
After Effects
One of the most significant developments is Content-Aware Fill for video, now part of After Effects. First introduced for still images in Photoshop, it expands an artist's ability to repair or re-purpose a shot by removing unwanted elements from video clips, such as production gear and microphones, SFX wires or out-of-context elements captured on a set.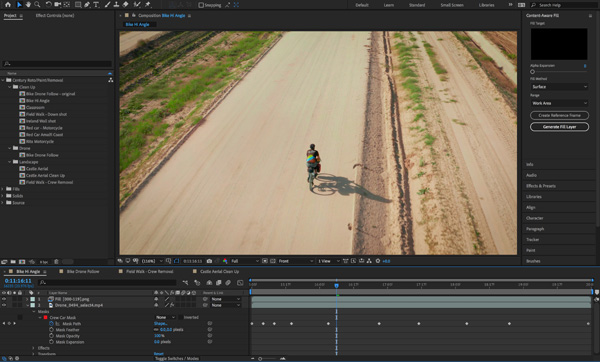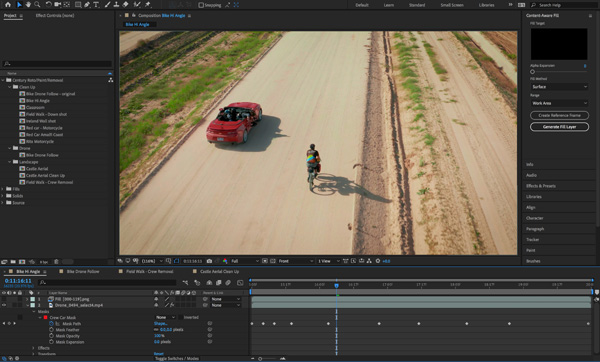 Content-Aware Fill
Content-Aware Fill can be used, for example, to avoid re-shoots by eliminating visual distractions or fixing continuity issues like a car driving through the background or dust on a camera lens. It saves a lot of manual work in 360 VR projects especially, because almost no part of the set is off-camera to hide crew or equipment.
Powered by Adobe Sensei, Content-Aware Fill replaces masked objects, shadows or artefacts with backgrounds generated from adjacent pixels and other frames in the clip. Using VFX techniques like optical flow and 3D tracking, Content-Aware Fill estimates motion and depth of a masked object to intelligently assemble a replacement background for each frame. For complex shots, you can refine the results with reference frames edited in Photoshop.
Expressions Editor
Writing Expressions is now simpler and uses a more visual approach due to the Expressions Editor, a new code editor built into After Effects that works with the Expressions engine to set up better animation workflows. Expressions are snippets of JavaScript used to link animation properties without having to create hundreds of keyframes. They can also be used to build dynamic designs that respond to changes or data.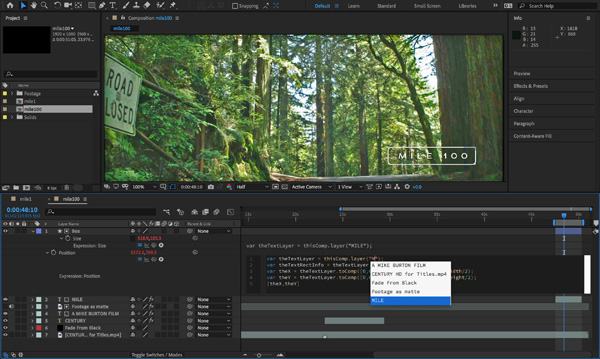 Expressions Editor
Users can navigate code visually in the Editor with syntax highlighting, line numbers, matching brace highlighting and code folding, improving speed and accuracy. The Editor window can be customised with different colour themes to show the structure of the code. It locates issues with in-line error messages that give you the context needed to find the solution.
When applying GPU accelerated effects such as Roughen Edges and Change Color, rendering is faster due to 16- and 32-bit colour support. Syncing of missing typefaces is now automated for Adobe Fonts in After Effects and for Motion Graphics templates. Adobe Fonts allows users to sync fonts from a very large font library with Creative Cloud applications on a desktop computer, or use them directly on websites.
Team Projects
Complex Team Projects now load faster and the workflows between Premiere Pro and After Effects run more efficiently. The GPU acceleration from the Metal renderer improves playback for RED footage, with new deBayering support for the Metal renderer on macOS, and support for Sony VENICE v3 has been added. Owing to improved hardware decoding for H.264 and HEVC, editors will see smoother playback performance.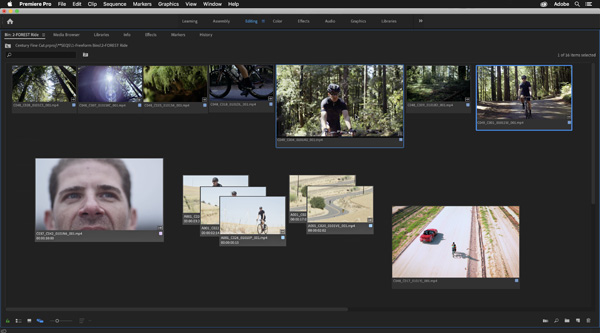 Freeform Project panel
An example of new functionality shared between After Effects and Premiere Pro are Guide Templates that establish visual consistency in designs and across a team. They have the familiar snapping functionality to help lay out and size titles, graphics, still images and video more precisely. They can be colour coded and saved, and make projects shared between editors and graphic artists more efficient.
Premiere Pro
Another new tool in Adobe Premiere Pro is the Freeform Project panel, which gives the editor a chance to manage content while keeping stories in view. The new Freeform view expands the Project panel into a wider canvas for organising media and visualising ideas. You can arrange clips, sequences, bins and other assets into layouts as they come to mind, make hero shots bigger and build assembly edits that can be dragged onto the timeline. Clips may be colour coded and stacked into groups to save space.
By saving different layouts for different tasks inside the same bin, you can move between layouts as you work. To control the appearance of bins, there are options to show various types of metadata or clip thumbnails only.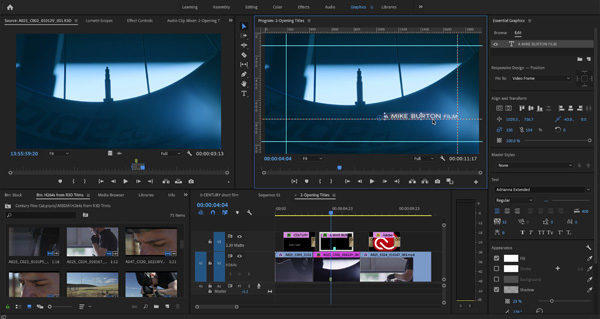 Rulers and Guides
Text Tools
The Essential Graphics panel places all titling and graphics tools in one place. New options for adding multiple strokes and stroke styling to text - as used in Japanese and Korean titling and lower thirds, for example - will help enhance titles. You can use background fills or masks with text to add impact to text and titles.
Similar to After Effects, syncing free Adobe Fonts is automatic, avoiding issues with common missing typefaces, or you can define your own default font as a fallback option. Replacing fonts across an entire project can be done with one click to update a design.
Graphics for Editors
This release gives editors more options for creating graphics and animations in Premiere Pro, using the Essential Graphics panel, where you can drag and drop multiple Motion Graphics templates to work more efficiently. Grouping shapes and applying masks can all be done from the panel as well.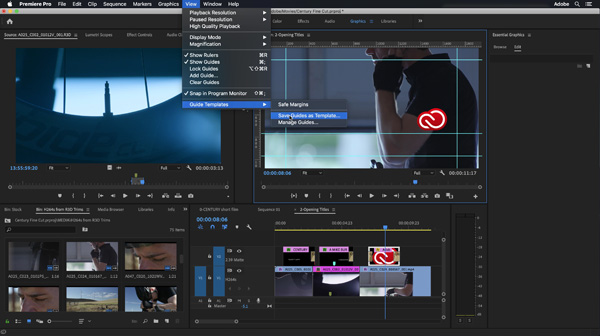 Rulers and Guides saving
Editors also have more ways to control audio elements. For example, audio effects can be re-ordered in the effects rack, and the settings copied between audio tracks. Also If ambient sounds are used to add atmosphere and a sense of place to video content, Auto Ducking will automatically detect speech and specific sound effects, and adjust the volume of ambient sounds below dialogue, music and so. Because this function uses Adobe Sensei AI, the adjustments are keyframed so that you can fine-tune the sound mix later if necessary.
Mask Tracking is faster, even at high resolutions, for more efficient Lumetri Color and effects workflows, and hardware encoding for H.264 and HEVC is improved for smoother playback. The GPU acceleration of the Metal renderer improves playback for RED footage, as in After Effects. Better load-balancing for GPUs in general, including eGPUs, results in faster rendering and exporting, especially with professional codecs like Apple ProRes, RED and others. A new System Compatibility Report utility checks for performance issues such as out-of-date graphics drivers. https://www.adobe.com/