Corona Renderer 4 for Cinema 4D Updates Caustics and Interactive Rendering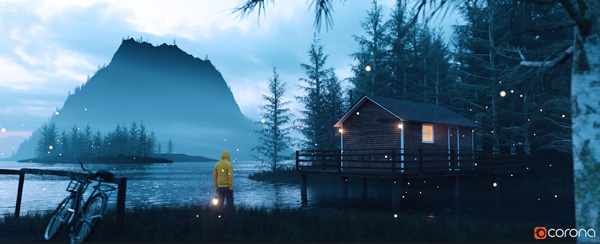 Chaos Czech has updated the Corona Renderer to version 4 for Cinema 4D, further to its recent update to Corona for 3ds Max. Although the main change is the addition of caustics to Cinema 4D's lighting effects, the update includes several other changes, from interactive rendering to 3D volume creation and the use of Corona Sun light sources.
Cinema 4D designers can now start up Corona's interactive rendering, Corona IR, in the virtual frame buffer, and then select objects and move, scale or rotate them inside Cinema 4D's native viewports. They can also apply materials and use camera and perspective movement controls from within the viewport.
The Corona Camera Tag – the artist's current camera settings - has been updated with a new fisheye projection mode, built with the controls needed to create unusual interior and exterior shots.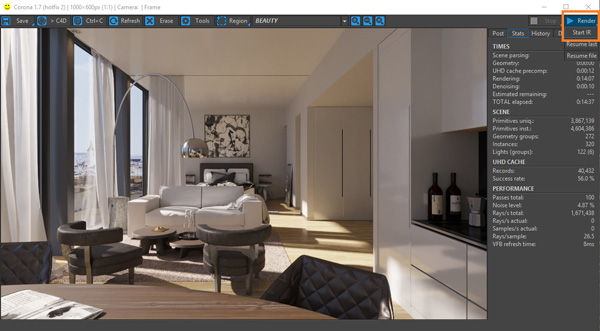 Interactive rendering
A new Inside Mode within the Corona Volume Material now allows users to create true 3D volumes and fairly consistent materials, such as fog and mist. Because Corona Renderer is a physically-based renderer, and just like in the real world, volumetric effects are a property of the material that light passes through, as they are in the real world, not a property of the light source itself. This means that volumetrics are created in Corona Renderer for Cinema 4D using materials, without applying special settings in the light sources.
Chaos Czech has developed a simple, effective approach to caustics, an important element of realistic lighting effects, for Corona Renderer 4 for Cinema 4D. Caustics are the patterns of light and colour that occur when light rays are reflected or refracted from or through certain material surfaces. Artists and designers can use Corona to render lighting effects created by surfaces like glass, water and some plastics more accurately, and increase the photorealism of stills and animations.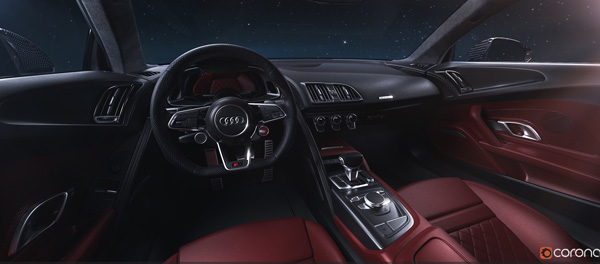 Caustics are concerned with the patterns of reflected and refracted light cast onto surfaces by common features like pool water, diamonds and wine glasses. They are essential elements of photorealistic scenes, but have traditionally been costly to render. As a result developers have tended to avoid them to keep the render speeds fast enough. Chaos Czech has developed caustics functioality as a one-step process, aiming to make them as regular a part of rendering photorealistic CG imagery as global illumination is today.
David Turfitt, CGI artist and animator, specialises in creating elegant renders of spirits in bottles and glasses for commercial projects and promotions. "With the addition of caustics, I feel like I am now able to capture what my eye has been seeing, but hasn't been able to express," he said.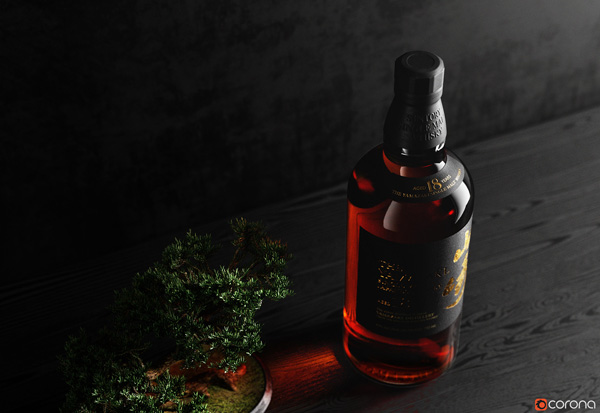 Image: David Turfitt
Caustics will work alongside existing Corona Renderer functionality, including LightMix, an interactive tool that artists use to adjust lights and light emitting materials during and after render. Colour, light intensity and now caustics may be updated simultaneously, using LightMix for subtle tweaks up to dramatic lighting modification such as day-for-night.
Corona's new caustics were developed with Chaos Group's new Research division, launched in May 2019 as a new laboratory. Led by Chaos Czech co-founder Jaroslav Křivánek, the lab will combine the two company's resources in order to experiment with new ideas on computer graphics creation.
Artists can now create as many Corona Sun light sources or environments as they wish. Corona's Sun and Sky are created so that the Sky responds naturally to match the Sun's position for a given time of day. This is especially effective when creating noon, evening and night images in Corona's LightMix, which artists can use to depict multiple times of the day, all from a single render.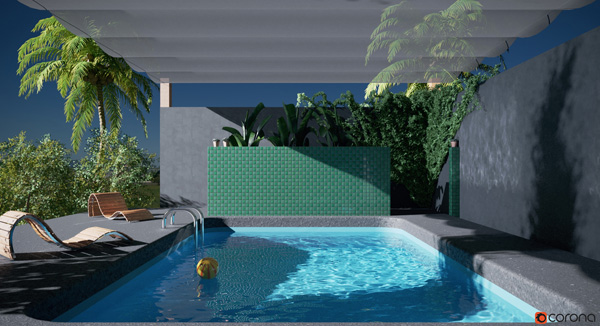 The new Intel AI denoiser is ready to use on any CPU for final renders. This completes a pipeline that will work with the NVIDIA AI Denoiser, previously developed for interactive rendering. Version 4 now makes it possible for Cinema 4D users to blend displacements within layered materials more easily as well. corona-renderer.com