Foundry CEO Jody Madden Talks about Cloud, Machine Learning and Open Source

The SmartROTO project is developing intelligent tools for rotoscoping of live action footage.
In mid-July 2019, Jody Madden was appointed Chief Executive Officer at Foundry. Working at the company since 2013, she has already held the positions of Chief Operating Officer and most recently, Chief Customer Officer and Chief Product Officer, making her part of the rapid growth Foundry experienced over the next six years. Further to that, before her move to Foundry, Jody worked in technology management and studio leadership at Industrial Light & Magic, Lucasfilm and Digital Domain after graduating from Stanford University.
However, as she told Digital Media World, she is neither a visual effects software engineer, an artist nor an animator. Her knowledge of and interest in working inside the world of VFX comes from the people she has encountered there themselves, and from her fascination with working at what she describes as the crossroads of art and science.
Valuable Generosity
"Wherever I have worked, the artists have been extremely generous with their knowledge and expertise. Because I love to learn, I have found their generosity very rewarding. ILM was undergoing major changes at the time I was working there, managing larger-scale teams than before, which is challenging. We could see the importance of working together and the value of developing open source software."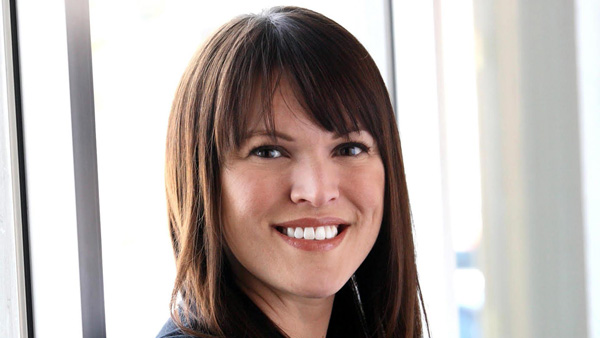 Foundry CEO Jody Madden
Foundry has a number of former artists among their employees that help staff members like Jody understand the changes artists are experiencing in their work today. Some come and go between Faoundry nd industry roles, which is better than just talking about issues – they can see what the problems are. Many of the challenges and changes Foundry is trying to help artists with relate to scale.
"Artists are adapting to the demand for higher volume across all content types by improving efficiency. Since no one is prepared to compromise on the quality of their output, more efficient software and processes are critical," Jody said.
The Cloud Potential
"Foundry recognises the potential of the cloud in this scenario, and continues to develop Athera, Foundry's cloud strategy. The cloud is about flexibility and keeping processes as fluid as possible, as long as possible to remove barriers to flows of information. Artists at all levels of a team are now thinking of their own work in wider terms – scheduling, team structure, workflows and planning. The cloud could also make it easier for smaller groups of specialised artists to operate with the resources and flexibility they need, and become more competitive."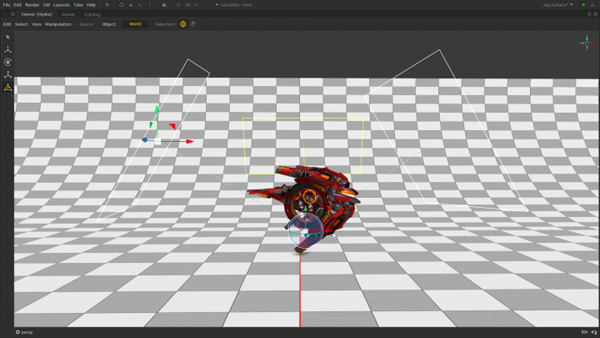 USD Hydra-powered Viewport developed for Katana.
Jody's appointment was announced just before SIGGRAPH 2019, where the company made a lot of other announcements related to cloud, open standards and open-source, and the scaling up of the VFX industry. One of these is Foundry's open-source ML-Server client / server. The company's R&D team developed the system for rapid prototyping, experimentation and development of Machine Learning (ML) models in post-production software. Essentially a native client plug-in, the MLClient, it communicates with a server to carry out ML inference.
One of the team's Research Engineers Johanna Barbier said, "The ML-Server is a first attempt to answer the challenges of experimenting with ML in post-production. It enables fast prototyping on your own data and is available as Open-Source on GitHub, making it possible to integrate machine learning into your own VFX software and pipeline."
Smarter Data and USD
Foundry is also participating with DNEG visual effects studio and the University of Bath in a research project named SmartROTO, initiated to develop intelligent tools for rotoscoping of live action footage, and investigate sharing of ML networks and datasets. It takes advantage of the data-centric approach that modern machine learning now uses. Instead of focusing on testing and optimising tools, the data is used to train the tools to take on the repetitive manual work of roto. The success and performance of tools depend largely on the quality, diversity and size of this data set.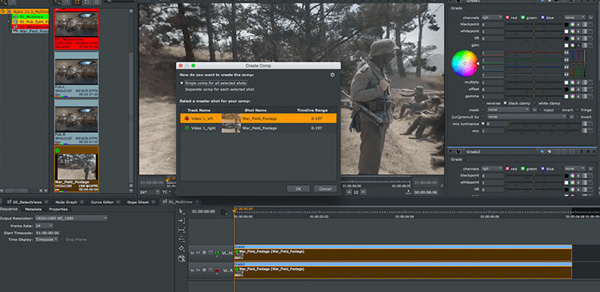 Nuke 11.3
Nevertheless, integrating machine learning tools into existing VFX pipelines is a challenge in itself. Although cloud or web-based ML tools can be released, used and start gathering actionable user data almost right away, traditional VFX software release cycles usually involve gaps in between updates, so that ML models are only periodically improved.
Foundry are planning to make more use of USD as well, open source software developed at Pixar. USD supports scalable interchange and augmentation of arbitrary 3D scenes, made up of different assets, and serves as a container format handling multiple uses of a series of varied assets. Artists use it to describe how all of these assets are placed within a scene and how they are used, and then add layers of variation from there. In this way USD also supports continuity of decisions and visualisation through a pipeline.
Jody described the overall direction of Foundry's R&D into the near future, which would continue to pursue complex visualisation techniques, M&E and design software development, and performance for artists. www.foundry.com