E-on PlantCatalog Cultivates 3D Procedural Vegetation for 3D Artists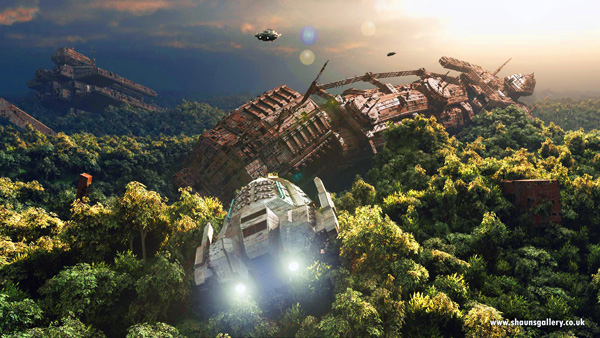 E-on software's PlantCatalog is a continuously growing 3D vegetation collection, accessed with cutomised standalone and plugin tools. Models in the collection are procedural and suit 3D applications in VFX, games and architectural visualisation projects.
The company has an internal 3D vegetation modeller, botanist and landscape architect who designed the plants in the catalogue by working with several botanic gardens around the world, ending up with 60 different realistic, versatile, customisable and botanically accurate vegetation models. The participating gardens include Jardín Botánico 'La Concepción' de Malaga, the Bedgebury National Pinetum, Forestry England and Viveros Guzmán.
The vegetation models work procedurally, that is, they are not static 3D models. Generating an instance of a given species will result in a different model each time that always keeps the botanical accuracy of the given genus.
Each species includes pre-configured presets representing maturity, health or seasonal variation, and is supplied with a range of different parameters to fine tune each model to match requirements. All species are rigged and can be affected by wind and breeze.
The rules defining their procedural processing ship as HD (High polygon count) for hero trees, LD (Low polygon count) for mid-range and widespread populations, and RT (dedicated Real-time specifications) to use in real-time engines.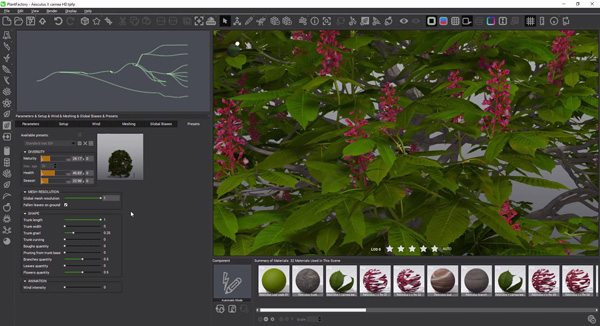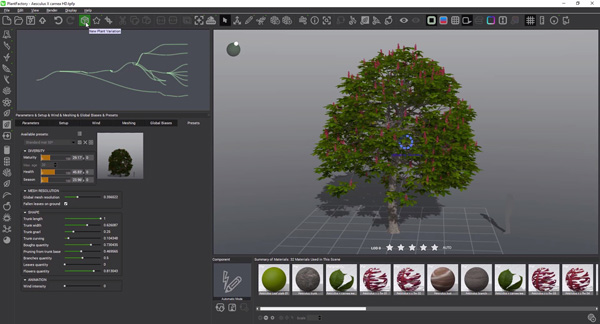 PlantCatalog is an annual license-based software (more information below) allowing users to access the entire collection. Therefore, single species cannot be purchased individually. However, e-on does collect user requests to prioritise the development of certain new species. The more requests they have for a species or plant type, region, biome and so on, the quicker it will be developed.
Export/Import and Compatibility
A standalone PlantCatalog Exporter tool used with the collection allows you to browse the whole catalogue and export models to any 3D software using generic export formats such as Alembic, FBX, 3DS, OBJ, C4D, LWO and others. The Exporter has various export presets tailored for specific host applications such as Unreal, Unity, 3ds Max, Maya, Cinema4D, LightWave, Modo, ZBrush, Blender and LumenRT. The artist chooses a model, selects the preset, edits any of the parameters and exports the result to the host software.
Plants are exported fully rigged and fully textured, with UV maps (including support for UDIM tile offsets) and displacement, and with all their preset levels of detail. Breeze or wind animated plants can be exported as a fully rigged mesh or as a cloud of animated vertices.
For more control when using 3ds Max and Maya, e-on also has importer plugins that support loading, editing health, maturity and season as well as published parameters and converting native PlantCatalog content within the host application, without going through any baking or exporting process.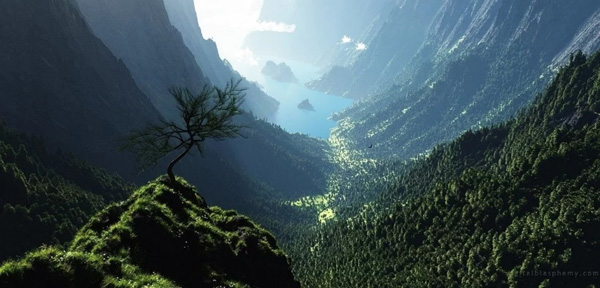 The PlantCatalog vegetation assets are natively compatible with e-on's main software VUE and PlantFactory, and can be accessed directly within the software content browsers. In particular, by loading the PlantCatalog assets within PlantFactory, you can completely customise them to suit your use or project.
PlantCatalog in Workflows
Right now, the PlantCatalog vegetation collection has a total of 60 species – 59 at HD resolution, 34 low-polygon and 20 real-time. New batches are to be released every quarter.
The PlantCatalog Exporter is a 64-bit application, designed for 64-bit versions of Windows 8, Windows 10 and Intel Mac OS X 10.15+ platforms.
The importer plugins are currently compatible with 3ds Max and Maya 2019-2020, Windows only. The importer plugins will automatically generate native materials for certain renderers - in 3ds Max, the plugin can generate native materials for V-Ray Next, Scanline (3ds Max default) and ART (Autodesk Raytracer) Renderer. In Maya, the plugins can generate native V-Ray Next materials.
For use with other renderers, the plugins will also generate host-generic material sets, and therefore should be compatible with any 3rd party renderer such as RenderMan, Arnold, Corona, Octane, RedShift and so on.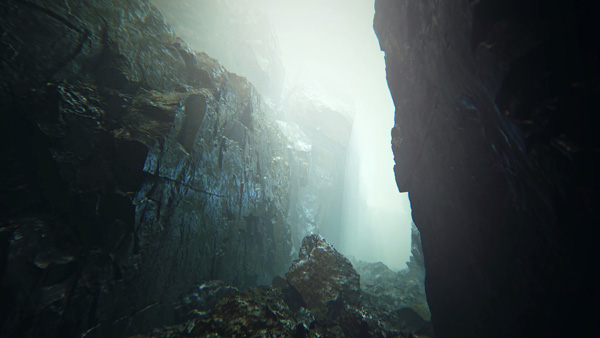 Other host applications and renderers will be supported soon while e-on continues to expand its interoperability developments and any new importer plugin that they release will be available free to all PlantCatalog licensees.
The PlantCatalog comes in two versions, paid for annually. Both include the entire vegetation collection in HD, LD and RT quality and the subsequent updates with new plant species added every quarter. The difference is access to the associated integration tools.
The full version comes with the PlantCatalog Exporter standalone application and all PlantCatalog importer plugins for 3rd party 3D applications and costs $249.95 per year. PlantCatalog Creator for VUE and PlantFactory users – who don't need the Exporter or import plugins – costs $99 per year.
For environment teams that use network rendering to produce full digital environments, e-on software also makes an Enterprise system available that includes VUE, PlantFactory, the PlantCatalog collection, all importer and integration plugins for 3ds max, Maya, Cinema4D and LightWave, plus 25 seats of licenses. info.e-onsoftware.com