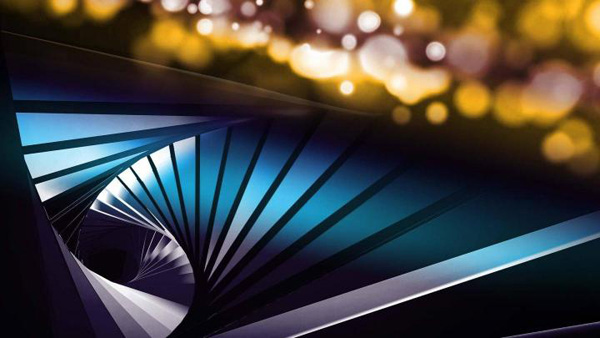 Nuke 12.2 builds on updates in Nuke 12 so far, and adds a new product to the Nuke software series for compositors. Named Nuke Indie, the new software is a functionally restricted version of Nuke Studio that independent artists can use on commercial projects, and is limited to one seat per user or organisation earning less than $100,000 per year.
It aims to make Nuke's tools more accessible to people working outside a post production studio. It combines the node-based compositing functionality of NukeX with the conform, editorial and review capabilities in Nuke Studio. It also extends the reach and adds to the community of Nuke users.
Although Nuke Indie can't be used in a pipeline with other Nuke licenses, commercial or indie, all Nuke and NukeX nodes, including WriteGeo and Primatte, are contained in the package, with all supported Nuke Studio conform and editorial functions. It is compatible with most formats and codecs except AAC compressed audio and H.264/AVC video, and you can send your video out to work on an external monitor.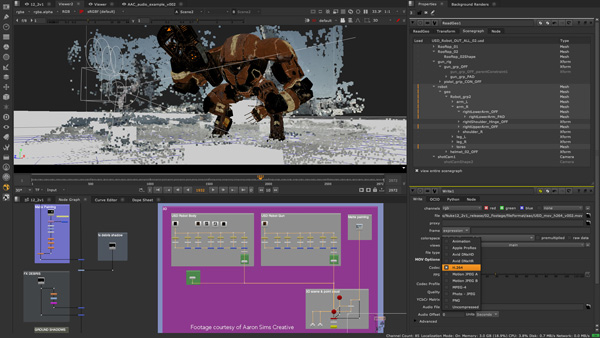 Nuke 12.2 (screenshot Aaron Sims Creative)
Nuke Indie can be used to read commercial Nuke and Hiero scripts, build simple Python integrations and use BlinkScript in the timeline and nodegraph – although Python API support is limited. Among the functional limitations are Nuke Indie's encrypted file format (.nkind/.hroxind/.gzind) and 4K render resolution. Also, NDK and 3rd party plug-ins are not supported, and external rendering is disabled.
Users receive regular maintenance updates and licensing support, and are granted access to a community forum specifically for Indie users. The software is available as an annual subscription, purchased online.
USD Support, Sync Review, License Roaming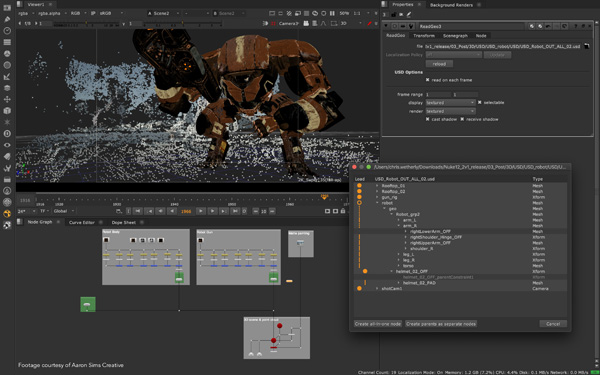 Native support for USD via the Read Geo node.
The Nuke updates in 12.2 is the third release of Nuke 12. One of version 12's main drivers has been the artist experience – the UI is more interactive, and it has monitor support for high DPI images and a more stable, consistent Shuffle node. Also, data can be moved more easily into compositing due to better format support and EXR performance and, for Nuke timeline-based tools, the playback engine is rebuilt to view multiple shots in context in Nuke Studio and Hiero.
Now in 12.2, Nuke adds native support for USD, which will allow artists to read USD data using Nuke's ReadGeo node and work with USD collections in the same way it reads other 3D formats. They can work with geometry contained within the USD with a specific scenegraph UI, support for normals, colour data and animated geometry.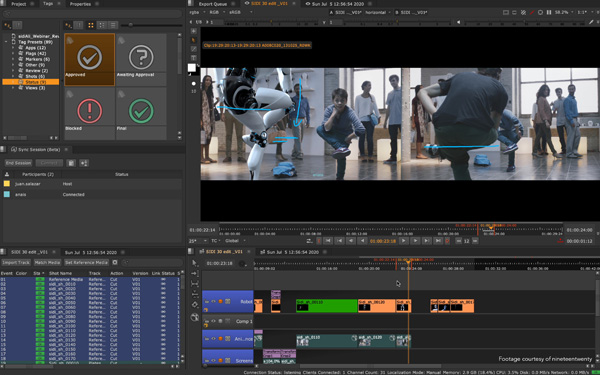 Sync Review
These extensions to ReadGeo will be open sourced, making it possible to integrate the updates into custom USD tools. This initial support should also make it easier to experiment with using USD in Nuke. Studios already using USD can adapt this node to build up a more integrated user experience.
A beta feature in Nuke 12.2 is Sync Review. This first Sync Review implementation will allow Nuke Studio, Hiero and HieroPlayer users in multiple locations to review and annotate footage collaboratively. Each participant has access to the playback controls, annotations and version system during collaborative review sessions. The number of users and resolution is limited by hardware and bandwidth only. To set up a session, footage needs to be available for all participants either locally or through a central server, connecting to network storage, cloud storage like DropBox, or localised files.
Collaborative review sessions in Sync Review.
Foundry plans to extend the function further but for now, Sync Review will support teams working remotely. Push updates, like text messages and mobile alerts, are there to help users to stay in sync with the session. The Hiero API has been extended for viewer control, project loading and saving so that users can customise their own synced workflows. Note that, because Nuke Indie does not have access to Beta/Alpha releases, Indie users won't be able to use Sync Review.
New License Roaming is available to users with active maintenance of Nuke, NukeX, Nuke Studio and Hiero, and means they can check out licenses from floating licence servers to use offline for up to 30 days at a time, for example, when going on set or working remotely.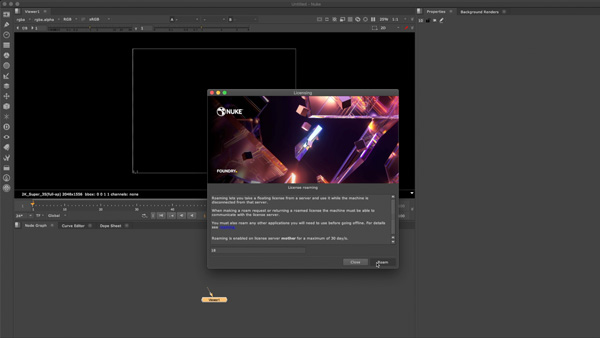 License Roaming
Nuke 12.2 has a new MOV Reader and Writer, replacing the previous 32-bit and 64-bit QuickTime support with a more stable and flexible system for working with QuickTimes. QuickTime codec support, especially H.264 encoding, will be extended across operating systems but some of the older QuickTime codecs will no longer be supported.
Exporting DNxHR .mov files has been added to all Nuke software, and DNxHR MXF support is added to Nuke Studio and Hiero. This gives the timeline products the same functionality that was added to Nuke in Nuke 12.1. Nuke Studio, Hiero and HieroPlayer will now also support reading and playback of AAC encoded audio tracks. Nuke 12.1 supported .mov containers holding audio to Linux and Windows, which made it unnecessary to extract and import the audio as a separate Wav file. www.foundry.com