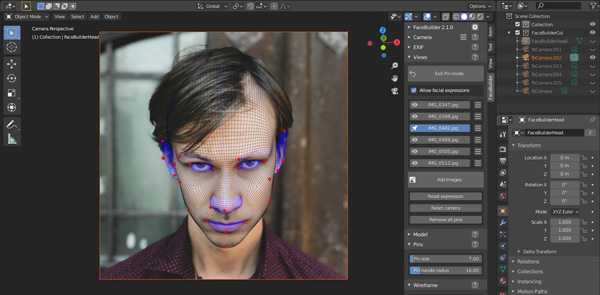 KeenTools FaceBuilder is a plug-in for Blender and Foundry Nuke, developed for creating 3D head models based on still photos. Until recently, artists needed photos shot with a single camera and the same settings, which then needed to be set up manually in FaceBuilder.
Automated Camera Set-up
Due to developer KeenTools' recent 2.1.0 update, users working in Blender only need to load the images before they start modelling. FaceBuilder is able to detect the focal length and sensor size of each photo, regardless of the camera and camera settings, and will set up the project automatically.
When EXIF (Exchangeable Image File) data is available, the software is able to use this data to produce very precise results. The EXIF format is a standard for storing interchange information in JPEG and TIFF image files. If EXIF data is not present, FaceBuilder can estimate the necessary values, taking into account the dimensions of every photo. The manual control option is still available for situations that need it.
The previous FaceBuilder release made it possible to use photos of the subject wearing non-neutral facial expressions. This latest update builds on that improvement, and means you can create your subject's head model using almost any photos available.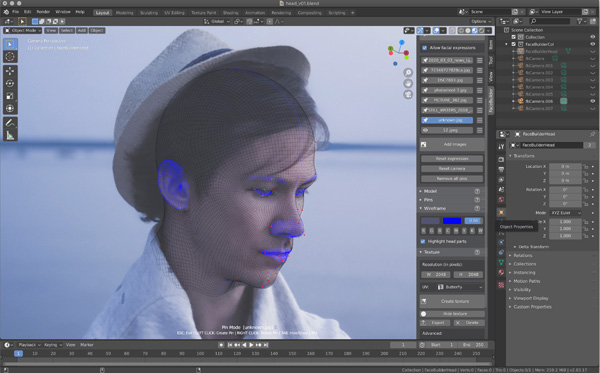 The precision of the resulting model has also been enhanced with better texture extraction algorithms, giving users a more accurate start point for sculpting likenesses or similar tasks, and reducing the amount of manual work required.
New for Nuke
Nuke users will find most of these improvements in Nuke as well – including the new Nuke 12.2 release. Specifically, the new focal length estimation is available so that photos from different sources can be used to create the model. As in Blender, the ability to use images with non-neutral facial expressions will help when purpose-shot stills are not accessible. If only video is available, users can load the footage, export a FaceTracker node and begin tracking straightaway.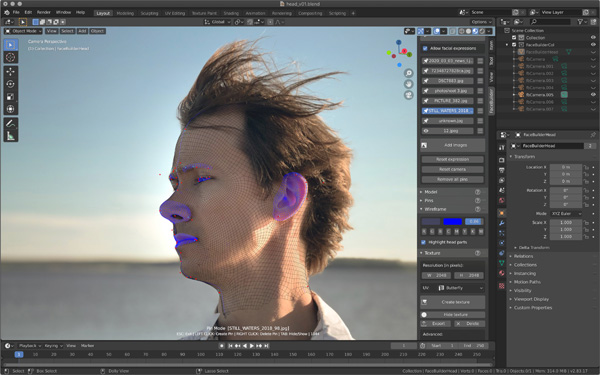 FaceTracker is a plugin node for Nuke created for facial tracking without mocap rigs and markers. The tracking information can be used later for retouching, relighting, face replacement, ageing and so on. The node performance and quality of the TextureBuilder plug-in is improved as well, with better equalisation when tiling textures to overcome uneven brightness, visible seams and colour shifts. TextureBuilder gathers image data from a series of frames to create a texture of a chosen object contained in those frames.
Starting from version 2.1.0, the KeenTools team will release only maintenance updates for users of Nuke 8, 9 and 10. Critical bugs will be fixed, but new features will appear only in the plugins for newer Nuke versions 11 and higher. keentools.io